Helping with HIV, hunger and dirty water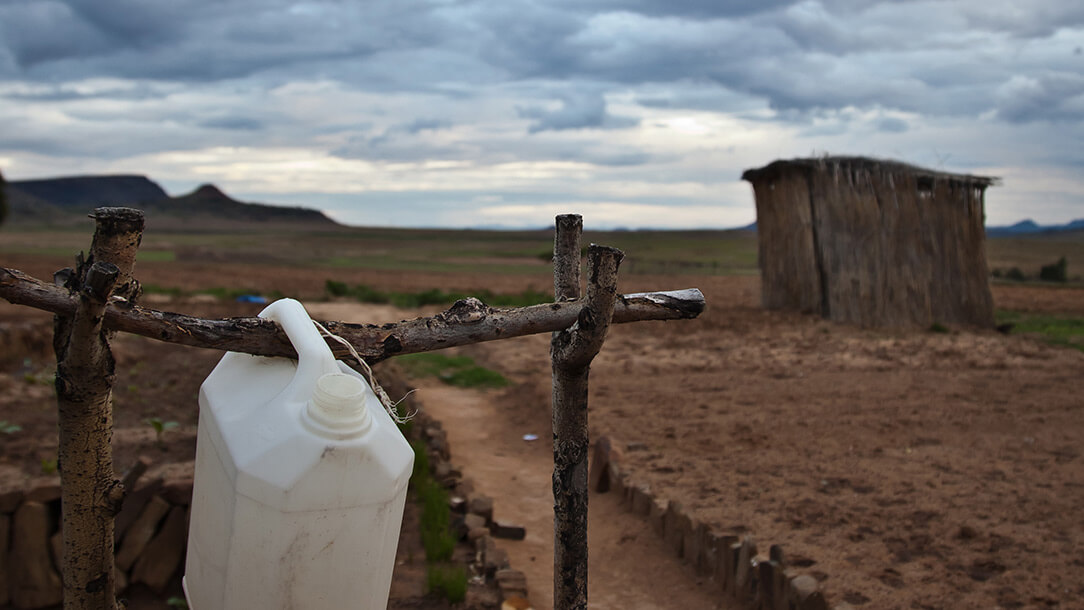 We support people in need in South Africa, Lesotho and Zimbabwe.
South Africa has more people living with HIV – around 6.3 million – than any other country.
Being HIV positive also makes people more likely to get infected with tuberculosis (TB). Around 40 per cent of people living with HIV actually die of TB.
The British Red Cross partners with the South African Red Cross to support over 25,000 people with HIV and TB in KwaZulu-Natal. A quarter of adults there are living with HIV and it is one of the country's poorest regions.
Around 1,500 volunteers are at the project's heart. Many have HIV themselves, so understand what the people they work with are going through and the kind of help they need.
Volunteers offer basic home care, food parcels, nutritional advice and help accessing social welfare support. They also help people grow vegetable gardens so they can sell produce to earn money.
Through Red Cross support groups, those living with HIV and their carers receive psychological and emotional help from other community members as well.
How we help stop HIV's spread
Helping people avoid infection and stay healthy is another big part of the project:
Health workshops cover issues such as how pregnant mothers can protect their unborn children and how HIV is passed on.
Trained youth peer educators teach other young people about HIV.
We distribute hundreds of thousands of male and female condoms every year and teach people how to use them.
Supporting yourself is still important
The symptoms of HIV-related infections can make it hard for people to work and support themselves. To help, we teach people skills such as chicken farming, handicrafts, sewing and knitting.
These activities are cheap to start and can be carried out in rural communities that don't have electricity.
We also help more than 25,000 orphans and other vulnerable children with food, home visits and financial support so they can stay in school.
Nearly one in four adults in Lesotho has HIV, the world's second-highest percentage.
In rural areas, where most people live, more than one in five people still drink and wash with dirty water.
Around 70 per cent of people don't have access to a household toilet.
People with disabilities or HIV and older people are even less likely to have clean water and toilets.
This all leads to poor health. Diarrhoea, typhoid and intestinal worms – which can all be caused by unsafe water – are among Lesotho's most common diseases.
Clean water for 35 villages
The British Red Cross works with the Lesotho Red Cross to help change this in two districts. In both areas, women and girls sometimes have to walk for two hours each way to fetch water.
Working through community committees, we are helping to build and repair vital water supplies in 35 villages and schools. We also build latrines for families, who help by digging the pits and providing local materials such as stones.
We also build toilets for 1,500 households with people whose voices are not often heard in Lesotho. This includes people with disabilities or HIV and elderly people.
People then learn how to keep the water supply going and how washing their hands can help them stay healthy.
Health in the highlands
We will also run hygiene training sessions with young men and boys who look after animals high in the mountains. Since they don't live near the new village clean water points and toilets, we helped them learn to protect clean water sources from animal contamination and to stay healthy.
Volunteers help fight cholera
Over 37 people have died and thousands of others are at risk from a cholera outbreak across several provinces in Zimbabwe.
Around 1,500 Zimbabwe Red Cross volunteers and staff are helping people improve their hygiene to stay safe from the waterborne disease.
Volunteers are visiting homes, handing out soap and water purifiers, and referring people to clinics when they are ill. Health messages are also being targeted at schools, churches, markets and public transport to reach more people.
The Red Cross will work in the area until the cholera outbreak is under control.
Drought and hunger
The British Red Cross is committed to helping end chronic hunger in Africa. Working with the Zimbabwe Red Cross, together we reach 5,000 people in two districts where drought makes it hard to grow enough food. In one district, Chipinge, approximately 36 per cent of children under five are malnourished.
Hardy crops for challenging weather
The project helps people grow more food in several ways. First, we introduce crops that grow better in dry conditions so families have more vegetables to eat. Root crops, spinach and tomatoes fit the bill.
The same goes for goats, pigs and chickens. The project encourages people to farm hardier animals after hundreds of cows died in a recent drought.
When people earn money from selling vegetables or animals, we help them save money for lean periods through savings and loans groups.
Helping new mums, babies and children
Gardens outside health centres are used to introduce new mothers to nutritious foods for themselves and their babies.
Red Cross volunteers also visit pregnant women at home to teach people about health and hygiene. Once the gardens are established, women will be given food parcels and seeds to take home after giving birth at the centre.
The project has also supported the repair of 24 wells to provide clean water to communities. Many were located in schools to help keep children safe from disease.