Hugo's coronavirus vaccine story and experience
Discover what inspired Hugo to become one of the first to get a Covid-19 vaccine
Father-of-three Hugo, 78 and from Sri Lanka now living in Croydon, shares how he has coped during the coronavirus pandemic, what it was like to receive the vaccination and his hopes for the future.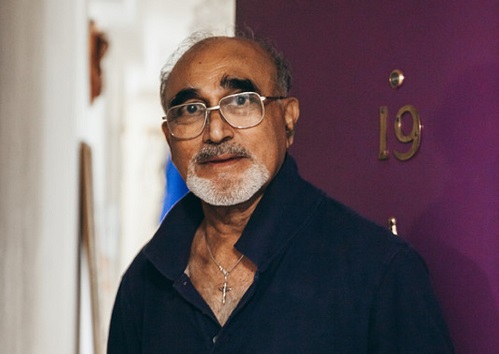 How has your life changed during the pandemic?
Hugo was used to being active and independent, but went through a series of serious illnesses in the last year.
The most recent one was diabetes, which meant he had to shield. His son did his shopping for him but then he tested positive for coronavirus himself. The Red Cross had been supporting Hugo through the independent living service and provided Hugo with his shopping.
It's a lifesaver, definitely. It helped me to be safe and live a little longer.
How do you stay positive in lockdown?
Hugo shares some challenges of lockdown, but also some ways he has managed.
"Obviously it is not very comfortable sitting in your living space, day in, day out. But then, of course, I have other interests," Hugo said.
A lifelong cricket enthusiast and member of the Surrey County Seniors team, he has been keeping himself busy re-watching the Ashes, as well as documentaries and wildlife programmes.
"I have a cricket bat in this living room and I keep shadow batting, to keep my muscle memory.
"It's very difficult for the community to get together in any way because you're not supposed to. There is no connection, no meeting point." Instead, Hugo and his friends have been keeping in touch through their WhatsApp group chat. Although things are difficult, he reminds himself of the things he has around him.
What we have is heavenly to be honest with you. Even if we are isolated it's still a damn sight better than what some of the people are suffering at this minute. That keeps me going.
What was it like getting vaccinated?
Hugo was among the first to be offered the vaccine in December, because he was in the highest priority group, due to his age and health.
Talking to others and discussing his worries really helped Hugo to feel more confident about getting vaccinated.
"I was a bit apprehensive to start with but then I rang [a] couple of my doctor friends and their advice was 'if I were you, I would jump at it'. I took their advice and also I asked my son who knows a bit about it.
"I would imagine the vaccine will give me a little bit of comfort and security, and most of all I am pleased I will not be one of them who might spread the disease."
What are your hopes for the future?
Hugo is counting down until he can return to his beloved sport, "I'm waiting for the day that I can get onto the field and chase that ball."
Review and reflect
What worries did Hugo have about getting vaccinated?
What made him feel more confident about it?
What challenges did Hugo face in lockdown and what helped him manage them?
The views in this story are those of the interviewee. The British Red Cross recommends that you continue to practise social distancing after getting the coronavirus vaccine.
Managing worries and decision making
Worries are normal, but there are things we can do to manage them. Use the circles of control activity to think about how to manage worries and help ourselves take positive actions.