Call Our Coronavirus Support Line: 0808 196 3651 
The British Red Cross is here to help you through the coronavirus pandemic. 
If you are finding it hard to cope and need to talk, we are just a phone call away.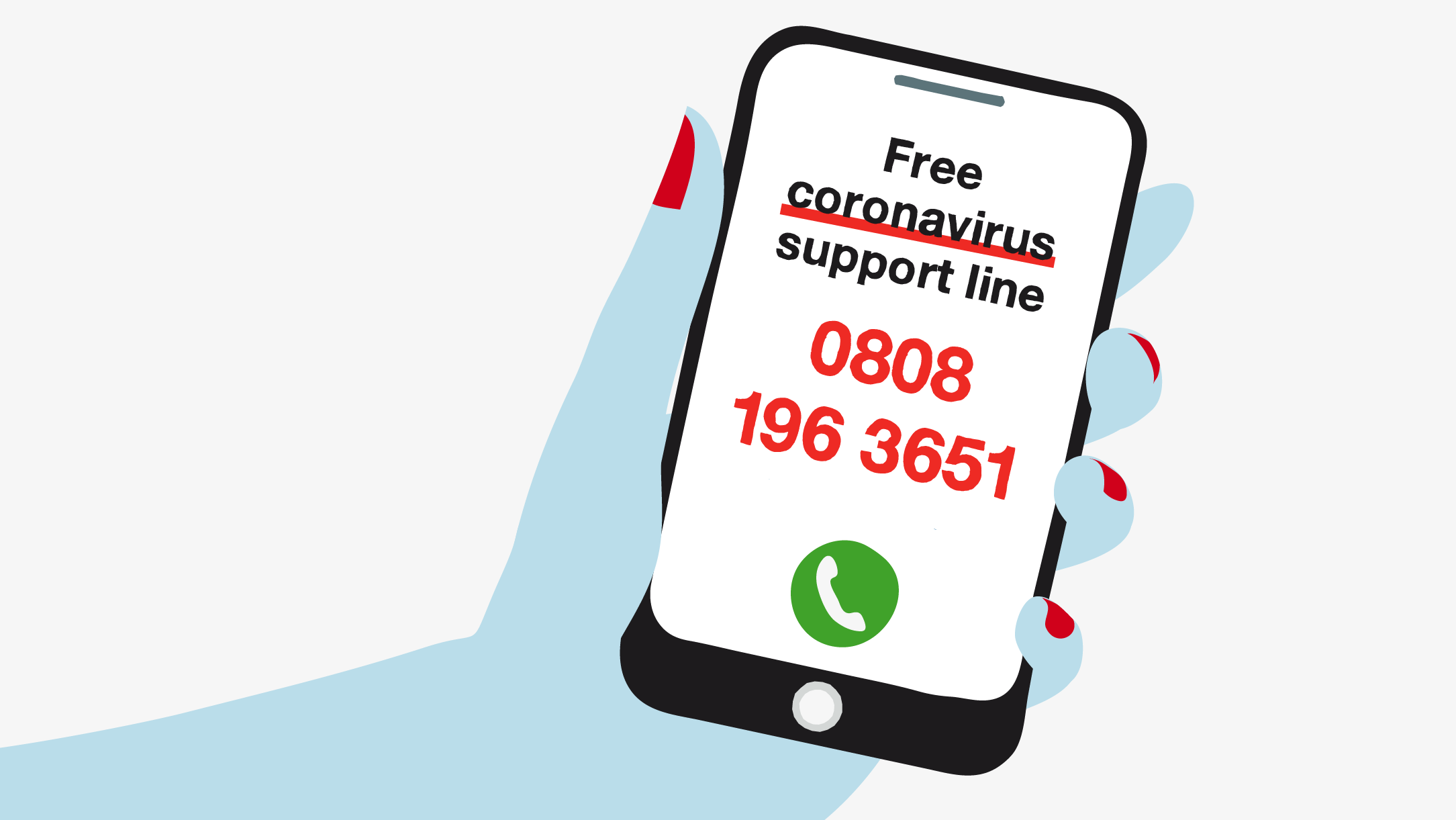 Speak to a friendly volunteer today
If you're at home and finding it hard to access food or medication, or you are feeling lonely or worried, call our coronavirus support line today.
Our friendly volunteers answering calls on the helpline can give you emotional or practical support, or direct you to other people or local services. And if you just want to talk, we are here to listen.

Call our coronavirus support line:

0808 196 3651

Open 10am – 6pm every day.

Free and confidential.*
What is the British Red Cross coronavirus support line?
The support line was set up to provide support to communities and people in need during the coronavirus pandemic.

We give people without a support network someone to talk to, and can help them access things they may need like food, medicine and emotional support.
Who will you speak to if you call the coronavirus support line?
Our support line is run by our experienced 'psychosocial and mental health' volunteers at the British Red Cross.

You will speak to a human (no bots here!) like former nurse Chris, who has been volunteering with us for 35 years.

What support can the coronavirus support line provide?

Chris and the rest of our team of friendly volunteers will be more than happy to provide practical and emotional support, lend a listening ear and give you the contact details of local organisations offering all kinds of help.
Whether for yourself or if you are calling on behalf of someone you know, you can get confidential help with:
Mental health: coping with self-isolation and loneliness, and a listening ear if you need it.


Access to food or medication: collecting prescriptions if you can't get to the doctors and arranging food deliveries at home.


Guidance and advice: we can give you details of where to turn for financial help with rent, bills, benefits and homelessness.



Who is the coronavirus support line for?
The support line is for anyone who is lonely or worried or finding it difficult to access food and medication.

We want to reach people who may not be receiving help from anywhere else, and who are at risk of further health and well-being issues as a result of isolation.

This includes people who may be shielding but have no family or support system nearby and can't get online for help.
How do you contact the coronavirus support line?
The number to call is 0808 196 3651
Does it cost anything to call the coronavirus support line?
No, calling our support line is completely free.

What are the hours of operation for the coronavirus support line?

You can call us every day between 10am – 6pm.
If you call outside our opening hours, please leave us a message with your contact details. We will get back to you in the morning.

Who can I contact outside the hours of the coronavirus support line?
If you need someone to talk to someone urgently outside of our opening hours, the Samaritans are open 24 hours a day, 7 days a week.

Call the Samaritans for free on 116 123
or write them an email.

If you are worried you or someone you know may be at risk of coronavirus, please use the online NHS 111 coronavirus service.

How else can you get support during the coronavirus pandemic?
From borrowing a wheelchair to having essentials delivered at home, you can find ways online to get help without calling the support line.

You can find advice about how to keep safe, and if you're feeling anxious, how to take a calmer approach to your wellbeing.

If you feel lonely, we have information and support that may help and a range of learning activities to help you cope.
We have practical tips on how to keep your children happy during isolation, too.
How else are the British Red Cross helping during the coronavirus pandemic?


*Your call may be recorded for quality and training purposes.