Meet the amazing women in the Tiffany Circle.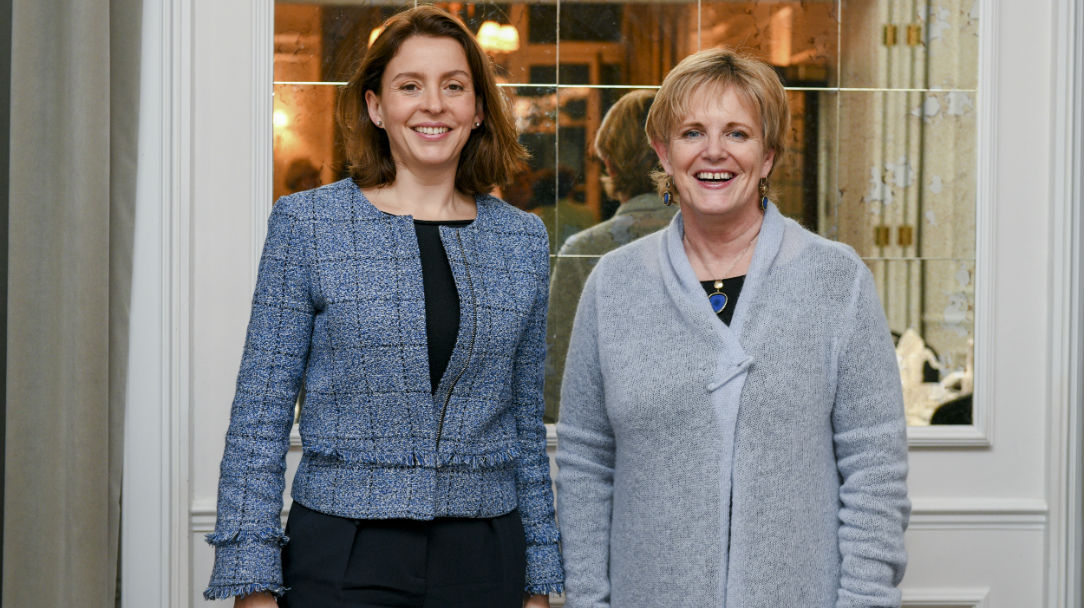 Tiffany Circle co-chairs
Patricia Cobian
Co-chair
Patricia is chief financial officer at O2. She also sits on the supervisory board of the company's German operation, Telefónica Germany.

Before joining O2 in 2006, Patricia worked for business management consultants McKinsey & Company in the US and Europe.

In 2014 Patricia was named a young global leader by the World Economic Forum.

Originally from Spain, Patricia holds an MSc in Industrial Engineering from the Comillas Pontifical University in Madrid.
Jane Frost, CBE
Co-chair


Jane Frost is CEO of The Market Research Society (MRS).
MRS is dedicated to the support, promotion and enrichment of the research and business worlds. It also campaigns for better standards in data use.

Jane previously spent eight years in government. She spearheaded customer intelligence and strategy, including work for HM Revenue & Customs. For this she received a CBE.

Jane has also worked with brands such as Shell and Unilever. For this she won over 150 creative and marketing awards, including a prize for her Perfect Day campaign for the BBC.

Jane is vice-chair of Fairtrade and a trustee of The Lowry Theatre in Salford. She's also on the advisory board of Women in Research and a trustee of the charity Market Research Benevolent Association.
Tiffany Circle Ambassadors and Torchbearers
Pinky Lilani CBE DL
Tiffany Circle ambassador


Pinky is an author, motivational speaker and champion of women's causes.

She launched a series of projects to celebrate successful women. These include the annual Women of the Future Programme, the Asian Women of Achievement Awards and the Global Empowerment Award.

Pinky is also a food guru. She travels the world with her wok, using cooking as a way to show the importance of passion and creativity in business.
Lady Angela Lamport
Tiffany Circle torchbearer


Angela joined the British Red Cross in 2003 as president for Surrey, and was subsequently elected to the UK Board of Trustees from 2007 to 2012, and later took on the British Red Cross Presidency for London.

Previously she worked at the Foreign and Commonwealth Office and was posted to the US, the Middle East and Italy.

Angela later taught English as a foreign language in the UK and worked closely with Bosnian refugees.

Now the British Red Cross president for London, Angela continues to work with the Foreign Office to help British nationals in crisis overseas.



Tiffany Circle steering committee

Anne Balfour
Lifetime member and steering committee member


Since it launched in 2012, Anne has been an active member of the Tiffany Circle in the UK.

In 2014 she played a key role in the Tiffany Circle International Weekend.

Anne was in charge of events during this conference, when Tiffany Circle members from around the world visited London.

Following this, Anne joined the Tiffany Circle International Council in 2015.

Anne also worked as a corporate financier in London for eight years. She left her career to raise a family, and now works regularly as a charity fundraiser.

Kyra Dickinson OBE
Steering committee member


Kyra has worked with the Red Cross since the age of 16. She first became involved as a volunteer at the annual Monte Carlo Red Cross Ball.

In 1992 Kyra became the British Red Cross deputy president for Northumbria. She later became president from 1994 to 2011 and is now a patron.

Kyra was awarded the British Red Cross Badge of Honour for Distinguished Service in 1997, and an OBE in 2002.

She demonstrated her passion for supporting the British Red Cross by helping to expand our Open Gardens scheme.

Professor Dr Geeta Nargund
Steering committee member


Geeta is the founder of fertility experts Create Health. She's also a lead consultant for reproductive medicine at St George's Hospital, London.

In addition, Geeta is chief executive of the UK women's health charity Create Health Foundation.

She's also director of The Walking Egg, a charity that aims to make fertility care available across the world.

Geeta joined the Tiffany Circle to support projects aimed at improving education and maternal and child health.

Dr Sindy Newman
Lifetime member


Dr Sindy Newman has treated thousands of patients for weight loss. She runs clinics across the north west of England.

Sindy became British Red Cross president for Lancashire in 2010 and was recently appointed a patron.

Sindy's fundraising work includes supporting child victims of war. She raised money for the Kim Foundation International by arranging a charity ball at the Blackpool Tower Ballroom.

She also helped to set up new patient services at Blackpool's Victoria Hospital.

Amanda Nicholson DL
Lifetime member and steering committee member


Amanda worked for 32 years as a magistrate. In 2007 she became high sheriff of Buckinghamshire.

In 2008 the British Red Cross appointed her president for Buckinghamshire.

Amanda has also worked as a social worker and further education tutor. She continues to run a farm in Buckinghamshire.

Amanda studied English and creative writing at the University of Oxford. She's had three novels published.

Soraya Shamji
Steering committee member


Soraya works in real estate in London and specialises in hospitality asset management.

She's been involved in charity fundraising for many years. As a child in Canada, Soraya helped raise money for Vancouver General Hospital and Lions Gate Hospital.

Since moving to London, Soraya has raised over £500,000 to build earthquake resistant homes in Pakistan via the Aga Khan Foundation.

She also works with FOCUS Humanitarian Assistance to provide emergency disaster relief.
Emma Tuffey

Steering committee member
Emma is the founder of the Mind and Body coach and works with clients in all areas of their wellbeing. She is passionate about working with peoples energy and finding a holistic way for them to move forward in their lives. She also works with clients offering bespoke coaching in all areas of their divorce.

Previously she worked in Investment banking before taking a career break to focus on her children.
Members
Quenelda Avery
Lifetime member


Quenelda was president for Sussex of the British Red Cross from 2006 to 2011. She was made British Red Cross Patron of Sussex in 2018.

She's been involved in fundraising for 25 years. Her charity work includes serving as a trustee for the Emmaus homeless charity.

Quenelda is the founder and chairman of the East Sussex Women of the Year Lunch. This celebrates the achievements of women in the county and also supports local charities connected to women and children.

She has also served as a chapter member of the Order of St John and the organisation's Sussex Chairman.


Dame Margaret Barbour
Member


Margaret joined the board of directors of fashion brand J Barbour & Sons in 1968.

Throughout her career, Margaret has been involved in charity work. In 1988 she founded the Barbour Foundation to support charities and cultural projects in north east England.

In 1999 Margaret set up the Women's Fund to help women in Tyne and Wear and Northumberland.

She also founded the Nancy Barbour Award to encourage women to play an active role in their communities.

Barbara Bovender
Lifetime member


Former nurse Barbara has worked with the British Red Cross for over nine years. She's a founder member of the Tiffany Circle in the UK.

Barbara volunteers to help organisations promote and support the arts and education.
She's a trustee of the American Museum in the UK. Barbara also works with the Duke of Edinburgh's International World Fellowship and the International Churchill Society.


Dr Maggie Cochrane
Member


Maggie is a GP in south London. She's worked closely with vulnerable communities. This includes women and children who've come to the UK as refugees or asylum seekers.

Maggie is also involved in teaching and training healthcare professionals

She's an advocate of first aid training and believes that everyone should know how to react in an emergency.

Denise DeRoy-Parker
Lifetime member


As a civil engineer, Denise designed, built and ran the Alexander Family Nursing Home in Carshalton.

She's also former chairperson of the South Thames Group of the Engineering Industries Association.

Denise is a member of various organisations that promote charity work.
These include the Guild of Freemen of the City of London, Cripplegate Ward Club and City Livery Club.
Lucy Dorrien-Smith
Humanity member


Lucy lives on Tresco in the Scilly Isles. She's the director of Gallery Tresco and organises exhibitions, supports young artists and creates murals.

Lucy previously worked on the board of governors at Falmouth University. She continues to be a special adviser and hosts many young artists on Tresco.

Before moving to Tresco, Lucy worked overseas as a nurse. During her travels she became interested in sailing and later worked as a member of a yacht crew.

Hilary Douglas CB
Humanity member


Hilary is a British Red Cross trustee and former president for Surrey.

Her career began in the UK government, where she worked in education policy and legislation.

She's held chief operating officer roles on the executive committees of the Department for Education, HM Treasury and the Department for Business.

Hilary now works with Praesta Partners and coaches CEOs, board directors and senior leaders. She also co-authored a report on the contribution women can make to business coaching.

Jennifer Fox
Lifetime member


Until 2017, Jennifer was president of Fairmont Hotels & Resorts and Fairmont Raffles Hotels International. She oversaw the brand's global portfolio and the company's Raffles and Swissôtel brands outside the US.

Jennifer has 25 years of experience in the luxury, resort and business segments of the hospitality industry. She previously spent 10 years at InterContinental Hotels as chief operating officer.

Her experience as a general manager, and running luxury hotels and resorts around the world has enabled her to develop a global network of connections.

Jennifer is also a non-executive director for Village Roadshow and Grace Belgravia, a woman's only health, wellbeing and lifestyle private members' club.
Anita Goyal
Member
Anita Goyal is currently the CEO and trustee of The Hemraj Goyal Foundation. She is a Patron of Binti International and the Honorary Chair of the FGM Appeal for Barnardo's. She is an award-winning philanthropist and community champion. Anita completed a BSc in Biomedical Materials Science & Engineering at Queen Mary College, London. Anita's passion for teaching led her to become a Science teacher, advancing to Head of Science and then progressing to Assistant Head Teacher of Inclusion. Anita has completed her MA in Special and Inclusive Education at the Institute of Education and UCL.
Anita Goyal She is the Co-founder of Ultimate You where she designs educational seminars for business, leadership, life and relationships with her husband, Avnish Goyal (an award-winning entrepreneur). Under the family Foundation, Anita has launched People of the World as a platform for investing in the personal development and empowerment of all people from diverse backgrounds. She is passionate about making a difference and believes in doing everything with passion and purpose.
Margaret Johnson OBE
Lifetime member


Margaret is group CEO of creative agency Leagas Delaney London. Since 2007 she's opened new offices in Prague, Shanghai, Tokyo, Hong Kong and Los Angeles.

Before joining Leagas Delaney, Margaret worked for Unilever and drinks company Diageo.

In 2006 she was also made non-executive director of the UK car insurance company, Admiral Group.

Margaret spent her childhood in Spain and Mexico. She later relocated to Scotland to study at the University of Edinburgh.


Freddie Linnett
Humanity member


Freddie is former director of Charles Street Buildings. The company was founded by Freddie's uncles in the 1960s to build and develop properties in the UK.

As a fundraiser she works closely with The Ireland Funds Great Britain. This supports Irish communities in the UK and Ireland.

In recent years Freddie has travelled to see the work of the British Red Cross and other charities in developing nations.

Leyla Marrs
Member


Leyla is founder and owner of the Orchard Lodge Care Home in Blackpool.

With help from her staff, Layla raises money for the British Red Cross by hosting garden parties.

In 2014 Layla was invited to Buckingham Palace to celebrate her fundraising efforts.

Layla also set up Blackpool's first residential Buddhist meditation space, the Keajra Buddhist Centre.

Kim McFarland
Member
Chief Operating Officer, Investec

Deborah Parry
Humanity member

Lizzie Philip-Sorenson
Lifetime member

Lizzy Rudd
Member


Lizzy is chairman of British wine and spirits merchant Berry Bros & Rudd. She began her career at the company as part of the team responsible for building the global reputation of the Cutty Sark whisky brand.

Lizzy left Berry Bros & Rudd to raise her family, but retained a position on the board as non-executive director and played a role in creating the company's family board. She later played a role in the restructuring and governance of the executive board.

In 2005 Lizzy was appointed deputy chairman of Berry Bros & Rudd, and in December 2017 she became chairman.

Lizzy is also a qualified nutritionist and naturopath, and enjoys creating tinctures and infusions.

Elspeth Straker
Member


Elspeth is British Red Cross president for Northumbria.

Working with her late husband, Elspeth raised funds for many charities that support disabled people.

In 1990 she travelled to the North Pole to meet explorer Sir Ranulph Fiennes. This trip helped raise cash for the Calvert Trust, which provides activity holidays for disabled people.

Since her husband's death, Elspeth has devoted much of her time to raising funds for the British Red Cross.

Jane Thompson
Member


Jane is co-founder of Fusion Labs, which helps organisations to build their businesses online and better serve customers.

Jane is also non-executive director of the fashion brand Michael Kors, and director of the financial technology business Listcorp.com.

Previously Jane was international managing director of InterActiveCorp (IAC). Here she also worked as senior vice president and general manager of Match.com North America.

Karen Walters
Lifetime member

Karen is a broadcaster, journalist and owner of Global Entertainment.

She's also worked as a management consultant for corporations, the NHS and organisations in the voluntary sector.

Karen's charity work includes being appointed patron ambassador of the Bolton Hospice.

In addition, she's a former board member of Boot Out Breast Cancer, which raises funds for breast cancer screening in the UK.
Special advisors
Jennifer Ploszaj
Special advisor


Jennifer has worked in brand marketing, communications and public relations for over 20 years.

In 2011 she founded JP Communications to provide marketing and PR support to luxury travel and hospitality clients.

Jennifer has worked with brands such as One&Only Resorts, ESPA, InterContinental Hotels, Starbucks and Microsoft.

She's also managed partnerships with companies including the BBC, CNN and National Geographic.

Ileana Sodani
Special advisor


Ileana is head of relationship development for BNY Mellon's asset servicing business.

Her work is based in Europe, the Middle East and Africa.

Ileana is also executive sponsor of BNY Mellon's IMPACT network. This group supports the company's commitment to diversity and inclusion in the workplace.

Ileana joined the Bank of New York in 1991, and has a master of business administration degree from New York University and a bachelor degree from Georgetown University.
To find out more about the projects that the Tiffany Circle supports, please get in touch.