Austin Healey's Quiz-mas Party
Join us for a night of fun and games, the chance to show off your rugby knowledge!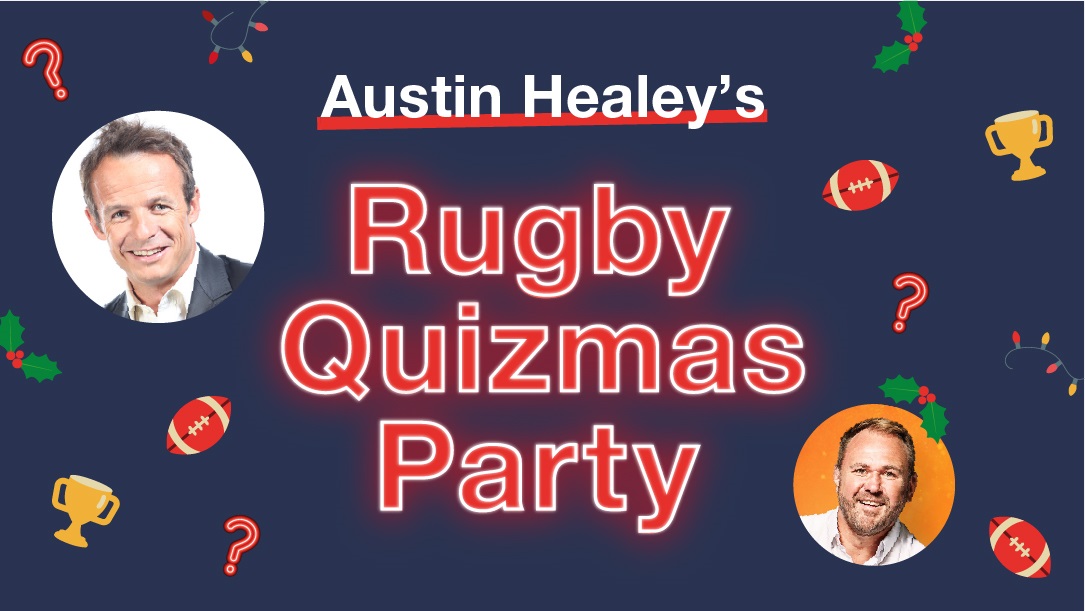 Virtual Event:

Free!

Live event:

Standard ticket: £20, including hot cider                                          VIP Ticket : £30, including hot cider and meet and greet with Austin Healey

Start Time:

7:30pm 
Join us for Austin Healey's Quiz-mas Party!
This live, virtual event will be presented by ex-England International, Austin Healey, who will be joined by former Welsh Number 8, Scott Quinnell, and a lineout of rugby stars. So scrum down for a night of fun and games, the chance to show off your rugby knowledge and win fabulous prizes!
Whether you're at home or in your local rugby club or pub, join us online for a free event. There's no need to register just follow the link to join!
Or why not select a team of friends and colleagues and join our show live at The Cabbage Patch, West London.
Money raised will go to our Kindness Has No Borders campaign and will be evenly distributed between our UK Coronavirus Response appeal (to be used wherever the need is greatest in the UK), and our International Relief Fund (supporting our work overseas).
Buy tickets to the live event
Event Address:

The Cabbage Patch,
Twickenham
TW1 3SZ
Ticket details:
Standard tickets cost £20 and include a mulled cider
VIP tickets cost £30 and include a meet and greet with Austin Healey and a mulled cider
The event will be held both in person and online. The virtual online event is free to attend.
How to play the virtual event
1. Form a team with your household, on your own, or with friends and family online.

2. Join us on Tiltify by clicking here (for more information see below).

3. Make a donation, if you can, on our Tiltify page to help people in crisis here in the UK and around the world.

4. Mark yourself (no cheating!)

5. Use the comment box to chat to our host and share your scores on the doors!


How to join
1. JOIN US on Tiltify: (please do not use Internet Explorer). Tiltify is a fundraising platform much like JustGiving and Virgin Money Giving, but it allows you to raise money in inventive ways such as through polls or rewards.

2. DONATE: Click the bright green Donate button, which is either to the right of the host's window, or underneath (depending on your screen resolution) and follow the instructions. We are suggesting a donation of £5 to take part, but please donate what you can, if you can.

3. GET CHATTING! Click 'Show chat' underneath the host's window to view the chatroom. To participate, you must be signed into Twitch (who run the chatroom function) and will be prompted to set up an account if you don't already have one. If you need to sign up, don't forget to verify your account by entering a code sent to you in the confirmation email from Twitch - this might appear in your Junk Folder.