Putting people at the heart of emergency response.
Understanding the needs of people and communities is critical to creating a more effective, human-centred approach to emergency response.
Our report, Ready for Anything, explores what people need and want before, during and after an emergency.
For more information, contact Anna Lewis (senior policy and advocacy officer) on 020787 77426 or annalewis@redcross.org.uk.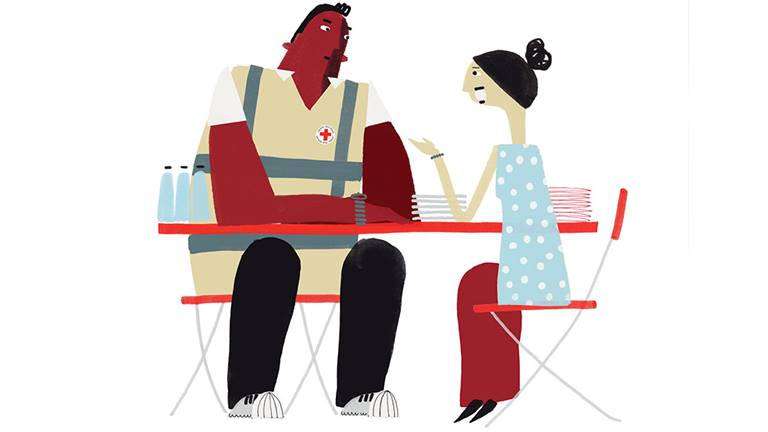 Key findings
No one knows when an emergency will strike. Our research shows a quarter (26%) of UK adults think they will be affected by a major emergency, but more than two thirds (70%) admit nobody in their household has taken steps to prepare. Yet the effects of a crisis can be devastating, far reaching and life changing.
We found that needs can be highly individualised and influenced by many factors. Nearly 1 in 5 people (19%) would want financial support for their longer-term needs within hours of a house fire. More young people are likely to say they would want emotional support than older people, 26% of those aged 18-24 compared with 14% of those over 65.
Our report identifies four themes of need that are important:
Immediate practical needs: this includes food, shelter and medication, plus the need for privacy and to feel safe.

Mental health and psychosocial support: practical and emotional support is a hugely significant factor in the early stages of recovery. These psychological needs should be treated as equal to a person's physical health. This includes an empathetic need to be given time to reflect and to tell their story, to make sense of what happened and to feel in control of what happens next.

Information and communication: this includes the need for leadership and organisation, for accurate, accessible and timely information, and the ability to contact and communicate with family and friends.

Advice, support and advocacy: most people affected by an emergency will need some help with navigating systems, such as accessing legal aid or dealing with insurance claims - it is important that this help is both co-ordinated and consistent. Critically, support must empower those affected to take control of their own recovery. It must also provide a platform or voice for victims' and affected communities' needs.
Regional briefings
What support do people want in your area?
One size doesn't fit all, and planning together and listening to people's needs locally can both reassure and empower communities to withstand incidents in future.
Simon Lewis, Head of Crisis Response at the British Red Cross
When a crisis hits, local authorities have an important role to play, providing practical support and acting as a source of trusted information. But as this report highlights, every emergency is personal and can have devastating effects on individuals and families. No one sector can meet the variety of needs people have following an emergency; it requires a joined up approach.
Stephen Baker, civil resilience spokesperson for Solace, the membership organisation for local authority and public sector professionals in the UK
In the event of an emergency incident occurring, the fire service will respond along with other blue light services, using nationally agreed principles. The National Fire Chiefs Council actively works on closer collaborative working between all responders to emergency incidents. We welcome the British Red Cross report highlighting how people can be supported following an emergency incident.
Roy Wilsher, Chair of the National Fire Chiefs Council