Coronavirus in India: the epicentre of the pandemic
Last updated 4 August 2023
India is being consumed by a ferocious second wave of the coronavirus. Positive cases are now topping 400,000 a day in India, and tragically almost 4,000 people are losing their lives daily to the coronavirus. Numbers are still on the rise.
Hospitals are full, queues of ambulances line the streets and crematoriums are running out of space. People are losing their loved ones at a frightening rate.
Support where it's needed most
We set up the Global Coronavirus Appeal to make sure money and support is available to countries and communities devastated by this crisis, through second and third waves, new mutations and the effects of lockdown.
From 4-11 May, we directed all donations to our Global Coronavirus Appeal to help the critical situation in India. But as the terrifying wave of Covid-19 continues to spread to neighbouring countries, such as Nepal, Bangladesh, Sri Lanka and beyond, we're seeing that the level of need across the world is higher than ever right now.
We cannot leave anyone behind in our response to this deadly pandemic. By donating to our Global Coronavirus Appeal today, your gift will reach someone who urgently needs it, no matter where they are in the world.
This doesn't mean your donation will no longer help those in India, but it means we can now widen our support to ensure we reach those who need it most, wherever or whoever they are.
Coronavirus in India: outpouring of concern
We set up the Global Coronavirus Appeal to make sure money and support is available to countries and communities devastated by this crisis, through second and third waves, new mutations and the effects of lockdown. Right now, the focus of our appeal is on India.
By donating to our Global Coronavirus Appeal right now, you can help us reach people who are most at risk from this devastating surge of Covid-19 across India.
There has been an outpouring of concern and support for India from around the world. As coronavirus rips through the country, it is particularly difficult for the many British people with family in India who can only look on in horror.
"We've felt a deep sense of desperation and distress being so far away and unable to do anything," said Shabana Whiting, who lives in the UK.
"A few weeks ago, the thing we had feared most happened - we received news that my Aunt Sara was in hospital with Covid. My cousins took her to two different hospitals before they were able to find a bed for her.
The following days were tense and difficult, as we waited for news and updates. Finally, after ten days in hospital we got a call to say she was improving and could go home. I'm so thankful that she's getting better now."
"Those ten days were awful for me and my UK family. It's hard to feel like you're being supportive or doing anything helpful when you're thousands of miles away. The situation in India is still dire, which is why I'm glad to see the British Red Cross launch this appeal.
"We may be thousands of miles away but sharing this campaign with everyone I know will in some small way make me feel like I'm doing something to help."
The situation explained:
What is happening in India?
India is currently in the grip of an overwhelming new covid wave, with cases surging by more than 400,000 a day - a grim world record.
The total number of cases has skyrocketed to more than 18 million, by far the highest in the Asia Pacific region, and second highest globally behind the United States.
The death toll has reached over 230,000. Hospital beds are full and there is an acute shortage of oxygen, making it likely the death count will continue to rise.
Targeted lockdowns are in place in several of the worst-hit regions, including the capital New Delhi, and Mumbai. There have been reports that hundreds of migrant workers are starting to flee back to their home towns, which could in turn spread the virus further into rural areas.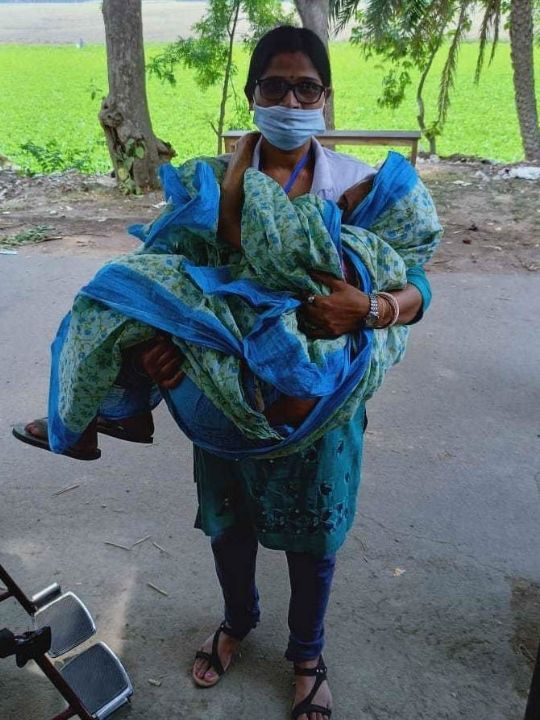 How is the wave of infections affecting India's healthcare services?
This new Covid-19 wave has put enormous pressure on the healthcare system. Hospital beds are full and oxygen is extremely hard to come by.
In rural parts of the country, where some 600 million Indians live, healthcare resources are limited. The pandemic is also plunging the country further into poverty – this will be devastating to the 21.9 per cent of the population who already lived below the poverty line.
What is happening with India's Covid-19 vaccination campaign? 
India faces the largest vaccine drive in the world.
The Indian government launched its vaccination campaign in January 2021, approving Covishield (developed by AstraZeneca and manufactured locally by the Serum Institute of India) and Covaxin (a vaccine developed in India by Bharat Biotech) for use.
Since then, more than 145 million doses have been administered. And from May, the vaccine will be available to anyone aged 18 and above.
However, there are fears that a vaccine shortage is looming in many districts, as production cannot keep up with demand.
How is the Red Cross supporting people in India?
From the start of the outbreak, the Indian Red Cross Society was declared an essential service provider by the government of India.
In response to the latest wave, over 46,000 Red Cross staff and volunteers across 550 districts in India are supporting Covid-19 response efforts. They are providing vital oxygen supplies, ambulance services, first aid, medical care, and PPE oxygen within Indian communities.
The Red Cross is working closely with authorities to care for those who need it most, including the elderly and people with disabilities.
Indian Red Cross branches across the country are also supporting the vaccination drive, providing vaccinations and running vaccine awareness campaigns, and offering Red Cross clinics and medical facilities as vaccination centres.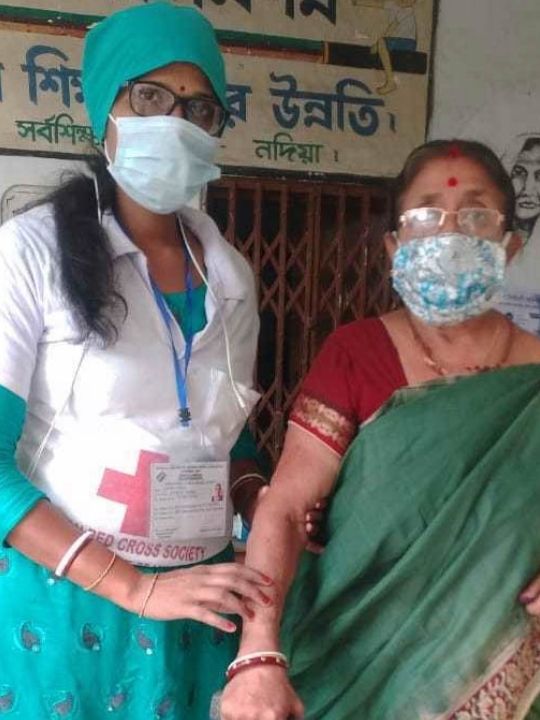 How will donations from this appeal support people in India?
Your donations will help us continue our work with the International Federation of the Red Cross and Red Crescent and the Indian Red Cross to support the coronavirus response across the world.
In India, these vital funds will be used where the need is greatest: sourcing oxygen cylinders, oxygen concentrators and Covid-19 prevention kits.
We will also increase the amount of ambulance and blood services available through the Indian Red Cross as well as PPE.
A 24/7 hotline is being set up to help the most vulnerable, and donations will also help fund public health awareness campaigns on how people can stay safe and protect themselves and their communities.
Your donations can help us continue our vital work in India and across the world.
Video: Geeta Nargund, vice chair, British Red Cross
"Please donate if you can. Covid is not defeated unless it is defeated everywhere."
Geeta explains that donating to the British Red Cross Global Coronavirus Appeal will help our 46,000 Red Cross volunteers in India continue their vital work.
More on coronavirus in India
Donate to our Global Coronavirus Appeal
India is experiencing the worst wave of the global coronavirus pandemic: 3,000 people are dying there every day. Please help the Red Cross continue our vital work and help the most vulnerable people in society.
Donate