A patchwork of female leadership and empowerment.
What is EmpowHER?
Launched in 2018 to mark the centenary of women's suffrage, EmpowHER was a youth-led project that ran for three and a half years. It was founded to inspire and empower young women and girls between the ages of 10 and 20 to lead change in their local communities.
EmpowHER also addressed the worryingly low levels of wellbeing among young women and girls. The project challenged limiting perceptions and engaged those who had never had opportunities to participate in meaningful social action. Projects included working with food banks and homeless charities, raising awareness of mental health issues and creating campaigns.
The EmpowHER quilt
Inspired by the Changi quilt made by women internees held in Changi prison during the Second World War, a group of EmpowHER participants and Youth Workers designed and created individual quilt patches. Representing what they felt it meant to be a woman or girl in 2021, the patches then were sewn together to create a large quilt. Each of the 66 patches shares inspiring messages of hope, strength, and encouragement, and the stories behind the patches are uplifting and empowering.

The EmpowHER quilt is now part of the British Red Cross Museum collection and is available to explore online.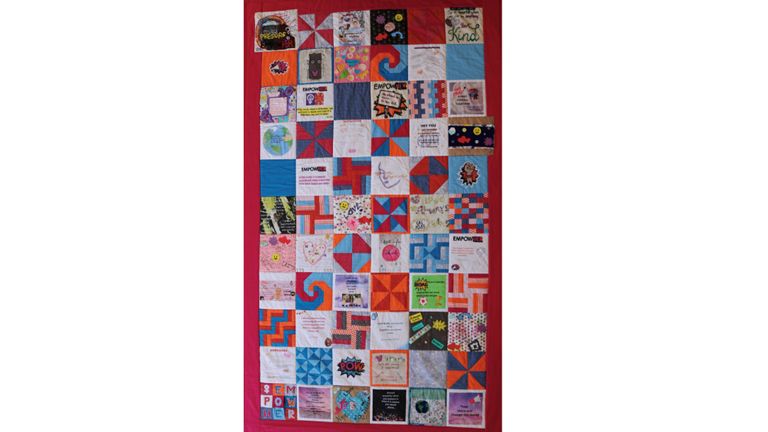 Thank you to everyone in EmpowHER
The EmpowHER quilt was created by seamstress Alice Farrell with participants and Youth Workers of the EmpowHER programme
Participants' stories were collected by Georgia Allen (EmpowHER intern).
The online exhibition was curated by Mehzebin Adam-Suter (Museum and archives curator).
Thank you to all the amazing young women and girls, role models and incredible youth workers who made EmpowHER possible.
All images © British Red Cross Museum and Archives.
EmpowHER was funded by Spirit of 2012 and #iwillFund and was delivered in partnership by UK Youth, British Red Cross and the Young Women's Trust.