The Changi quilt: secrets and survival
Created by a group of defiant women prisoners during the Second World War, the Changi quilt is packed with secret messages and hidden meanings
Last updated 27 October 2021
On 15th February 1942, Singapore surrendered to the invading Japanese army.
Doctors, teachers, nurses, nuns, missionaries, police, and their families from Allied Britain, Denmark, Australia, and Canada were sent to camps at Changi prison on the east end of the island.
Children stayed with their mothers but men and women were separated. They were not allowed to communicate except during occasional organised meetings, supervised by the guards.
But that didn't stop these husbands and wives, friends and siblings from sending secret messages any way they could.
Stitching secret messages
Life in the camp was crowded and stressful – and at times it was tedious. The captives were forced to live on rations, follow orders, do chores, and work.
However, they were also expected to organise themselves, setting up committees and activities like concerts and gardening sessions.
In the first few weeks, to help the young girls cope, prisoners Elizabeth Ennis and Trudie van Roode set up a Girl Guide group.
They taught the girls patchwork to keep them amused.
A brilliant idea
Then a woman called Ethel Mulvany had a brilliant idea. Many of the women at Changi had husbands and relatives in the nearby military camp. The women couldn't contact them to let them know they were alive.

But what if they made a set of patchwork quilts for the hospital in the military camp? Each woman could stitch a coded message or symbol into a patchwork square. When the men saw the quilt, they would know that their families were alive.
Each woman was given a six-inch-square of white material cut from a rice sack. She was asked to embroider her name and 'something of herself' into the square.

The finished squares were stitched together to make three quilts, each containing 66 squares. The Japanese authorities gave permission for the quilts to be sent to the military hospital at Changi barracks.

The quilts provided lists of women who were alive. The news spread through the hospital and beyond. For many men at the barracks, the quilts brought the first news their loved ones had survived.
In the picture above left is a square from the quilt stitched by Honora Crawshaw, who was interred with her husband. They were British citizens and Honora's husband was a prison officer at Changi gaol before the war. Her square shows a harp and the motto Erin go Bragh (Ireland forever).
In the picture above right is a square from the quilt stitched by Mary Lowe, who was only 18 years old when she became a prisoner.
Her father was a lieutenant in the Royal Navy.
Craving space, quiet and privacy
The women who made the quilt included nurses, teachers and typists.

They lived in Singapore, Penang, Taiping, Ipoh, Kuala Lumpur and Kedah before the war. Many were married to civil servants.

They were from countries as far-flung as Britain, Denmark, Australia and New Zealand.

In the overcrowded camp, most women craved space, quiet and privacy. Embroidering a square offered an activity to focus on.
Secret messages to loved ones
Above left is Trudie von Roode's addition to the Changi quilt.

Her square shows a waiter and a table laid with sumptuous food and elegant cutlery. Next to them are the words 'It was only a dream'.
The square above right is the work of British nurse Maud Broadbent who was living in Singapore with her husband at the outbreak of war. Her square has the letters GR (George Rex), embroidered as a chain of forget-me-nots.

The letters IMNS in the bottom corner might be the clue to her role with the Malayan nursing service.
Dorothy Andrews, who stitched the quilt square above left, was imprisoned with her husband. They were British and he was a police customs officer before the war.

Mary Buckley, who stitched the square above right, was a British nurse in Singapore before the war.
You can see symbols of Wales on her square - daffodils, a red dragon, and the caption 'Cymru am byth' (Wales forever).
A woman's point of view of internment
Ossie Hancock, who stitched the square above right, was from Australia and lived in Singapore with her family. She was sent to the prison along with her husband and two daughters.

Her square depicts a V, presumably for Victory, and two rabbits, which might have been a message for her husband about their daughters.
A small embroidered message on the back of each quilt stated that it was to be passed to a Red Cross Society when the war ended.

On a practical note a woman had stitched: "It is advisable to dry clean this quilt."
"To those who would learn a woman's point of view of internment I would recommend a close inspection of the embroidered patches of the hospital quilts made for the Red Cross. That sprig of heather, those snow-capped peaks, a miniature flower garden in bloom and the brave gesture or motto traced in coloured thread: these reveal more clearly than any essay the secrets of the heart," wrote Helen Beck, who embroidered the square above left.
The quilt made for the British Red Cross is now safely stored in our museum in London - but it's a mystery as to how it got there.

It was discovered in the 1960s, folded in a drawer in the archives among many other objects. There is no record of how it got from Singapore to London. The other two quilts are held by the Australian war memorial in Canberra.
Did your relative embroider a square of the Changi quilt? If so, we'd love to hear from you.
Read more
Here are five inspiring ladies who represent the hundreds of thousands of women who have given their time, skills and passion to our humanitarian work.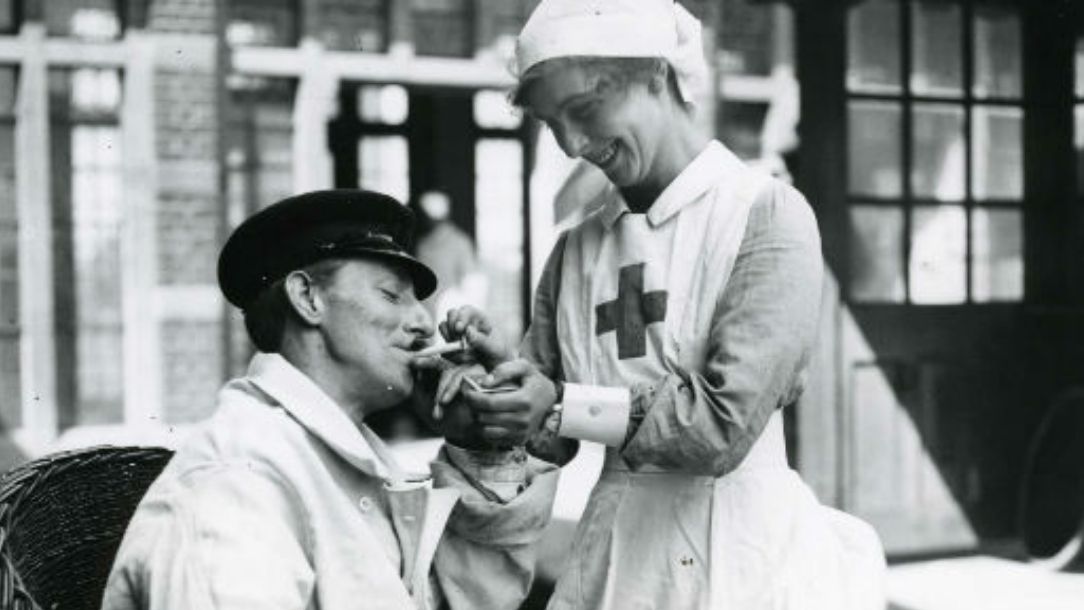 From WWI to the coronavirus pandemic, let's hear it for the nurses who've looked after us through so much.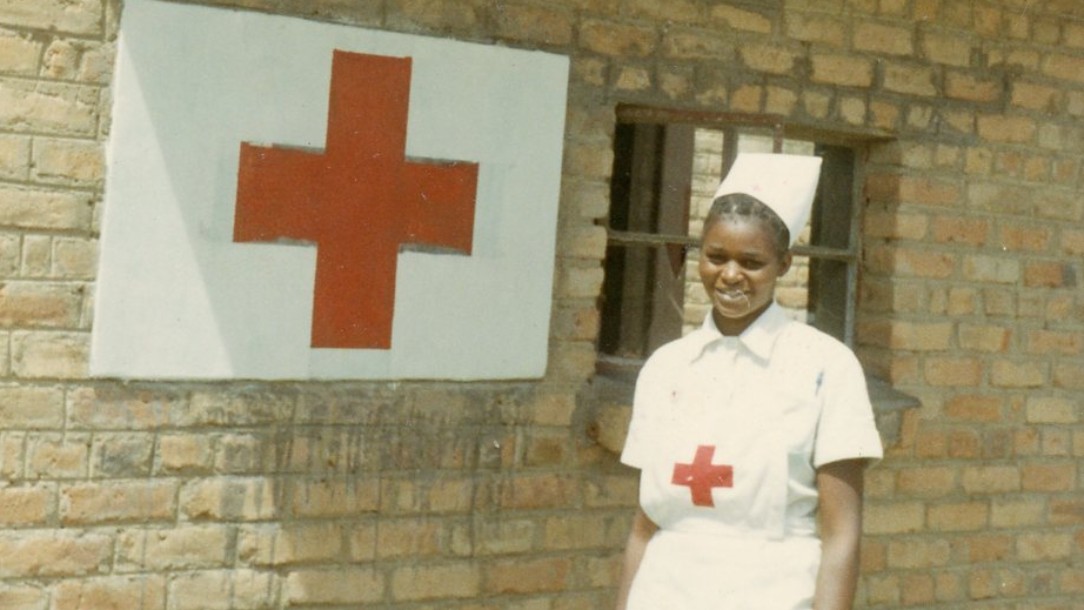 Our curator introduces an exploration and celebration of Black British history in our online exhibition