International and overseas careers
International humanitarian jobs with the British Red Cross in the UK and overseas.
Our international work is carried out in coordination and partnership with the International Red Cross and Red Crescent Movement.
We respond to natural disasters and aid those caught up in conflict overseas, support resilience programmes and assist the organisational development of our partner National Societies.
We're also specialists in humanitarian policy and advocacy, and international humanitarian law.
Learn more about working for the international team: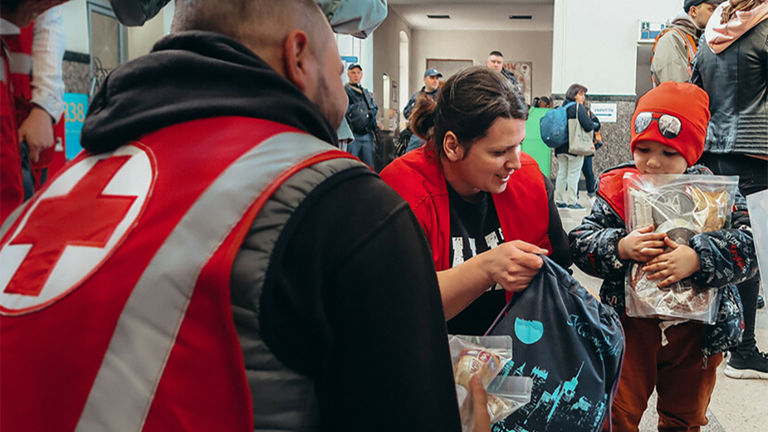 Overseas jobs
As part of the wider Red Cross Red Crescent Movement, we work overseas before, during and after disasters and conflicts.
Our skilled staff work with local partner National Societies to support their operations and provide relief to affected or vulnerable communities.
We hire experienced humanitarians from a wide range of professional backgrounds, which include:
cash-based interventions
logistics
water and sanitation
food security and livelihoods (FSL)
monitoring and evaluation (PMEAL)
community engagement and accountability (CEA).
You will need:
specific technical expertise relevant to the role
experience in international and cross-cultural settings
diplomacy and great communication skills
to cope with extreme and resource-poor environments.
Emergency Response Units
British Red Cross have two Emergency Response Units (ERU) that deploy as part of the wider IFRC emergency response in times of disaster. These roles involve being on-call, ready to deploy for a month wherever crisis strikes.
We have ERUs in logistics and water and sanitation. You'll undertake a full training pathway, which is part time and can take up to six months. Once you've successfully passed the training, you will be on call for at least one month a year.
The recruitment for our ERUs typically takes place once a year. The next round of recruitment has been postponed until further notice and we will publish the dates here once they have been confirmed.
Overseas employee benefits
We offer a wide range of benefits for British Red Cross staff based overseas which include:
accommodation while on deployment

daily living allowance while on deployment

travel to and from the deployment

arranging visas and work permits

access to professional health support and counselling services

travel, medical and life insurance coverage

a pension, which you can join at any point in your contract

36 days leave allowance, including public holidays

professional development opportunities, training and secondments.
International jobs in the UK
Our overseas work is supported by staff based in the UK.
As part of the international team you will be supporting our people and programmes overseas as well as working with the wider Red Cross Red Crescent Movement, including our partner National Societies, the IFRC and ICRC.
In the UK, we hire staff to work on:
Regional programmes and partnerships
Emergency surge and response
Cash-based assistance
Technical advice (health, WASH, disaster risk reduction and food security, and livelihoods)
International humanitarian law
Humanitarian policy and advocacy
Logistics
HR and finance
Working with the ICRC
The International Committee of the Red Cross (ICRC) helps people around the world affected by armed conflict and violence, doing everything it can to protect their lives and dignity and to relieve their suffering, often with its Red Cross and Red Crescent partners. The organisation also seeks to prevent hardship by promoting and strengthening humanitarian law and championing universal humanitarian principles.
The ICRC carries out a range of life-saving activities in conflict zones, including: supplying food, safe drinking water, sanitation and shelter; providing health care; and helping to reduce the danger of landmines and unexploded ordnance. It also reunites family members separated by conflict, and visits people who are detained to ensure they are treated properly.
While the ICRC often works with volunteers from Red Cross and Red Crescent national societies, it does not directly recruit volunteers. The ICRC employs professionals for a wide variety of roles and specialisms to help it fulfil its humanitarian mission. It also offers paid internships at its headquarters in Geneva, Switzerland.
UK employee benefits
As well as a rewarding career with a global charity, you'll get access to a wide range of benefits:
Flexible working – Your work-life balance is important to us. We'll do what we can to make sure you can work in a way which suits you and your lifestyle
36 days annual leave plus the chance to purchase 5 extra days leave – It's time to refresh. We recognise the importance of plenty of time off to recharge
Training and development opportunities – We want you to be the best you can be. We provide a range of courses and training opportunities to further your development
Maternity, paternity, adoption, shared parental and careers leave – Take the time you need to care for your loved ones
Wellbeing support and advice helpline – Mental health matters. We want all our staff to know they have someone to talk to when they need it most
Pension scheme – We want you to feel secure in the knowledge you can look forward to a comfortable, happy retirement
Employee discounts – As a British Red Cross member of staff, you will be eligible for a Blue Light Card which offers discounts at various well-known shops, restaurants, and brands
Cycle to work scheme – Hop on your bike and get active. Your physical health and wellbeing is important to us
Season ticket loan – We'll provide an interest free loan to spread out the cost of your commute to work