Advice on finding your perfect role, setting up job alerts and tips for applying, as well as information on DBS checks and the disability confident scheme.
We're committed to recruiting the best people possible to help us with our mission of using human kindness to overcome crisis.
Below, we set out information on the application process to make it as easy as possible for you to apply to become part of our team.
Finding your perfect role
We advertise every role online. You can use the following link to search for current vacancies in the UK and overseas.
Job alerts
If you can't find what you're looking for, register for job alerts.
We'll let you know when your chosen role becomes available.
Tips for applying
Before filling out your application, you'll need the following information:
personal details
education and work history
referees
Make sure your referees are aware they're being put forward, this will save time if we need to contact them. We will only contact references should an offer of employment be made.
We'd suggest you read about the work we do and our values.
Also, you should have a thorough read of the job description and person specification for the role. How well does this match up with your skills and experience? Do you have relevant examples?
Don't forget to note the closing date. Give yourself plenty of time to fill out the application in case you run into any problems.
Filling out your application
Our application is divided into sections. Every section needs to be completed before you can apply.
Please make sure to click the 'apply' button when you've completed all sections or else we won't receive your application.
You don't have to complete the entire application in one sitting. Once you have created an account, you can come back to an incomplete application form at any time by signing in and clicking 'My Applications'.
If you have applied online for a job with us in the past, or if you've already created an online account, you can simply enter your email address and password to log in.
If you forget your password at any time, you can request a new one from the log in page.
Recruitment of ex-offenders policy
(roles exempt from the Rehabilitation of Offenders Act 1974)


Certain roles within the organisation will be exempt from the provisions of the Rehabilitation of Offenders Act.
These are roles that require the individual to work within regulated activities with children and/or adults at risk, and therefore the organisation is required to a carry out a criminal record check prior to the candidate commencing their role. This will be reflected in the role profile. All positions based overseas are subject to a Criminal Record Check.
Where a role is not exempt under the Rehabilitation of Offenders Act 1974, candidates are not required to disclose convictions that are 'spent' under the Act, however candidates are required to declare any unspent convictions at the application stage.
Having an 'unspent' conviction will not necessarily bar the candidate from working or volunteering with the British Red Cross. This will depend on the circumstances, background to the offence(s) and the nature of any unspent convictions.
The organisation will take every possible step to ensure that each individual is treated equally and fairly, and that decisions on recruitment and selection are based solely on job-related criteria.
If you are shortlisted, this will be discussed with you during the recruitment process.
Disability confident scheme
We are committed to ensuring everyone feels welcome at the British Red Cross. As such, we are proud to participate in the disability confident scheme for roles based in the UK.
During the application process, you will be asked if you wish to apply under the disability confident scheme.
We will offer interviews to disabled candidates (as defined in the 2010 Equality Act), who meet the minimum shortlisting criteria in the advertised person specification and apply under the disability confident scheme.
There may be occasions where it is not practicable or appropriate to interview all disabled people that meet the minimum criteria. For example, if we receive a high number of applications. In such cases, we may limit the overall number of interviews offered to both disabled people and non-disabled people.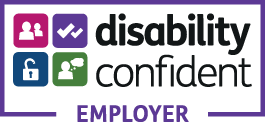 Any questions?
If you have any issues with the application process, our recruitment team will be happy to help.
Call us:
Monday to Friday, 9.30am - 5.30pm