Activities to encourage children and young people to think critically about stigma and migration, and what makes us who we are.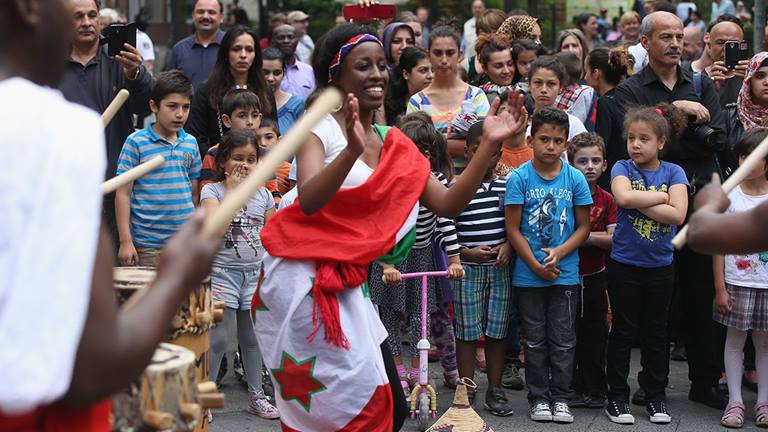 Age:

7-11, 11-14

Type:

Lesson plan, images

Subjects:

PSHE

Topics:

Refugees and migration
What is it that makes up our identity? How might others perceive this? It can be easy to make assumptions about a person but that can have harmful effects.
These activities encourage learners to think about why people migrate and how we can make refugees and migrants feel welcome. Discussion activities look at the impact of behaviour, and a role-play activity promotes empathy and understanding.
Learning objectives
Learners will:
consider multiple points of view and how they might be perceived by others

explore the impact of stigma

reflect on assumptions about migration

recognise what makes us human.
Resource overview
1. Starter: What makes me who I am?
Individual and pair activities use pictures or words to explore the elements that make up our identities.
2. Knowledge building: How I see others; how they see me
Pair and class discussion about different perspectives, judgements and the impact of stigma.
3. Raising awareness: Why stigma matters
Class discussion exploring the impact of stigma in the context of migrant communities.
4. Raising awareness: We all come from somewhere
Use active learning to explore where learners come from and how migration happens.
5. Taking action: Putting yourself in others' shoes
Pair and class discussion. Learners imagine how it might feel to leave their home, friends and family.

Stories help learners build empathy and understanding. The story extract provides prompt questions and a suggested reading list about refugees and migration.

Extensions include suggestions for role-playing activities, individual written work and a group discussion.
6. Taking action: Making people welcome
Group poetry activity and shared discussion. Learners build on their own experience to think about what might make migrants welcome or unwelcome.
7. Closing reflections: A shared humanity
Learners research Malala Yousafzai's story and identify examples of behaviours – such as stigma, discrimination, migration, help and welcome – which appear in the story. Learners think about what makes up individual and collective identity.
Don't miss out
Sign up to our mailing list and receive new teaching resources, newsworthy resource packages, and information about educational offline and online products straight to your inbox.
Credits
This resource was written by Rob Bowden and Rosie Wilson of Lifeworlds Learning, published in September 2014 and reviewed in January 2018.
The image shows a community initiative working to reduce violence in a district in Berlin (© Sean Gallup/Getty Images).