31 December 2021
British Red Cross duo recognised in New Year's Honours list 2022 
Two senior staff members at the British Red Cross have been recognised in the New Year's Honours List 2022 for clocking up almost 50 years' service between them.
Norman McKinley, Executive Director of UK Operations, has been awarded a Member of the Most Excellent Order of the British Empire (MBE), while colleague David Peppiatt, Director of Humanitarian Assistance, receives an Officer of the Order of the British Empire award (OBE).
Mike Adamson, chief executive of the British Red Cross, says:
"Both Norman and David have been with the Red Cross for 25 years. They are fantastic role models for everyone within the organisation and shining examples of the exemplary staff and volunteers we are lucky to have to support our vital work.
"They are true humanitarians who work tirelessly to support vulnerable people when they need it most, especially during the past year. I am delighted to see them honoured in this way."
"I would like to congratulate them both and thank them for helping to make a difference not only during the Covid-19 pandemic, but over decades of dedicated service."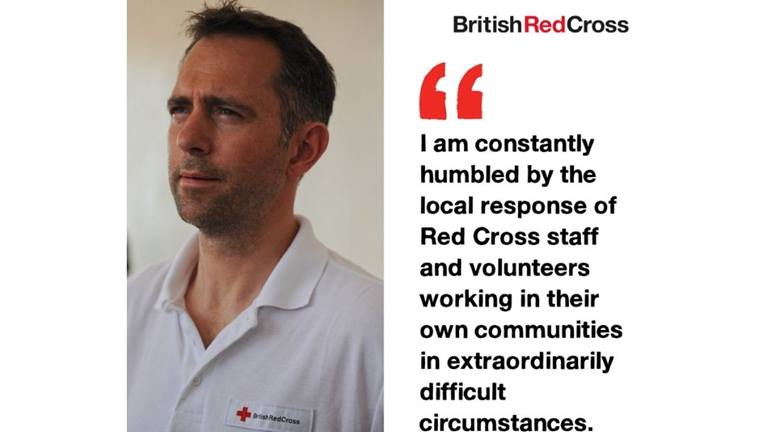 David Peppiatt, Director of Humanitarian Assistance, says:
"It's been a great privilege to be part of the teams making extraordinary efforts to support people in crisis. For example, in the humanitarian relief operations in Haiti, Syria, Bangladesh and South Sudan.
"There have been some incredible moments over the years that I am proud of, but equally some painful and difficult moments where the enormous challenges faced by the Red Cross have been overwhelming.
"I am constantly humbled by the efforts of our staff and volunteers working in their own communities in extraordinary difficult circumstances. Their courage and heroism is humbling. This award is not just for me, it is for all those frontline staff and volunteers."
Norman McKinley, Executive Director of UK operations, says:
"I was working in London when my wife called me to say a letter had arrived about an MBE. I thought she was joking. When it eventually sank in, I couldn't believe that someone had been so thoughtful and kind to nominate me.
"The Red Cross is a unique and enduring force for good, able to mobilise people from all walks of life to be active humanitarians and provide vital emergency help where it's needed most. It's been a privilege to play my part."
Over the past year, the British Red Cross has helped more than 1.1 million people feel less isolated, cope with financial hardship and manage their mental health and wellbeing.
Over 1,400 Red Cross volunteers supported vaccination programmes which helped over 1.4 million people get vaccinated, and 7,878 households were supported by over £4.3 million distributed through the charity's hardship fund.
For further information and interviews: press@redcross.org.uk