Often within hours of an emergency – or even before it's happened – our emergency response units in the local Red Cross or Red Crescent National Society are on the ground keeping people safe. We work as part of the International Red Cross and Red Crescent Movement, with millions of volunteers across 192 countries helping around the world to prevent or ease human suffering.
Humanitarian crises in the Middle East and Afghanistan
Thousands have been killed and hundreds more injured due to the escalating conflict in Israel and the Occupied Palestinian Territory. In Afghanistan, a powerful earthquake has flattened villages and buried people under the rubble.
Get information about Israel and the Occupied Palestinian Territory:
Find out more about the earthquake that struck Afghanistan and how you can support the search and rescue efforts:
We specialise in getting the right aid to the right place as quickly as possible, following international humanitarian law of armed conflict, and helping to build strong communities that can withstand and recover from disasters.
Where we're currently working
Alongside the emergency response in Afghanistan and the Occupied Palestinian Territory and Israel, Red Cross and Red Crescent societies around the world are constantly working to help people in need. Find out about emergencies we're responding to:
What does the British Red Cross do internationally?
We are a neutral, independent and impartial organisation, guided by seven fundamental principles. Our neutrality allows us to reach people caught up in conflicts or other crises across the world. When these emergencies cause people to flee their homes, the Red Cross provides disaster relief, helping make sure they have food, shelter and other help they need. We also support those facing chronic hunger.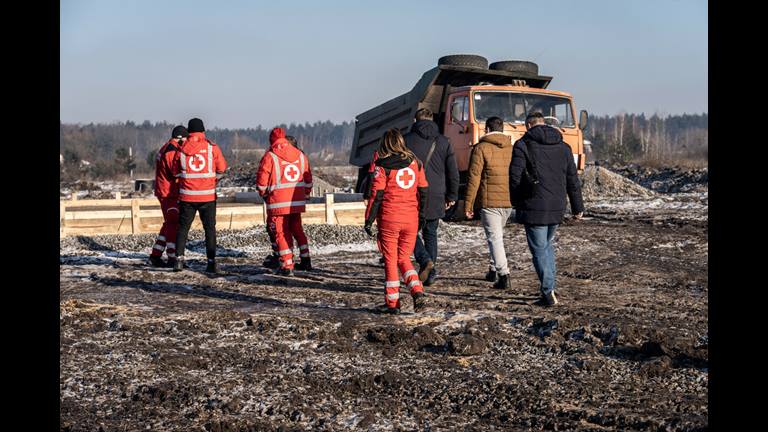 The British Red Cross' Global Surge Team
For our Global Surge Team, the front line of a disaster is only ever 48 hours away. When needed, they support all 192 international Red Cross and Red Crescent societies before, during and after a disaster strikes.
Other ways we are helping around the world
Find out more about the Red Cross' international work, from humanitarian policy to overseas jobs.