27 December 2019
MBE for British Red Cross volunteer in New Year Honours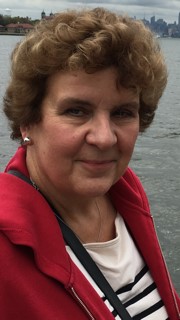 Lady Angela Lamport, a long-standing British Red Cross volunteer from Cobham in Surrey, has been awarded an MBE in the New Year Honours List 2020.
Since joining the Red Cross as a volunteer in 2003, Angela has helped people affected by some of the decade's most significant UK and international crises, including the Grenfell Tower Fire, where she supported survivors and bereaved families.
"I'm overwhelmed," says Angela of the honour, "I think there are so many people who deserve it more than me, but I'm extremely humbled and grateful."
As a member of the British Red Cross Psychosocial Support Team, which offers emotional and practical support in a crisis, Angela has also helped Britons fleeing conflicts or disasters in countries including Zimbabwe and Libya.
"I feel I have gained so much more from the Red Cross than I could ever have given to it," she continues. "I went out to Haiti after the earthquake where I saw the utter devastation and the work the Red Cross was doing to help rebuild livelihoods. I travelled to Libya on a Royal Naval frigate to help people who were being evacuated. That was a totally unique and extraordinary experience, but the most heart-rending experience was helping some of the bereaved families after the fire at Grenfell Tower. I still think of them every day.
"You realise that sometimes it is the small things that can make such a difference to someone at one of the lowest points in their lives. A kind word, a helping hand, a smile, a hug. It is at those moments one's lives touch, and if by being there you can just make a little bit of difference to someone, it's worth it in spades."
Angela was elected to the Red Cross Board of Trustees from 2007 to 2013, before taking on the voluntary fundraising role of Red Cross President for London.
Red Cross Chief Executive Mike Adamson, says: "Angela has given many years of fantastic service to the Red Cross in a whole variety of roles in the field both in the UK and overseas and as a distinguished member of our board of trustees. She is a true humanitarian and brings a special brand of warmth and empathy to bear in every situation. We are delighted to see her honoured in this way. It is richly deserved."
As a Red Cross President, fundraiser and a former member of the Board of Trustees Angela has been involved in key decisions for the charity and seen first-hand the impact of people's generosity and support for the charity's work.
In 2010 Angela was instrumental in setting up the British Red Cross' Tiffany Circle, a group of successful women in business whose role is to raise substantial sums of money for the Red Cross and to promote the work of the organisation among their peers.
For further information and interviews: