About our home care services
We help you adjust when you return home after a stay in hospital. Both short- and long-term support is available.
If you're being discharged from hospital, we'll bring you home and make sure you have everything you need for your first few days. If you still need assistance after that, we can provide up to 12 weeks of support depending on what level of help you need.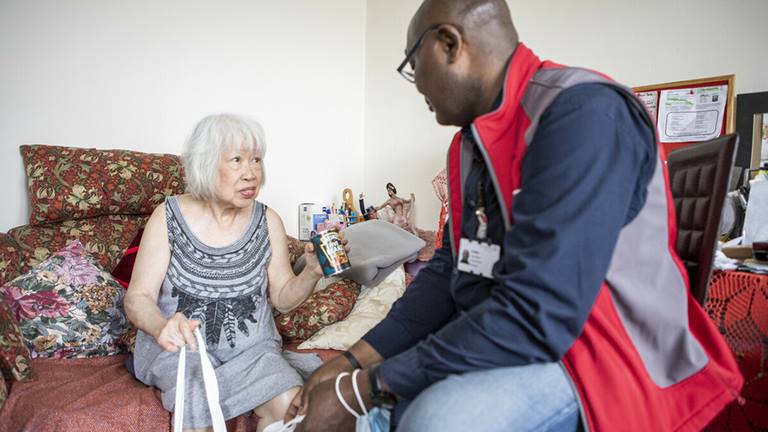 Six steps to returning home after your hospital stay
A few days before you're discharged, one of our volunteers will meet you in the hospital.
They'll also visit your home to get it ready for your return. They'll make sure there is food in the fridge, remove any trip hazards and ensure everything is as it should be.
When you're ready to leave hospital, your volunteer will help you pack and collect prescriptions or mobility aids should you need them.
They'll drive you home.
At home, they'll help you with essentials, from changing your bedsheets to collecting prescriptions to calling your loved ones to let them know you're back safe.
Your volunteer will stay in touch over the next 72 hours to see how you're doing and whether you need any more support at home.
Long-term support at home
We work with people to build up their confidence to live independently and achieve their goals. If needed, we can provide up to 12 weeks of support.
Transport is available for essential hospital or medical appointments and other essential trips, such as picking up prescriptions or groceries.
It can be lonely returning home after being in hospital, but our friendly volunteers will visit you every week to find out how you're doing. Or you can call them.
Setting a goal is a vital part of your recovery. You might want to reconnect with family or friends, or exercise more. Our trained volunteers can help you build confidence.
Support for carers
We offer support for carers in a few limited locations in the UK. Contact your local care at home service to find out if this is available in your area.
We have a special service for people in Newcastle in partnership with Newcastle City Council. The Emergency Carers Card scheme allows carers over the age of 18 to set up a pre-arranged emergency contact plan, providing temporary support for the people you care for, should something unexpected happen. The free service is available 24 hours, seven days a week and is recognised by all emergency services in the UK.
Register for Emergency Carers Card scheme:
0191 2737961
carerscard_northeast@redcross.org.uk.