Here for humanity
Disaster can strike anytime, anywhere. With volunteers across 192 countries and your support, the Red Cross can reach people with the help they need in a crisis. 
Last updated 10 November 2023
Together, we are the world's emergency responders
In the space of a few days, we've seen huge disasters both in Morocco from the earthquake and now the floods in Libya. In both situations, the local Red Crescent has been on the ground from the start, helping affected people. And those responders are supported by the wider Red Cross Red Crescent Movement. British Red Cross has launched appeals for both emergencies.
Rooted in the communities we serve, our staff and volunteers are there before, during and after disaster strikes, providing support and hope.
Our Movement is truly global. As well as the British Red Cross, there are 191 Red Cross and Red Crescent societies supporting people across the globe.
We are boosted by our incredible volunteers, supporters and partners. With your support, we are here for humanity.
Together, we can be there for the people who need us most.
SUPPORT PEOPLE IN CRISIS
Here to give hope
If there's an emergency, you can count on us. From Storm Babet in the UK to the ongoing humanitarian crisis in Israel and Gaza. Our worldwide network is there for the people who need us the most.
We couldn't do this without you, our supporters.
More than 18 months on, we've supplied clean water to 10.6 million people, provided emergency healthcare to 1 million people and provided shelter to 1.8 million people.
We've been supporting Ukrainians in the UK too.
Since February 2022, more than 174,000 Ukrainians have found safety in the UK, where they were met at airports by volunteers like Mohammed.
Mohammed, who fled conflict himself, knew just what was needed. The British Red Cross supported him when he arrived from Sudan.
He, and many other volunteers offered emotional and practical support to arrivals at airports across the UK.
"That was me once," recalls Mohammed.
I know what it is like to arrive in a strange country and not know what's going to happen next.
As a neutral, independent organisation, the Red Cross can reach people caught up in conflict across the world.
Whether we are supporting families who have been forced to flee their homes or reaching people who stay behind, we provide support people before, during and after an emergency.
Here for communities: storms in the UK
The British Red Cross has supported thousands of people each year, whose lives have been turned upside down by devastating storms, floods and other emergencies.
From evacuating people to safety, to helping them navigate what's next, we're here to support when they need us most.
When northern England was struck by storms Arwen and Eunice in 2022, the damage was immense.
But our emergency response volunteers worked around the clock, reaching people in remote areas, organising clean-ups and providing support at rest centres.
After the storms passed our teams stayed, helping people rebuild their lives. 
Emergency Response volunteer, Kate, was part of the national crisis response team responding to Storm Arwen, and says:
In all these crises, it's the teamwork, and the power of the Red Cross that shines through.
"We are so fortunate to be able to offer the smallest, yet most significant of things to people in dark times – a smile, a how are you."
Cathie lives in rural Cumbria in the same village as her elderly mother. When Storm Arwen hit, they were left without power and cut off from the world. Our teams knocked on their door.
"We basically just had a chat and I let them know who would need assistance", she says.
It was nice to know that people were concerned. It was reassuring.
Thanks to our supporters, we're able to help people like Cathie and her mum, when crisis strikes.
Here to rebuild lives: Türkiye and Syria earthquakes
Volunteers are our strength. Ordinary people like you, your friends or family are often first to respond to disasters because they're part of the affected communities.
When Türkiye and Syria were devastated by a series of earthquakes this year, Red Cross teams were on the scene within the hour.
Amid violent aftershocks, they stood shoulder-to-shoulder to support search and rescue operations, give life-saving first aid and deliver vital supplies.
Meltem is lead volunteer of the Turkish Red Crescent Ankara Branch. She was among the first on the scene.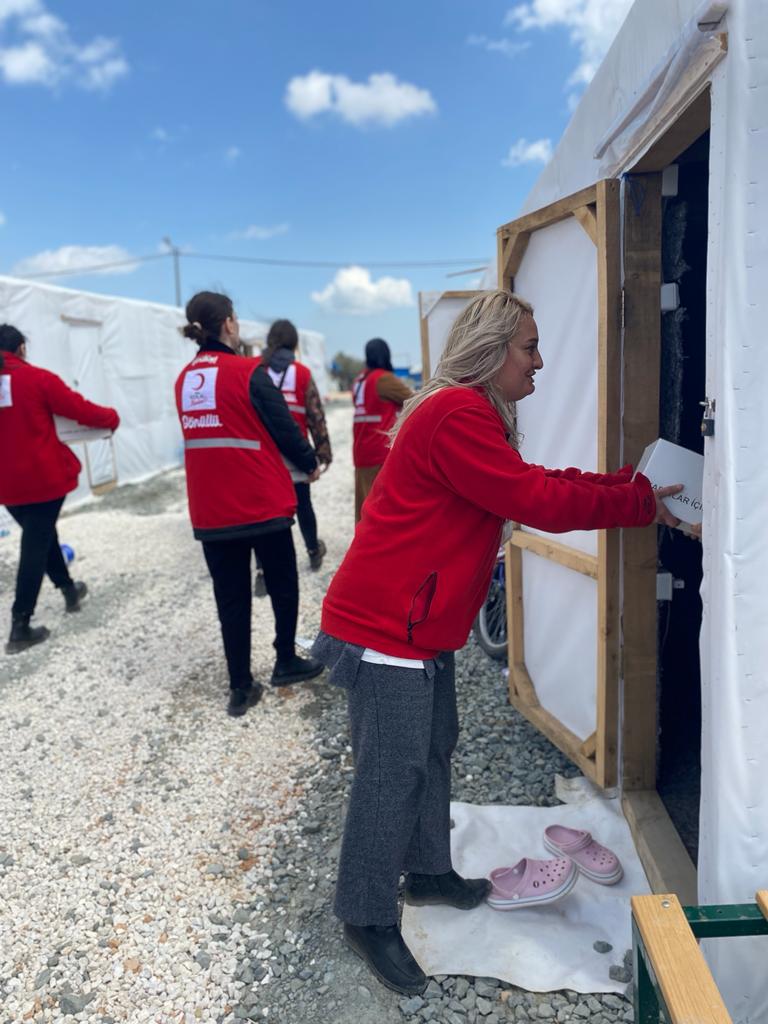 "The clocks stopped for us as we worked to bind our wounds and do a vital needs analysis.
Village by village, town by town, wherever there was a need, we took our trucks and delivered.
Overall, more than 216,000 volunteers from the Turkish Red Crescent, and Syrian Arab Red Crescent have worked tirelessly to provide vital support.
In the last six months, we have provided vital basics to over 6.5 million people, including food, clothing, hygiene and medicine.
Thanks to their efforts, the efforts of the wider Movement and the generosity of Red Cross supporters, we have been able to support millions of people who have lost everything.
Our Movement starts with you
The British Red Cross is part of a movement that is there for people as soon as crisis hits.
But we wouldn't be able to reach the people who need us without our supporters.
Your donations mean that the British Red Cross and the Red Cross Movement around the world can launch into action to reach anyone, anywhere, whenever we are called upon.
It is your support that makes us the world's emergency responders, whether we're supporting people after the impact of flooding here in the UK, being there for families fleeing Ukraine, or responding to any other emergency.
Together, we can keep giving hope and help to people whose lives have been turned upside down. 
Donate to the British Red Cross
We know that times are hard, but every single gift adds up. Help us support people when they need us most.
Donate now