"We try to give people hope": the Red Cross volunteers supporting people fleeing Ukraine 
Stories of kindness in a crisis, from a Red Cross centre in Ukraine to a train station in Poland 
Last updated 4 August 2023
In just a few short weeks, more than two million people have fled Ukraine.
Both inside Ukraine and in neighbouring countries, the Red Cross has been supporting people by reaching them with supplies, shelter and medical care.
Behind that response is a network of volunteers providing crucial support and kindness to people when they need it the most.
DONATE TO THE UKRAINE CRISIS APPEAL
Supporting women and children seeking refuge
In Mariupol, a city in the south of Ukraine, the International Committee of the Red Cross is running a centre for people seeking shelter. The city's supply of electricity and gas is fragmented and there are severe food and water shortages.
The centre is currently looking after around 65 people, many of them children.
"We have been here since the first day they started bombing," says Yulia, who has seven children to care for.
"We came here with nothing, and we needed food, clothes, batteries, everything you need for everyday life."
Yulia is just one of the many women who have had to leave behind their husbands, fathers, and brothers in their search for safety.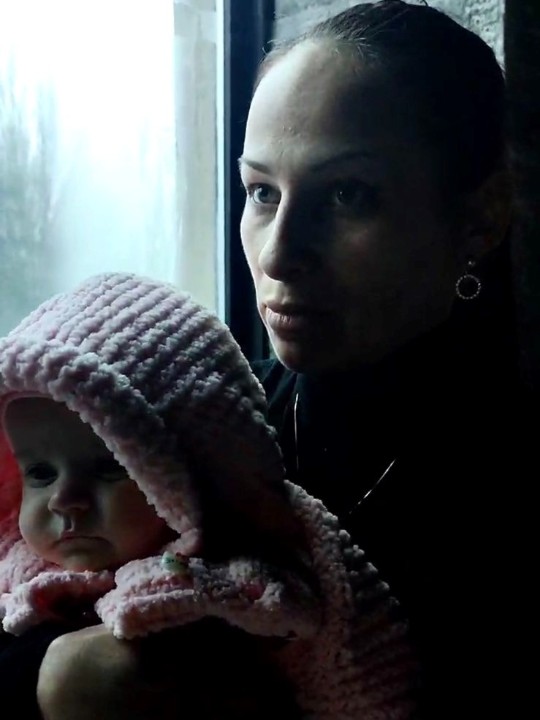 British Red Cross support in Ukraine
"Many people left their homes quickly with very few belongings," says Julia, a British Red Cross surge delegate currently supporting the International Federation of Red Cross and Red Crescent Societies and the Ukrainian Red Cross as an operations manager. "People are cold, temperatures are around freezing day and night, and they are anxious because they don't know what the future holds."
Julia and the team are distributing food, water, medicines, blankets and hygiene materials, which have been collected by Red Cross branches across the country.
SHELLS FELL DIRECTLY ON OUR HEADS, SO WE RAN TO THE BASEMENT IN WHAT WE WERE WEARING.
Nataylia, who is being supported at a Red Cross centre in Mariupol
Nataylia is also at the centre in Mariupol, along with her two children, her daughter-in-law, and her grandmother.
"We fled from the Artana area under bomb explosions," says Nataylia. "Shells fell directly on our heads, so we ran to the basement in what we were wearing. We are now wearing what the kind people at the Red Cross gave us."
"We were so afraid, so I took the kids and I fled"
Almost 1.5 million people that have fled Ukraine have sought refuge in Poland.
The Przemysl train station, not far from Poland's border with Ukraine, has become somewhat of a transport hub.
Tanja and her children recently arrived here, and now await transportation to Warsaw.
"Near my house [in Ukraine] there is a military base," says Tanja. "The other night they were bombing constantly from four in the morning until 7am. We were so afraid, so I took the kids and I fled. My husband is still there – I start crying every time I think of him."
WE HAVE A BIG SIGN, IN BOTH UKRAINIAN AND POLISH, THAT SAYS 'YOU ARE SAFE HERE'.
Magdalena, a nurse, paramedic, and Polish Red Cross volunteer
Red Cross support in Poland
Magdalena, a nurse and paramedic, is volunteering with the Polish Red Cross at the Przemysl train station. Here, she delivers basic treatment to people arriving from Ukraine, as well as emotional support, which she thinks is hugely important.
"We try to give these people hope," says Magdalena. "At the train station we have a big sign, in both Ukrainian and Polish, that says 'You are safe here'. We try to provide people with psychosocial support because they are separated from their loved ones and worried about their families who are still in Ukraine. They say that we are giving them hope for a better future."
In the days and weeks that Magdalena has been at the train station, she has met countless people, including one man who carried his 84-year-old father from his city, which was under attack, to the train departing for Poland.
The journey was hard on the man's father, who had to be taken to hospital when he arrived in Poland.
"His son said we were heroes because we could help him," says Magdalena. "I said 'No, you are the hero because you decided not to leave your elderly parent!'"
Despite Magdalena's protestations, she is one of many people doing extraordinary things to help people in crisis. Often working 18-hour days, she and her colleagues try to help as many of the people arriving at the train station as possible.
And there are so many: each train carries around 2,000 people and, some days, seven or eight trains will arrive. Magdalena and her colleagues don't often know how many trains will come in a day.
"We receive people who are dehydrated after a very long trip without water, without food," says Magdalena. "They have high fevers and blisters on their feet after walking many, many kilometres to the border. We try to help them all."
There is power in people
Though some of the things Magdalena and her colleagues see and hear are distressing (volunteers have access to professional services to help them navigate the difficult working conditions) she says what has surprised her the most is the amount of kindness she has witnessed.
"There are a lot of volunteers from many different organisations, and we work together as one," says Magdalena. "Everyone is happy to help, and they are making impossible things happen in less than ten minutes. Someone joked that if you want a spaceship or to talk to the US president, just ask a volunteer!"
In the face of such a dark and distressing time, Magdalena chooses to see the good.
"There is power in people," says Magdalena. "We work many hours, but we still want to do it because it gives us the hope that this world will be a better place."
You can visit our Ukraine country page for more information on Ukraine, or this page for answers to any questions you may have about donating and fundraising.
Other ways to support
The Red Cross has never needed you more
Whether it's Ukraine, Afghanistan, or here in the UK, there has never been a more important time for the British Red Cross – and every member of the International Red Cross and Red Crescent Movement – to be there for people in crisis.
DONATE NOW