Red Cross Humanitarian aid in Ukraine
The British Red Cross Ukraine Crisis Appeal is supporting people in Ukraine after the escalation of conflict. The Red Cross is providing psychosocial support and essentials such as food and fuel. 
Last updated 7 June 2023
Continued destruction: unimaginable toll on civilians
It's been well over a year since the conflict in Ukraine first escalated. During this time, the country has changed drastically.
Countless homes, schools, hospitals and important infrastructure have been destroyed. Millions have fled, leaving everything they have ever known. Tragically, thousands of people have died or been injured. The scars are deep, but Ukrainian people remain strong.
Now, the destruction of the Nova Kakhovka dam is putting the lives of thousands at risk. Dozens of villages are being flooded on both sides of the frontline.
This is one of the most damaging incidents affecting essential civilian infrastructure since February 2022. It highlights once again the need for parties involved in the conflict to respect international humanitarian law and to protect civilians.
The ICRC, together with the Ukrainian Red Cross and wider Movement partners, is assessing how to assist affected communities.
The Red Cross Ukraine Crisis Appeal has already reached more than 14.5 million people with life-saving aid, within Ukraine and neighbouring countries. Our response grows daily - each hour that passes has a terrible human cost. Please help us continue our vital work.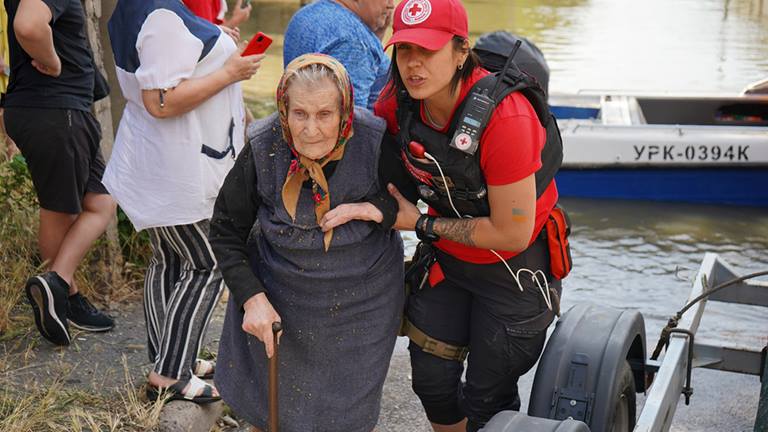 Are you a Ukrainian national in the UK? The Red Cross can help you
If you are a Ukrainian refugee in the UK, the Red Cross has information on family visas, the Ukrainian family scheme and claiming asylum in the UK.
We have 71,000 volunteers and staff working closely with affected communities and to cover their basic needs. We are focused on being adaptable, flexible and responsive to whatever happens next.
Maksym Dotsenko Director General of the Ukrainian Red Cross Society
How is the Red Cross providing ongoing support in Ukraine?
Our priority is to assist people during this time of heightened tension.
The Ukrainian Red Cross (URCS) is the lead humanitarian organisation in Ukraine, and since the onset of this conflict, is being supported by the International Red Cross and Red Crescent Movement to step up its response. Together, they have supported 3.6 million people so far.
Keeping healthcare going: a new clinic serves more than 100,000 displaced people
Ukraine's healthcare system has been heavily disrupted by the escalation of conflict in February 2022.
In the months since, Red Cross volunteers have provided mental health and psychosocial support support, first aid, health care, hygiene items, child-friendly spaces, and access to clean water.
But the longer the conflict continues, the more extensive the health needs will become – we are looking at a health crisis that will last for years.
In Uzhhorod, in Western Ukraine a health clinic has been set up by the Red Cross and local authorities to provide free urgent and primary care. This includes consultation, treatment and medication free of charge to those in need. It's the first of its kind and will aim to serve the local community for years to come.
More than 100,000 people from conflict-torn areas have fled to Uzhhorod, doubling the city's population. The clinic is open to everyone: the local community and people who have fled their homes.
The Ukrainian Red Cross has also set up nearly a dozen mobile health teams in the country, with more on the way.
In addition, the International Committee of the Red Cross has donated medical supplies (including defibrillators, war wound kits and PPE to prevent Covid-19), treatment, evacuations of wounded and the deployment of mobile clinics.
Supplies for immunisation, including tetanus and diphtheria and supplies for treating on-going illness and diseases such as diabetes and asthma have also been provided.
An ICRC surgical team has also been deployed to support and care for critically injured people and provide training to local medical staff in weapon-wound surgery and mass-casualty management.
Providing shelter and meeting immediate needs
From the beginning of the conflict, the Red Cross has been supporting people with immediate needs, including shelter, food, clean water, hygiene products, clothing, medical and first aid, as well as mobile SIM cards so that families and loved ones can reconnect.
Those needs still exist, and we continue to work around the clock to reach and support people in need.
To help support people in both the short and longer term, the Red Cross is also providing emergency financial assistance.
This enables people to pay for day-to-day essentials such as food, clothing, medicines, but also larger costs such as rent. Financial support is also being provided to host families, where needed, to help ease financial strains.
To support people looking for work, the Red Cross is providing language courses and helping to connect people with relevant government partners.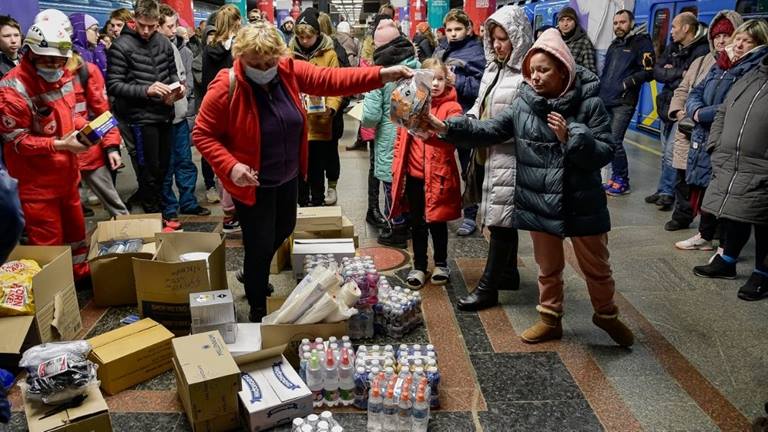 How to support people in Ukraine with the Red Cross
The situation in Ukraine is incredibly tense, dangerous and distressing for people. Red Cross volunteers and teams in Ukraine and the border countries are providing essential aid. Donations are helping us to achieve this.
If you wish to donate to a charity helping Ukraine, you can donate to The Red Cross Ukraine Crisis Appeal.
Volunteering in Ukraine with the Red Cross
The British Red Cross are not currently sending any volunteers to Ukraine from the UK. However, you can become a volunteer in the UK and support the British Red Cross with their vital work.
Right now, we are asking people in the UK to help by donating money to our emergency appeal. These donations are by far the quickest, safest, and more direct way to help people and to support the work of the Red Cross in Ukraine and neighbouring countries.
Find out more about why cash is best for emergency appeals
Donating items to Ukraine with the Red Cross
Donations of clothes, blankets, medicine and other items are really appreciated, but we only accept money for emergency appeals. Items have to be sorted, cleaned, and transported, which slows down our response, and we aim to support people as quickly as possible.
If you wish to donate money to charities helping Ukraine, you can donate to the Red Cross Ukraine Crisis Appeal.
How else can I support?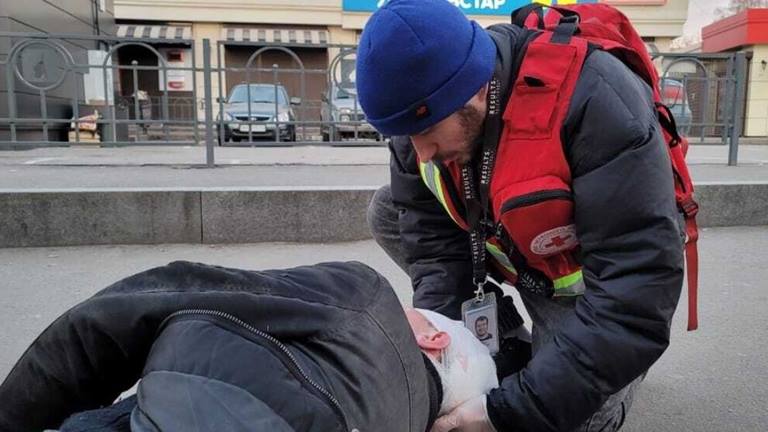 The current humanitarian situation in Ukraine
Hundreds of thousands of people living close to the line of contact are regularly suffering from disrupted access to food, water, and electricity. This has been their daily reality for almost eight years.
The impact is widespread and some of the most vulnerable people are the hardest hit. People, including those with disabilities and medical conditions have taken shelter in basements along with the wounded. However, supplies of food and water are rapidly running out.
This is an active, ongoing conflict that continues to inflict heavy humanitarian consequences on homes, essential infrastructure and people's lives and well-being.
In response to the crisis in Ukraine 2022, The Ukrainian Red Cross Society (URCS), International Committee of the Red Cross (ICRC) and along wider Red Cross and Red Crescent Movement aim to react quickly and swiftly. Whatever happens, we will continue to be close to the affected communities to help them cover their basic needs and be prepared during challenging times.
As the conflict evolves and escalates, the anguish and fear people have endured over the recent days deepens. We are extremely concerned that the conflict is affecting very populated areas. As we have seen before, when neighbourhoods become the frontline, the consequences for people - including children, the sick, the elderly - are simply devastating.
Florence Gillette, ICRC Head of Delegation in Ukraine
Ongoing Red Cross support in Ukraine
For the past eight years, the International Red Cross in Ukraine (the Ukrainian Red Cross Society) and the International Committee of the Red Cross (ICRC), have helped communities affected by the conflict and will continue to do so.
The Ukrainian Red Cross Society (URCS) is helping people maintain their livelihoods as well as providing psychological support.
In areas where access to healthcare services is limited, volunteers and staff provide first aid training, operate mobile health teams, and raise awareness of health risks in communities.
They have also been supporting small businesses with cash grants or equipment and vocational training, as well as raising awareness of mines through training and educational sessions run with the Ukraine Red Cross Society.
As the situation in Ukraine develops, the Red Cross' priority is to support people during this time of heightened tension and anxiety.
What charities are helping Ukraine?
The British Red Cross is one of many charities helping Ukraine and Ukrainian refugees. We're also working with multiple charities within Ukraine to ensure your donations go to the people who need help the most.
The Ukraine Red Cross is leading this humanitarian work, with support from the British Red Cross, the International Committee of the Red Cross (ICRC) and many others.
We're all working together to provide fast, reliable and life-changing aid to Ukrainians within and outside of Ukraine.
If you want to donate to a charity helping Ukraine, you can donate to the Red Cross Ukraine Crisis Appeal.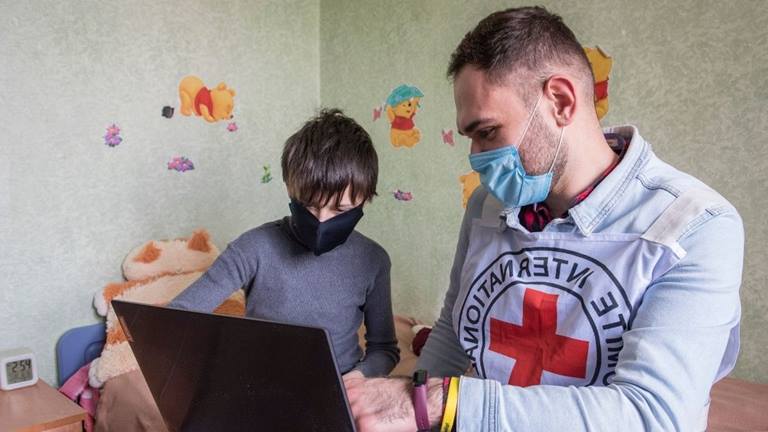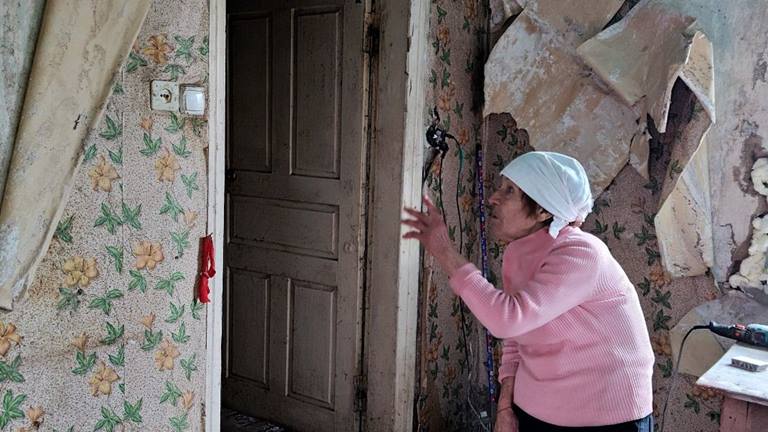 Are you concerned about a British family member in Ukraine?
If you have a family member who is a British citizen and currently in Ukraine, you can contact the Foreign Commonwealth and Development office for more information:
British Nationals who need assistance
Consular support is still available to British nationals through the Foreign Commonwealth and Development Office 24-hour helpline:
From Ukraine: +380 44 490 3660
From the UK: +44 (0) 1908 516666