Charitable gifts that give back: Christmas shopping with the British Red Cross
Imagine getting all your Christmas shopping done in one place, while saving money and the planet. Well, we know where you can.
British Red Cross shops are treasure troves for ethical and sustainable Christmas gifts that give back to the community.
Last updated 29 November 2023
We'll all be on the look-out for bargains this Christmas, and more and more of us are embracing preloved, ethical Christmas gift ideas.
And as the end of the year gets closer, there's never been a better time to shop for affordable Christmas gifts that give back to the needy. Charity shops are brimming with high-quality finds that make unique and affordable gifts. From quirky Christmas decorations to children's toys and vinyl, you can search through books, homeware, and even designer clothes, at a fraction of their original cost.
Our charity gift cards make the perfect ethical present. They're even made from recycled materials and are a great way to introduce someone to the joys of charity shopping.
There are other major benefits too. Buying preloved items avoids waste – helping the environment – and supports the work of charities like the British Red Cross.
All profits from our charitable gifts go towards our efforts helping those living in crisis in the UK and around the world. Shop with us this festive season and make a real difference to those who need it most.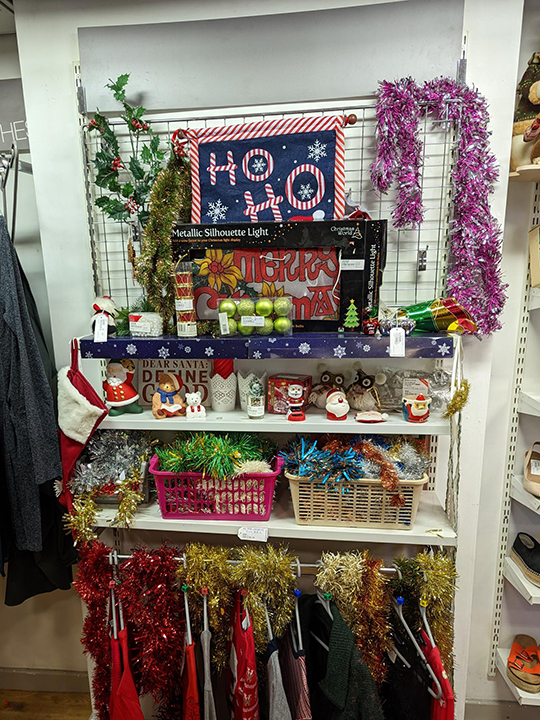 Shopping for charitable Christmas gifts has never been easier
Charity shopping can be a lot of fun. There's nothing more satisfying than trawling through shelves and racks and finding a beautiful antique or classic vintage piece that's made to last. With a bit of exploring, you can discover new interests, furnish your home with some quirky accessories, or buy someone a truly unique and personal gift.
If you're looking for unique and affordable gifts where the money goes to charity, look no further than our Red Cross charity gift shops.
With many shops now online, browsing through charity shops has never been easier. The British Red Cross has vintage outlets on ASOS and eBay, as well as a whole range of new ethical Christmas gifts on our online shop.
Christmas countdown
Charity Christmas décor galore
If you have in-laws, friends, dogs, cats, or neighbours to impress with fancy Christmas decorations, leave it to us. You can find some pretty fancy tableware and ethical Christmas decorations at the British Red Cross.
Making your Christmas decorations environmentally friendly is easy. From crystal terrines in Cheltenham to fairy lights in Lewisham, you can get your home grotto-ready at a snip and save poor decorations from the landfill.
You can also find some beautiful charity Christmas decorations in our Designed by Refugees collection, like these unique hand-painted ceramic baubles, which you'll use year after year.
Ethical and charitable Christmas gifts for everyone and anyone
Have we mentioned that our British Red Cross shops are laden with low-cost treasures? If you need gifts for children, Red Cross shops have puzzles, books, unopened toys, and games in mint condition.
Or if you need gifts for teachers or classmates, why not bring your kids along for an afternoon of sustainable rummaging? With our sustainable Christmas gift ideas, festive shopping needn't cost the earth.
We've also got you covered for Secret Santa, with all the best ideas for gifts that give back. Our specialist shops offer books, homeware and even designer items for the enthusiasts in your life. Find labels like Chanel, Gucci and Louis Vuitton at bargain prices.
Quirky charity Christmas jumpers
The unofficial uniform of the holidays, British Red Cross charity shops will help where Christmas outfits are concerned. These charity shop Christmas jumpers are perfect for school parties, Christmas lunch, and carol services to raise money for the British Red Cross.
An appliance of reliance
If you've discovered that naughty elves have broken your fridge, washing, or dishwasher in the run-up to Christmas (typical), then you could try one of our British Red Cross furniture and electrical shops.
They accept donations of white goods, and small appliances such as microwaves, lamps, TVs, and DVD players. If you have surprise guests to stay with, they also offer furniture including sofa beds, tables, and more.
Hopefully, you'll have the preloved bug by now and want to gift your enthusiasm to your family and friends. Our charity gift cards make an ideal ethical Christmas gift and can be used in our shops and online for rummaging expeditions throughout the year.
With our eco-friendly gifts for Christmas, you can do good for the planet and your pocket, while helping people in crisis.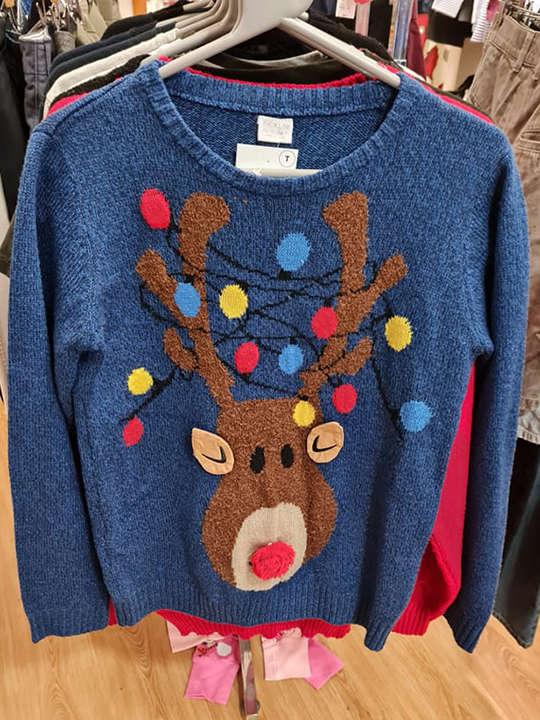 Spread Christmas joy to those who need it most
There's no better gift to give at Christmas time than change to the people who need it most. When you donate to the British Red Cross, you can do just that.
A Christmas charity donation to one of our Red Cross appeals can provide vital humanitarian aid to those living in crisis in the UK and all over the world. If you have a particular cause that is close to your heart, you can explore our current appeals and funds.
Alternatively, you can support people in crisis by making a donation this Christmas. We'll use your gift to support our work wherever the need is greatest, in the UK and around the world.
People need us right now, and we need you.
You may also be interested in...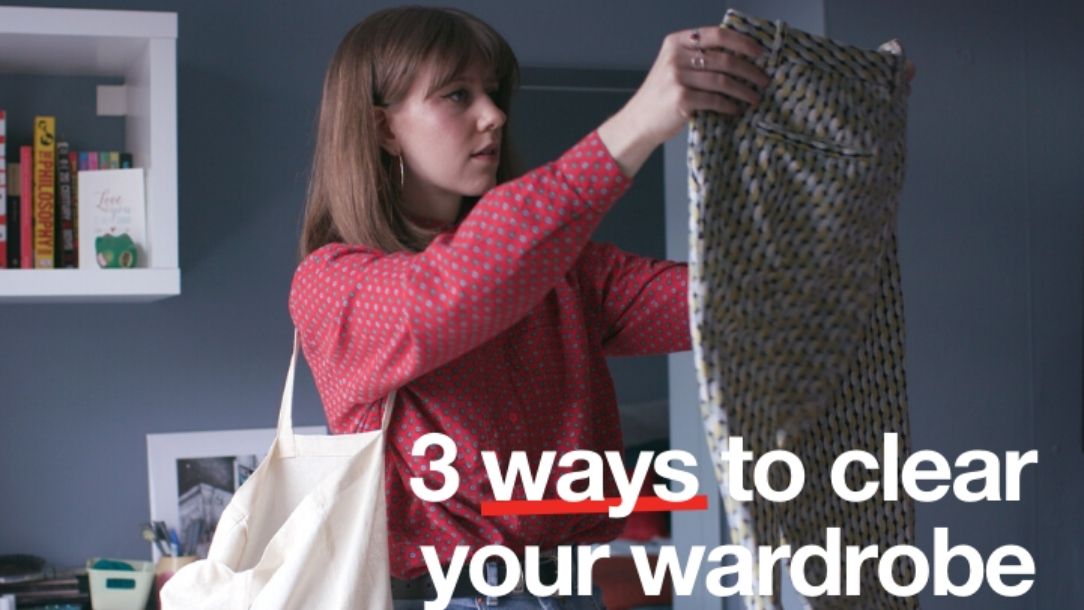 A good spring clean can do wonders. Then donate your old clothes to a Red Cross charity shop to help people in crisis.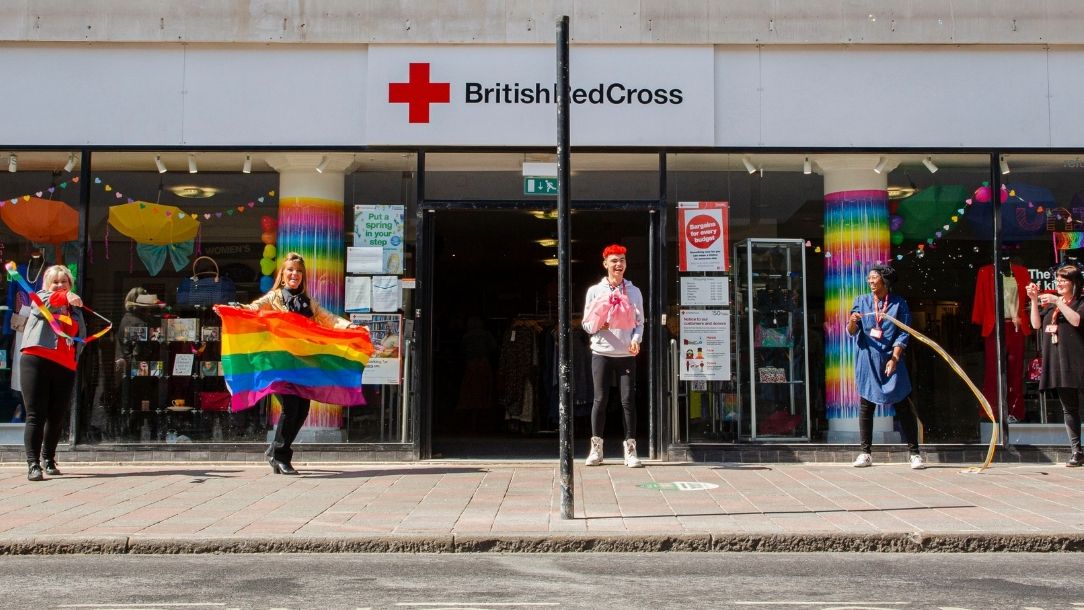 Three of our volunteers explain how working in their local British Red Cross charity shop in Hull has enriched their lives in surprising ways.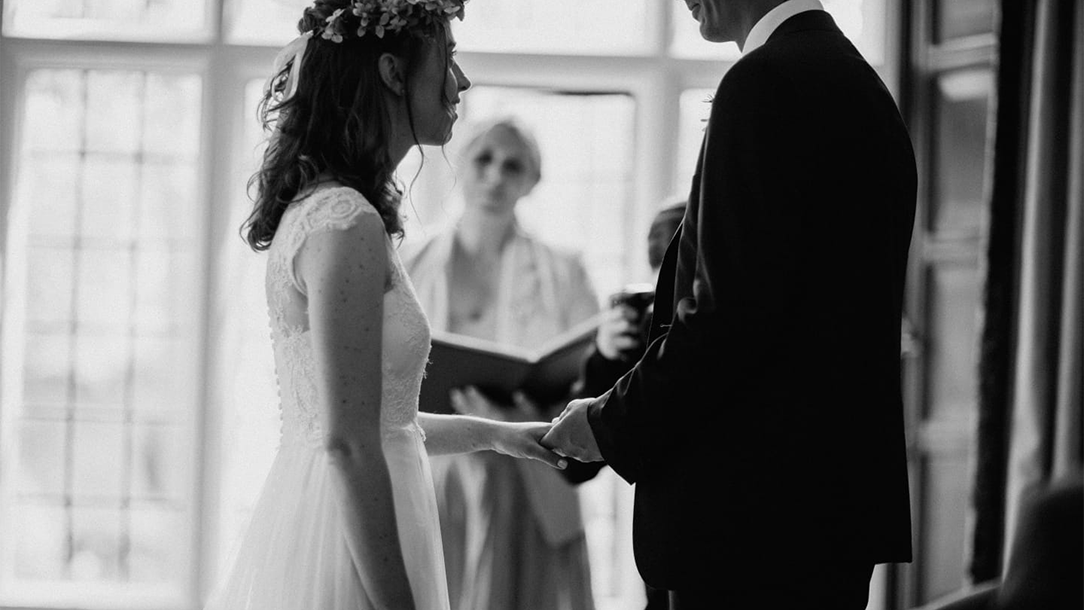 When Laura saw her perfect wedding dress at a Red Cross shop, she found a kind note from its former owner.