Working together to help build stronger, safer communities – equipping people to prepare and be ready for whatever lies ahead
Our partnership with Aviva
Aviva, a multinational savings and insurance company, and the British Red Cross work in partnership to build stronger, more resilient communities.
Together, we are starting a movement of action and preparation, rallying people all over the country to gain the knowledge, skills and support needed to keep everyone safe in a crisis.
Aviva has supported the British Red Cross since 2016, from helping in disaster relief to providing strategic assistance. Their expertise in risk, strategy and innovation is helping build resilience in the face of crises.

Strengthening community resilience in the UK
Community Reserve Volunteers (registrations paused)
Thanks to Aviva's sponsorship, we launched our Community Reserve Volunteer programme in 2018.
Community reserve volunteers (CRVs) are part of a network of people across the UK who can quickly respond during a major emergency in their communities. When mobilised, they provide practical, behind-the-scenes support – making a difference when their community needs them most.
Over 80,000 new CRVs have signed up since the start of the coronavirus outbreak and Aviva expanded its support for the programme. Working with local food banks, CRVs have been helping to distribute food and welfare packs to vulnerable people who are self-isolating.
Due to this overwhelming public response, CRV registrations have now been paused. However, there are still many other volunteering roles available, and many different ways you can help.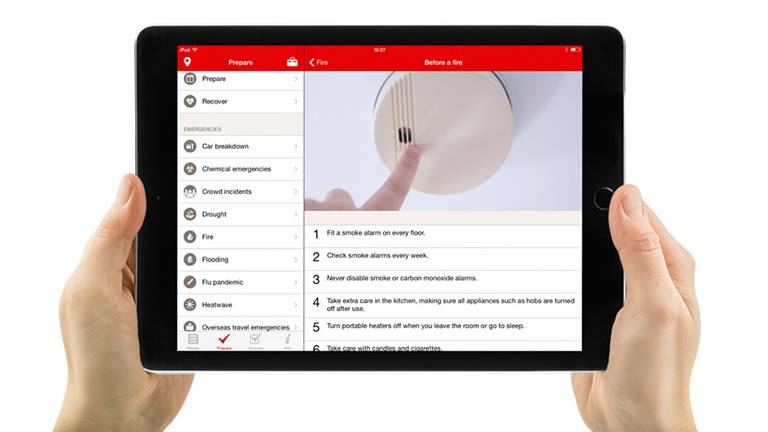 An international, innovative partnership
Aviva and the British Red Cross are working together on innovative approaches to build skills and resilience across the world.
This ranges from supporting a new urban resilience hub in the Asia-Pacific region to supporting the finance and development of an early action plan for floods in Indonesia. Through this work, Aviva supports the Red Cross Red Crescent Movement to invest in the future of humanitarian action.
Aviva is also funding the development of a digital platform to host international first aid guidelines and community-centred resources. This will support people to be prepared and resilient on a large scale around the world.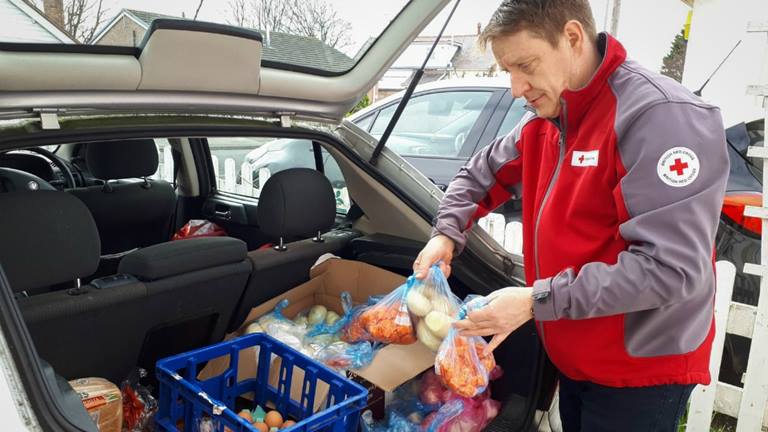 Emergency response app
Over three million alerts have been sent out from our Emergency App, launched in 2015 with Aviva's support.
The app helps people keep an eye on the risks of severe weather or other emergencies through alerts and practical advice that may affect you, your friends and your family.
The app is available in the Apple App Store and Google Play.
Coronavirus pandemic response
Thanks to an additional donation of £10 million from Aviva and the Aviva Foundation,* the British Red Cross has been able to accelerate our response to coronavirus. We're reaching more people – and quickly – to ensure those made most vulnerable by the coronavirus outbreak can get the right support at the right time. This is in addition to Aviva's support for the Community Reserve Volunteer programme.
In partnership, we have created the Hardship Fund. This provides financial support to individuals who were financially at risk before the coronavirus outbreak and whose financial situation has deteriorated due to the crisis. People who need financial help because of the coronavirus pandemic, or those who are supporting others with money issues, should first contact our coronavirus support line on 0808 196 3651.
The funds are also being used to support the most vulnerable at home. In addition, Aviva's support enables the British Red Cross to continue supporting people coming out of UK hospitals and afterward. This ensures that patients are safe and helps to ease the pressure on hospitals.
Outside of the UK, funds are being used to support the most urgent work that will have the biggest impact across the global Red Cross Movement. All of this will be done with the support of Aviva teams in these locations.
Staff engagement
First Aid
Aviva is passionate about ensuring their people have the skills and confidence to step in during a first aid emergency. Each year, Aviva's staff attend first aid courses run by Red Cross trainers to learn the life-saving information they need. This includes how to respond to someone who's choking and how to perform CPR.
In 2019 alone, over 330 staff attended Red Cross first aid courses. Before the course, just 9 per cent felt confident to use first aid in an emergency. After attending, this rose to an impressive 94 per cent, meaning Aviva's staff are ready and willing to use their new skills to save lives.
Mental wellbeing and resilience
The British Red Cross have a team of expert trainers who deliver mental wellbeing and resilience training course to all Aviva claims assessors, to better help their staff support people affected after an emergency.
Watch the video to find out more.
Wrapping for refugees
Each year, Aviva's staff pack shoe boxes to be gifted to refugee across centres in the UK. In 2019 alone Aviva packed an impressive 1,700 shoe boxes.
Each one included essential items, such as soap and toothbrushes, and a special gift to be shared with refugees during December.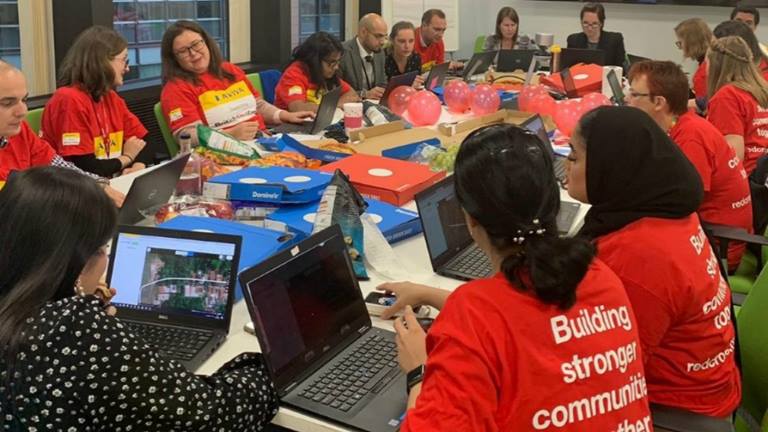 Since 2016, Aviva have been supporting our partnership through the Missing Maps project.
Together, we aim to make sure communities are better informed, better prepared, and more resilient when the next disaster strikes.
Thanks to Aviva's support, hundreds of its employees from 12 countries have volunteered to create maps in areas previously not mapped for humanitarian responders.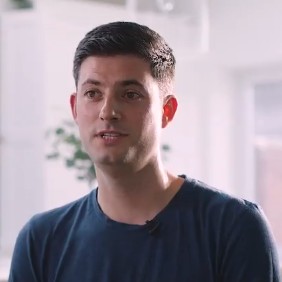 Simon is one of the hundreds of staff within Aviva who has benefitted from first aid courses run by Red Cross trainers.
"I'd been on a first aid course at Aviva, where I work, which was run by the British Red Cross," Simon said.
"[It was] probably only a couple of weeks from completing the course to when the incident happened. I was at home when my two-year-old stopped breathing.
"Having done the course, it really helped give me some confidence in what to do in that situation…I simply just grabbed her and just started to do what I'd learnt.
"The first aid course was on the to-do list with 101 other things. And then Aviva offered it during the day. So, it was absolutely ideal. The outcome is all really good news, she made a full recovery and she's back to herself.
"My plea would be do it…You literally never know when you'll need it."
You can learn how to help if a child is unresponsive and not breathing.
*The Aviva Foundation is administered by Charities Trust under charity registration number 327489