Health and social care information for commissioners
Our services can be tailored to meet your specific commissioning and community needs.
Our approach
The British Red Cross has delivered health and social care services since the NHS was established. We work with commissioners to provide valuable time-limited support to vulnerable people across the UK.
The Red Cross offers person-centred support for adults of all ages. The combination of services we provide can be tailored to meet specific commissioner and health community needs.
We have local teams of highly committed staff and volunteers. They offer quality services that are delivered within our Quality Standards Frameworks to ensure we are supporting people in the best way possible.
The services we provide
To help people remain independent or to provide practical and emotional support to people in need, we provide the following services:
Helping people home from hospital
We help patients get home safely, quickly and effectively through our assisted discharge services. For the first 72 hours after leaving hospital, we make sure people have everything they need at home. If they need more support, we provide personalised help for the next six to twelve weeks.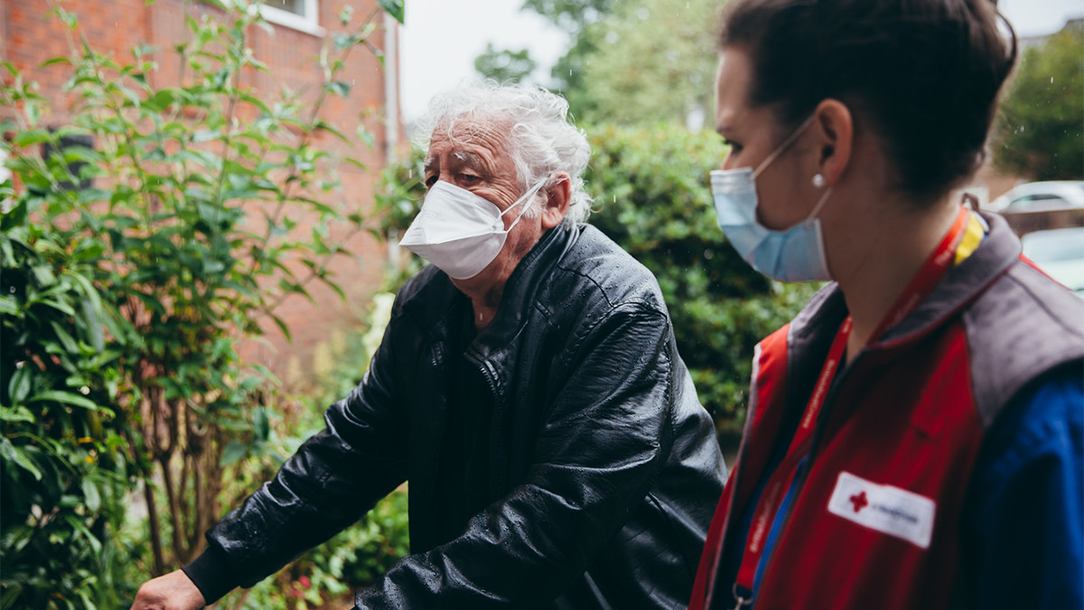 Reconnecting people with their community
Chronic loneliness and isolation can have a serious impact on health and wellbeing. Our research has shown that before the coronavirus pandemic, one in four people in the UK often or always felt lonely. Since lockdown, 41 per cent of UK adults report feeling lonelier. Loneliness can be as bad for you as smoking 15 cigarettes a day and is likely to increase your risk of death by 29 per cent.
The British Red Cross recognise we have a role to play in tackling this. We work with local authorities and other organisations to develop and deliver loneliness services alongside other health and wellbeing services such as our support at home services.
Through strong corporate partnership with the likes of Land Rover, we provide staff and volunteers with the resources they need to reach people some of the most isolated rural and remote communities across the UK. This gives people the practical help and emotional support they need before, during and after a crisis.
Supporting patients in A&E
In more than 20 A&E departments across the UK, we partner with hospitals to provide practical and emotional support to patients and families. Focusing on issues outside of medical needs, we also help people get home when they don't need a hospital bed or treatment.
Supporting the ambulance services
We provide ambulance services under contract, primarily with the NHS. We offer services at three levels:
patient transport
urgent patient transport
blue light emergency response.
We also provide ambulance services under a Royal Charter during surges in demand, predicted periods of high activity or adverse weather events.
Working closely with commissioners, we help reduce trips to A&E departments and provide supported-discharge services.
Hiring and loaning wheelchairs and commodes
We hire and loan wheelchairs and commodes to people who need them for a limited time to live independently. This can be part of a stand-alone service or an integrated package.
As the biggest lender of wheelchairs in the UK, we can offer commissioners a contracted-out community equipment service.
Transport for healthcare visits
We provide transport as part of an integrated offer or as a stand-alone service for people who need it due to illness, disability or injury. Our support helps people reach medical and other essential care appointments, and we can use specially adapted vehicles when necessary.
Providing first aid education
If injured people received basic first aid before emergency services arrive, up to 59 per cent of pre-hospital deaths could be prevented. These are the findings from our research and the reason we teach first aid to adults and young people. We also focus on training people who are at a higher risk of experiencing a first aid emergency.
Get in touch
If you want to learn more about our health and social care services or are interested in discussing a partnership, please contact our senior service managers in your local area from the list below.
Scotland
Robert Noble
Email: rnoble@redcross.org.uk
Wales
Lisa Kenny Gough
Covers Ceredigion, Pembrokeshire, Carmarthenshire, Swansea, Neath Port Talbot, Cardiff, Vale of Glamorgan, Newport, Torfaen, Blaenau Gwent, Monmouthshire and Caerphilly.

Ebost/email: lkenny-gough@redcross.org.uk
Mobile: 07495 293046

Toni Blinston
Covers North Wales, Powys, Merthyr, Rhondda Cynon Taf and Bridgend.

Ebost/email: tblinston@redcross.org.uk
Mobile: 07704536481
Northern Ireland and the Isle of Man
Paula Powell
Email: ppowell@redcross.org.uk
Mobile: 07738 341031