Donating items to our charity shops
Find out how to donate items and what kind of things you can donate.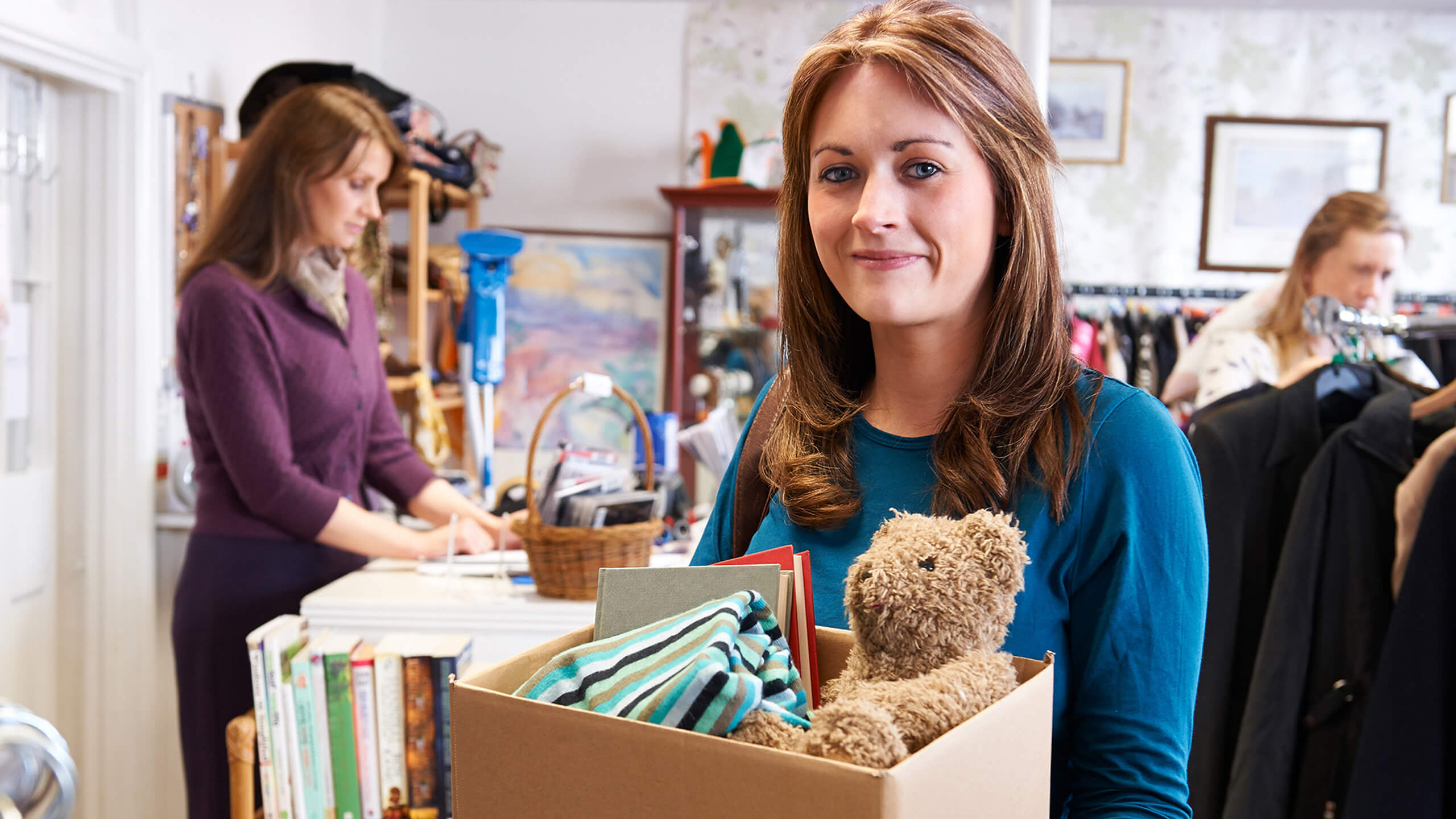 What you can donate to charity
Our charity shops sell a huge range of stock and you can donate goods in any of our shops. You can also donate clothes by post for free.
We are always looking for:
clothes, shoes and boots
handbags, jewellery and belts
cookware, tableware and household goods
books, DVDs, CDs and vinyl
new, boxed electrical items, cameras and multimedia devices.
Make sure all your donations are clean and usable. Your donations should also be worth buying – if you wouldn't buy it then we probably won't be able to sell it.
The better the quality of your items, the more money we can raise from their sale.
However, we also welcome any old clothes or textiles that are no longer usable. We can raise money through textiles recycling.
Please don't leave donations or deliveries outside shops while they are closed. They may get ruined by the weather, cause a fire hazard, or get stolen. Thank you for understanding.
Donations we can't accept
See the full list of items we can't accept.


We cannot sell anything that is:
illegal
unsafe
unhygienic
unhealthy
unsaleable.
We also don't sell things that might harm people or conflict with the values of the British Red Cross. This means we are unable to accept items such as:
medication
tobacco
nightwear and furnishings that don't have safety labels
weapons.
We have to pay to dispose of items that we can't sell, so please do not donate items that we can't accept.
Contact your local shop if you have any questions about donating items.
Other ways to donate
If you don't have a British Red Cross shop nearby, there are other ways you can still donate your pre-loved items.
Donate by post
You can also send us your pre-loved clothing items by post for free! Simply order a free donation bag from our gift store, fill it with clothes you no longer need, and drop it off at your local Collect+ shop.
Find out more about donating by post


Donate via ReGain and earn rewards
We've teamed up with ReGain to offer you another way to donate your preloved items to the British Red Cross. And you'll receive discount vouchers for high street retailers in the process!
Once you've decluttered your wardrobe, pack up your donations and take them to one of over 25,000 drop-off points across the UK. Find your local drop-off point via the ReGain app and print off a shipping label to attach to your donations.
Your donations are then sent to a British Red Cross shop and sold to raise vital funds that support people in crisis.
Download the ReGain app for free and check out what discount vouchers you could earn.
Gift Aid
When you donate your bags of clothes, books, toys, or other items, you can help us raise an extra 25p for every £1 raised through the sale of your items. Simply allow us to claim Gift Aid on the money we make when we sell them.
To let us claim Gift Aid, pick up a British Red Cross Give and Gain loyalty card in-store.
If you're already one of our Gift Aid donors, please print some labels to attach to your donation, ready to drop off at your local shop. You can find your donor ID on your Give and Gain card.
How your donations help
Our shops sell your donations to raise money to help people. You could help fund wheelchair loans, aid packages and more.
Each bag that you donate to us could be worth £20 of vital funds that can help people in your neighbourhood.
The British Red Cross helps people whoever and wherever they are. We are part of a global voluntary movement. We help people affected by conflicts, natural disasters and individual emergencies in the UK and around the world.
Find out more about how your donations help people in crisis.