Hire or rent a wheelchair
Find out about hiring a wheelchair for short term use, near to where you live. 
Need to hire a wheelchair? The British Red Cross provides wheelchair hire services in Wales, Northern Ireland, and England**.
We offer comfortable, safe, and reliable manual wheelchairs whether you're looking for self-propelled, transit, or bariatric (wider seating, higher weight capacity) wheelchairs.
Find out more information about the types of wheelchairs we offer and how to use them.
The wheelchairs are suitable for anyone over the age of 5 and are available in a wide range of sizes, with fitted footrests as standard and free accessories such as leg elevators, cushions, and stump supports available to improve your comfort*.
*subject to availability
**provisions in Scotland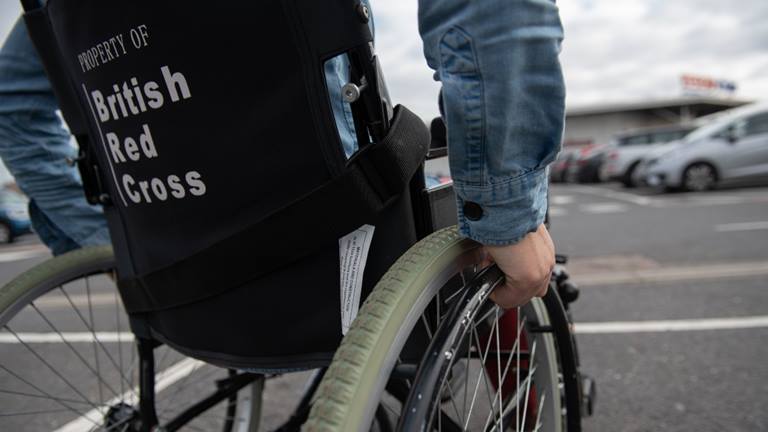 We offer:
Wheelchair hire for £22 a week; includes free wheelchair accessories
Delivery and collection of your wheelchair for an additional £25.00 charge in most areas; it will come fully assembled for your convenience
Flexible hire periods (minimum hire period 1 week) at locations UK wide
12-week mandatory servicing and steam-cleaning to guarantee safe operation, fully crash tested
Replacement provided during servicing
Professional servicing and cleanliness standards in line with NHS Control of Infection policies, guaranteeing removal of all viruses (including C-Difficile, E-Coli, and Covid-19)
Making your booking
To hire a wheelchair near you, you will need to know:
Measurements of the wheelchair user at their widest point (usually hips and thighs) and add 1" / 2.5cm for comfort
Weight of the wheelchair user
Accessories needed
Manage your booking
Login below to retrieve your booking.
Returning your wheelchair
When your rental period has come to an end, please:
Contact your nearest Mobility Aids service to arrange a return
Make sure all items are returned, including any cushions, leg elevators, footplates, and seatbelts
Be aware any missing or damaged items may incur a fee
Find your nearest wheelchair service
Not all locations are available to book online. Find the location, opening times, and contact details of all our local mobility aids services in Wales, Northern Ireland, and England, below.
Wheelchairs are available for collection at sites across the three countries, including select Tesco carparks.
In Scotland wheelchair provision is provided as a statutory service through Health and Social Care Partnerships.
About our wheelchair service
The British Red Cross is the largest national provider of short-term wheelchairs in the UK, supplying over 58,000 wheelchairs every year. We're committed to ensuring that everyone who needs a temporary wheelchair has access to one and have been providing this service for over 107 years.
Wheelchair hires allow us to support those most in need and provide wheelchairs to them at no cost. We are non-profit making, and every penny of surplus income supports people who need our help.
We are a volunteer led organisation – by hiring your wheelchair from us you will help provide experience and opportunities for people, preventing them from feeling lonely and isolated.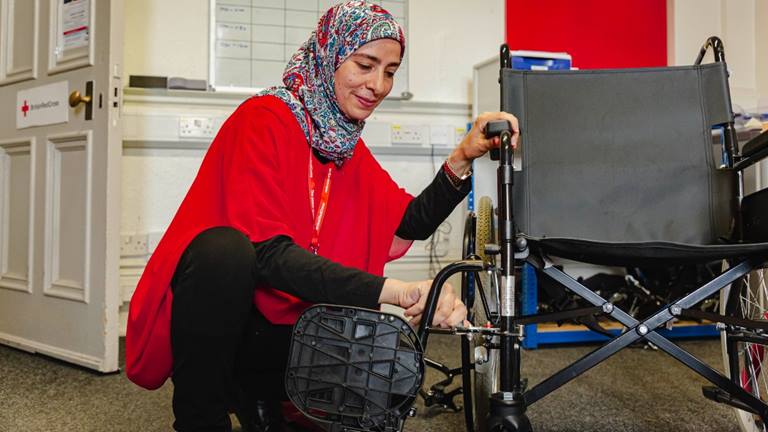 Choosing the right wheelchair
The wheelchair you choose must be right for your needs. Find out more about the different types of wheelchairs we offer, learn how to use them, and how to fit wheelchair accessories with our guides.
Need further assistance?
We offer assistance and support to those who may not be able to meet the financial costs.
If you need assistance, have a question about your booking, need your wheelchair for longer, or if your equipment becomes damaged, please call us on 0300 456 1914.
Our partnerships
In Wales, parts of East Anglia, Northern Ireland, Hampshire, and Avon & Wiltshire, health commissioners fund our service, and local residents can borrow mobility aids equipment for short-term use at no cost.
We work in partnership with the NHS by providing wheelchairs to help people leave the hospital and recover in the comfort of their own homes. In these instances, we rely on our users to make a donation towards the cost of the service.
Terms and conditions (PDF).