The economic crisis in Sri Lanka is rapidly spiralling into a humanitarian crisis. The Red Cross are supporting the most vulnerable people in Sri Lanka with vital supplies.
Last updated 21 November 2022
The situation in Sri Lanka is worsening by the week. Under a collapsing economy, an estimated 38 per cent of people are facing moderate to severe hunger, according to the World Food Programme.
The nationwide crisis is impacting the entire population of 22 million people in Sri Lanka, causing severe mental strain. Around 2.2 million are profoundly affected:
Soaring inflation has led to fuel shortages and power cuts
People are struggling to access healthcare, food and medicine
Civil unrest caused by the crisis has caused injuries, hospitalisations, property damage and arrests.
Communities have been hit by extensive job losses including farmers and fishing communities which do not have fuel to operate their fishing boats; and farmers.
As a developing hunger crisis takes hold, formula and milk for children and nursing mothers is now unavailable.
Power cuts and poor public transport, are putting a stop to children's education.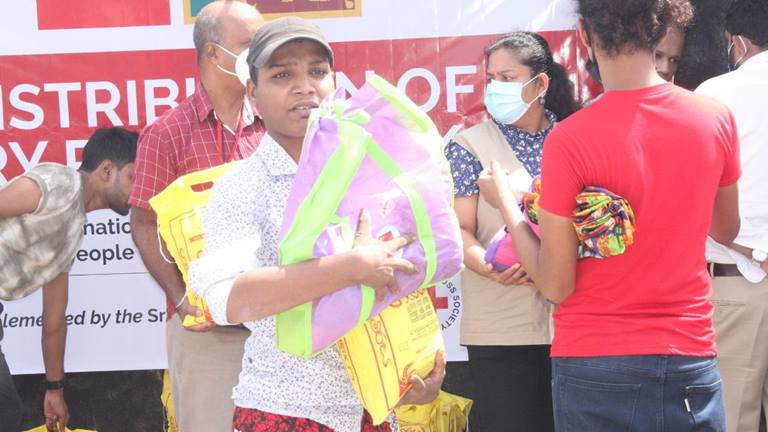 How is the Red Cross supporting people in Sri Lanka?
Along with other societies from across the Movement, the British Red Cross is supporting the Sri Lankan Red Cross (SLRCS) by providing financial support and expertise.
The SLRCS will use this funding to provide cash grants, school packs, hygiene packs, essential medicines and drinking water to those affected.
Staff and volunteers will focus on the most vulnerable households of farmers in Northern, North Central, Central, Uva, Sabaragamuwa, Eastern, Southern and Northwestern provinces, low-income fishermen in the coastal districts and irregular income labourers in Western province.
The SLRCS will also support the Sri Lankan authorities by distributing medication to vulnerable people, including those with disabilities, older people, single/female headed households, and young mothers.
To help support children back to school, Sri Lankan Red Cross staff and volunteers will also provide nutritious food to school children, ensuring they are properly looked after and allowing families to keep more food at home.
We hold grave concerns for the most vulnerable communities across the country - some 2.4 million people already lived below the poverty line. They are most affected by the loss of livelihoods, food shortages and the spiralling cos of essential items.
Nudaya Regmi, IFRC Head of South Asia Delegation