Humanitarian aid in Afghanistan
Afghanistan has been hit by the worst earthquake in 20 years. The Red Cross is providing food and shelter on the ground.
Last updated 27 June 2022
Deadly earthquake kills a thousand in Afghanistan
A powerful 6.1 magnitude earthquake struck Afghanistan on Wednesday 22 June, killing over 1,000 people and leaving 1,500 more wounded. It is feared that the death toll will rise.
The Afghan Red Crescent is on the ground, responding in these critical hours with food, medicine, shelter and providing safe spaces for women and children. Hundreds of thousands have been affected.
The earthquake comes at a time when the country has already been ravaged by drought, famine and poverty.
95% of people don't have enough to eat and over 3 million children under five are at risk of dying from malnutrition.
The British Red Cross is calling for urgent funding to help people left injured and homeless after yesterday's devastating earthquake.
Are you looking for relatives affected by the recent earthquake in Afghanistan?
If you have lost contact and are concerned about any family members following the earthquake on 22 June 2022, our Restoring Family Links service might be able to help.
How has the earthquake affected Afghanistan?
The deadly earthquake struck 95 miles south of Kabul. Khost and Paktika provinces are worst affected.
Based on initial reports, more than 1,000 people have been killed. The number of casualties is expected to increase as some people remain trapped in rubble beneath collapsed houses and responders struggle to reach the hardest hit villages.
Rain and hail have been hampering rescue efforts taking place in a mountainous area across multiple villages.
How are the Red Cross and Red Crescent Movement helping people in Afghanistan?
Responding to the earthquake
The Afghan Red Crescent has a network of over 30,000 staff and volunteers responding in all provinces of Afghanistan. It is being supported by the IFRC County Delegation. Teams from the Danish Red Cross and Turkish Red Crescent have also surged in support of the earthquake relief effort.
Aid including food, water, blankets, kitchen sets, tents and tarpaulins have been sent from Red Crescent warehouses in Afghanistan.
In the first hours after the quake, trucks containing 4,000 blankets, 800 tents and tarpaulins, 800 kitchen utensils and hundreds of mattresses, pillows, blankets were sent to the affected area.
Medical teams and ambulances have arrived, and more mobile health units are en route from nearby provinces.
The IFRC is preparing to release CHF 750,000 from its Disaster Response Emergency Fund (DREF) to support the immediate response of Afghan Red Crescent Society.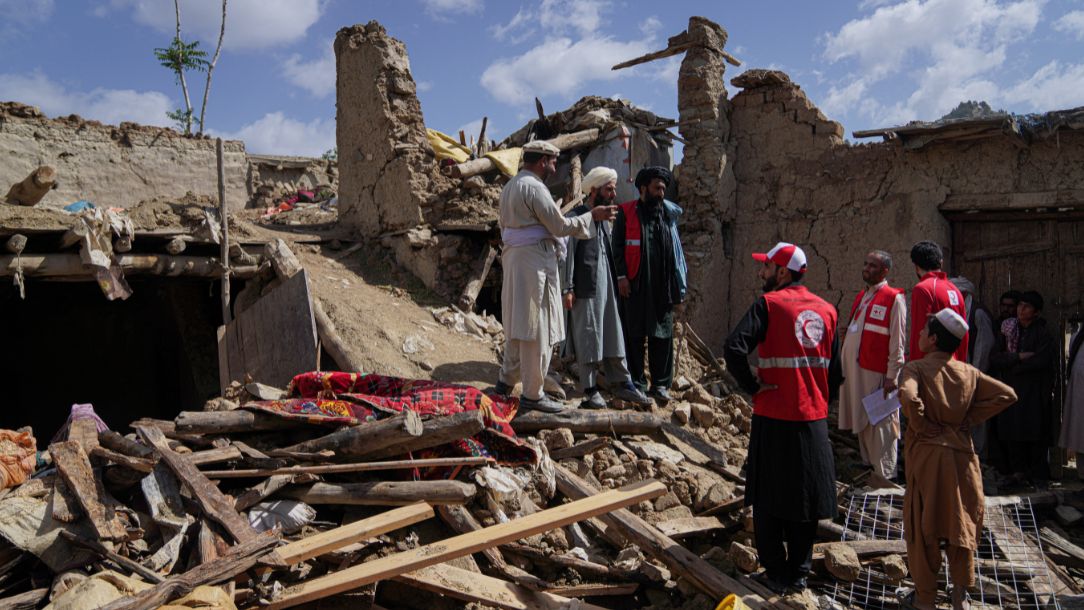 Ongoing response to humanitarian crisis
Even before the earthquake, Afghanistan has been experiencing one of the biggest humanitarian crises in the world.
24 million people and over half of the population is in need of urgent assistance following three decades of conflict and a drought entering its third year.
The Red Cross and Red Crescent Movement is still working on the ground across all 34 provinces in Afghanistan, reaching the people who need us most.
Between autumn 2021 and May 2022, the Red Cross and Red Crescent Movement has assessed 38,062 households and distributed the following to 29,200 households in 14 provinces:
27,650 food parcels
1,250 household kits
5,250 hygiene kits
3,500 kits to help protect against the harsh winter
Cash sums are also being provided so that households can buy the vital supplies that they need. This includes 6,000 in Kabul, and 1,000 in Panjshir.
Keeping medical care going
Through 140 mobile health teams around the country the Red Crescent and IFRC has reached 550, 947 people since autumn 2021.
They have been delivering primary healthcare and routine vaccination services in remote areas of Afghanistan. They've also been providing vital outpatient care, health education, reproductive, maternal and newborn health services, family planning, dressing and referral.
In the country's capital, Kabul, the Red Cross and Red Crescent Movement also run a 50-bed Covid hospital.
Community outreach
A community based health and first aid project is also being rolled out. It has so far reached 327,039 people with health education, first aid, household visits and referrals.
In addition, a total of 1,300 water filters have been distributed in Badghis, Hirat and Jawzjan provinces.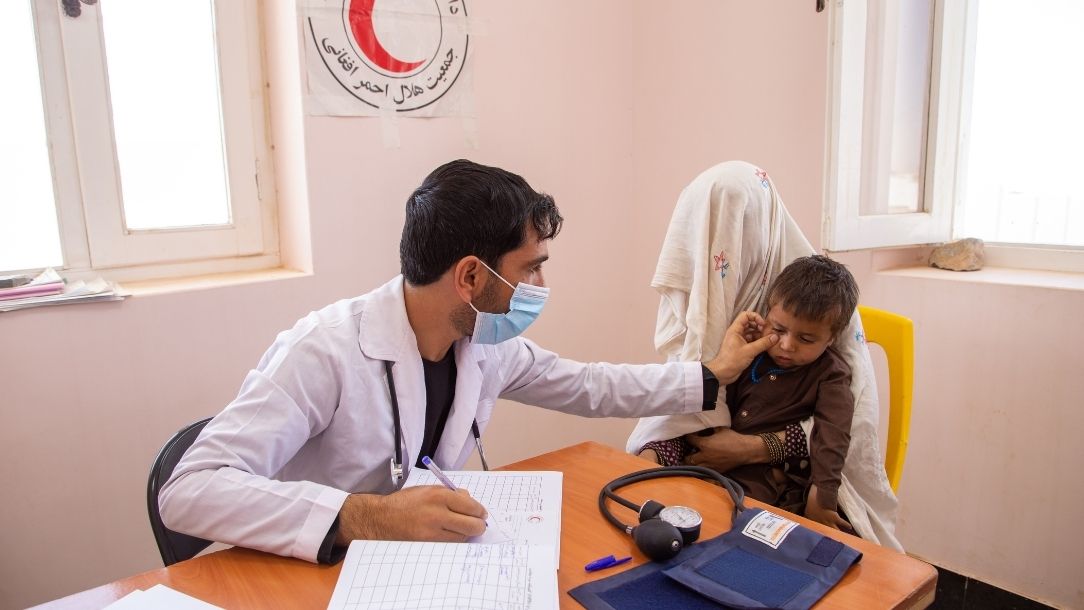 We run over 140 health centres and clinics, including 36 mobile health teams who cover the entire country. This life-saving medical support has become even more critical now, after heavy fighting has left thousands injured and hospitals damaged.
Richard Blewitt, Executive Director, International, British Red Cross
Supporting families affected by drought
Afghanistan now has the second-highest number of people facing serious food shortages in the world. Severe drought in 21 provinces - more than 60 per cent of the country - is crippling agricultural food production. This is causing severe hunger and malnutrition.
The Afghan Red Crescent have helped provide food assistance to 193,550 people since the autumn. This includes 47,600 people in Sari-Pal, Badakhshan, Jawzjan, Ghor and Kabul. Rations include wheat, rice, oil, beans, green tea, salt and sugar.
Thousands of household kits containing cooking equipment have also been distributed in Bahdakshan, and Sar-e-Pol.
I've sat with women clutching their babies who are in the early stages of malnutrition. They are afraid and have no support apart from our teams. Please donate.
Maryann Horne, Senior Advisor on humanitarian crises, British Red Cross
How has the Red Cross been supporting arrivals in the UK?
Ten months on from the evacuation of Afghanistan, and we have supported 16,850 people arriving from Afghanistan to airports across the UK. We continue to do so.
British Red Cross staff and volunteers have been on the ground welcoming people at airports, providing emotional support, warm clothing, soap, nappies, baby bottles, mobility aids and other essentials.
We have distributed more than 524 SIM cards so that people can call loved ones in the UK and Afghanistan.
And we have been providing people with information and emotional support, and checking on their wellbeing given the likely traumas they have come from.
In addition, British Red Cross staff and volunteers have also welcomed nearly 7,000 people from Afghanistan at more than 90 hotels across the UK, and will continue to provide ongoing support.
Helping to find missing family
Through our international family tracing service, we helped a total of 1,710 people in 2021 - 1,651 through our International Family Tracing service and 59 through our Family Reunion service.
Have you newly arrived from Afghanistan?
Find out more about the Afghan Citizens Resettlement Scheme (ACRS) and the Afghan Resettlement and Assistance Policy (ARAP) through the links below.
Donating to Afghanistan
With the Red Cross and Red Crescent network of staff and volunteers, we're ready to support families through the multiple crises they're facing.
We're asking the British public to help us meet people's basic needs. Your money can provide food, medical supplies, shelter and water.
Richard Blewitt, Executive Director, International, British Red Cross
Right now, the Red Cross and Red Crescent Movement is supporting hospitals and medical facilities, helping people get vital treatment, including in isolated rural areas.
How will my donation be used?
Your donation will help us to deliver food, medical supplies, water and shelter.
This is how your donation could help:
£10 could provide food to those in Afghanistan going hungry
£25 could provide clean water to severely affected families
£50 could provide urgent medical care to those in need
£100 could provide cash based assistance to those who have been displaced from their homes.
At this point, we are not looking for donations of clothes or other items for Afghan people from the public.
How to support refugees
British Red Cross volunteers help thousands of refugees, asylum seekers and vulnerable migrants every year enabling people to draw upon their own strengths to withstand crisis and rebuild their lives.
To support all refugees you can:
We are currently experiencing an influx of virtual gift and volunteer enquiries. If there are no items, or volunteer opportunities available in your area, please do check back again.