Humanitarian aid in Afghanistan
More than 8 million people, including 3 million children under five, are facing starvation in Afghanistan this winter. The Red Cross is providing food and shelter on the ground.
The 'worst humanitarian crisis on earth'
Over the coming months, more than 8 million people in Afghanistan will be on the brink of famine.
Children are dying of hunger today. Over 3 million children under five are expected to suffer from acute malnutrition before March, with at least a million of these at risk of dying.
The head of the World Food Programme describes the situation as "the worst humanitarian crisis on earth".
The Red Cross is on the ground, scaling up our operations. Our number one priority is getting food packets, including emergency nutrition paste for young children, to people facing starvation.
We are also supporting healthcare facilities, ensuring shelters are fit for the freezing winter, and we're providing clean water to stave off cholera and other life-threatening diseases.
Supporting newly arrived Afghan people
Two months on from the evacuation of Afghanistan, and we have supported over 15,300 people arriving from Afghanistan to airports across the UK. We continue to do so.
British Red Cross staff and volunteers are on the ground welcoming people at airports, providing emotional support, warm clothing, soap, nappies, baby bottles, mobility aids and other essentials.
We have distributed more than 429 SIM cards so that people can call loved ones in the UK and Afghanistan.
And we are providing people with information and emotional support, and checking on their wellbeing given the likely traumas they have come from.
In addition, British Red Cross staff and volunteers have also welcomed nearly 7,000 people from Afghanistan at more than 90 hotels across the UK, and will continue to provide ongoing support.
Advocating for people's needs
Throughout the crisis, the British Red Cross has been calling for more safe routes for people from Afghanistan to the UK as well as clarity on family reunion rights.
Most of those evacuated had arrived from harrowing journeys, with many leaving behind loved ones. Their number one priority is now securing safe passage for their close family members who remain in Afghanistan. The absence of their family is a very heavy and constant weight on the minds of those in the UK, and will make rebuilding their lives here very difficult.
We welcome the UK Government's work in welcoming evacuees from Afghanistan. We are calling for concerted effort to accommodate families in appropriate housing as soon as possible, and for the 3,000 Afghans currently in the asylum system to have their claims processed immediately.
We also welcome the announcement of the scheme to resettle 20,000 Afghans in the coming years. The current situation has shone a spotlight on the needs of people seeking safety, not just in Afghanistan, but in other countries around the world. We need more ways for people to seek safety and reunite with family, including an ambitious resettlement programme with clear targets and a multi-year plan.
Alex Fraser, director of refugee support, says:
We need to make sure that people can continue to reach the UK from Afghanistan safely. Right now, there are people in danger and in search of places to live across the world. That's why we're calling on the government to commit to a global resettlement scheme and to agree to resettle 10,000 people a year from across the world as part of that.
How to support refugees
British Red Cross volunteers help thousands of refugees, asylum seekers and vulnerable migrants every year enabling people to draw upon their own strengths to withstand crisis and rebuild their lives.
To support all refugees you can:
We are currently experiencing an influx of virtual gift and volunteer enquiries. If there are no items, or volunteer opportunities available in your area, please do check back again.
What is happening in Afghanistan?
Afghanistan is in crisis and there is a huge humanitarian need.
Weeks of heavy fighting in cities like Kandahar, Herat, and Lashkar Gahar have left thousands injured.
Homes, hospitals and critical infrastructure like water and electricity systems have been destroyed.
Covid-19 cases are spiralling, with 50 per cent of tests proving positive.
Around a third of Afghanistan's population (11 million people) don't have enough food.
Donating to Afghanistan
With the Red Cross and Red Crescent network of staff and volunteers, we're ready to support families through the multiple crises they're facing.
We're asking the British public to help us meet people's basic needs. Your money can provide food, medical supplies, shelter and water.
Richard Blewitt, Executive Director, International, British Red Cross
Right now, the Red Cross and Red Crescent Movement is supporting hospitals and medical facilities, helping people get vital treatment, including in isolated rural areas.
How will my donation be used?
Your donation will help us to deliver food, medical supplies, water and shelter, and will help us to support the hundreds of families currently arriving in the UK from Afghanistan.
Our work supporting the Afghan families who are arriving at airports in the UK is funded separately. But the money raised through our Miles for Refugees event will go towards supporting people who arrive and need our services longer term.
This is how your donation could help:
£10 could provide food to those in Afghanistan going hungry
£25 could provide clean water to severely affected families
£50 could provide urgent medical care to those in need
£100 could provide cash based assistance to those who have been displaced from their homes.
At this point, we are not looking for donations of clothes or other items for Afghan people from the public.
Are Red Cross and Red Crescent staff and volunteers safe?
The Red Cross and Red Crescent is recognised for its neutrality, impartiality and independence. This has allowed us to provide humanitarian assistance in Afghanistan for decades as well as in the UK through support to refugee programmes. We will not stop now.
Our principles have allowed the Red Crescent to gain access to help people living in isolated areas. As a local agency, Red Crescent staff and volunteers are working in every province across the country, with direct access to support communities with ongoing relief operations and health services.
How are the Red Cross and Red Crescent Movement helping people in Afghanistan?
The Red Cross and Red Crescent Movement is working on the ground across all 34 provinces in Afghanistan, reaching the people who need us most.

Our Covid-19 hospital in Kabul has also treated thousands of patients and remains operational as virus cases spiral, and our teams are distributing essentials items, like food, water and cash to families.
We run over 140 health centres and clinics, including 36 mobile health teams who cover the entire country. This life-saving medical support has become even more critical now, after heavy fighting has left thousands injured and hospitals damaged.
Richard Blewitt, Executive Director, International, British Red Cross
Are the Red Cross and Red Crescent Movement helping displaced Afghans across the border?
There has been significant internal displacement across Afghanistan. Reports of significant increases of people crossing the border are yet to be confirmed.
The Red Cross and Red Crescent Movement is monitoring the situation, working closely with Red Cross and Red Crescent colleagues in the region to establish what response is needed.
Ongoing

support in Afghanistan

The Red Cross and Red Crescent has been providing humanitarian assistance in Afghanistan for decades as well as in the UK through support to refugee programmes. We will not stop now.

People across Afghanistan are very resilient after four decades of conflict. The conflict may be over, but repeated climate and weather-related disasters coupled with Covid-19 are making it more difficult to bounce back and cope.

Around 22.8 million people are experiencing acute food shortages, a 37 per cent increase since April this year. Among those at risk are 3.2 million children under five who are in the grip of malnutrition.

The Red Cross and Red Crescent Movement is supporting agriculture, income-generation schemes, making provisions for longer-term food needs, and protecting people from Covid-19 in Afghanistan, including through vaccinations.
Families affected by drought
Afghanistan now has the second-highest number of people facing serious food shortages in the world.
More than three million livestock are also in danger of death from lack of food and water, which will also lead to more hunger among people.
On top of this, flash floods in May and July led to deaths, injuries and damage to infrastructure including roads, irrigation systems and farmland. This will certainly make the situation worse.
The Afghan Red Crescent plan to help 40,000 families affected by drought with emergency food and information about hygiene and staying healthy. They also plan to support 20,000 families who depend on agriculture and livestock to keep their farms and animals going.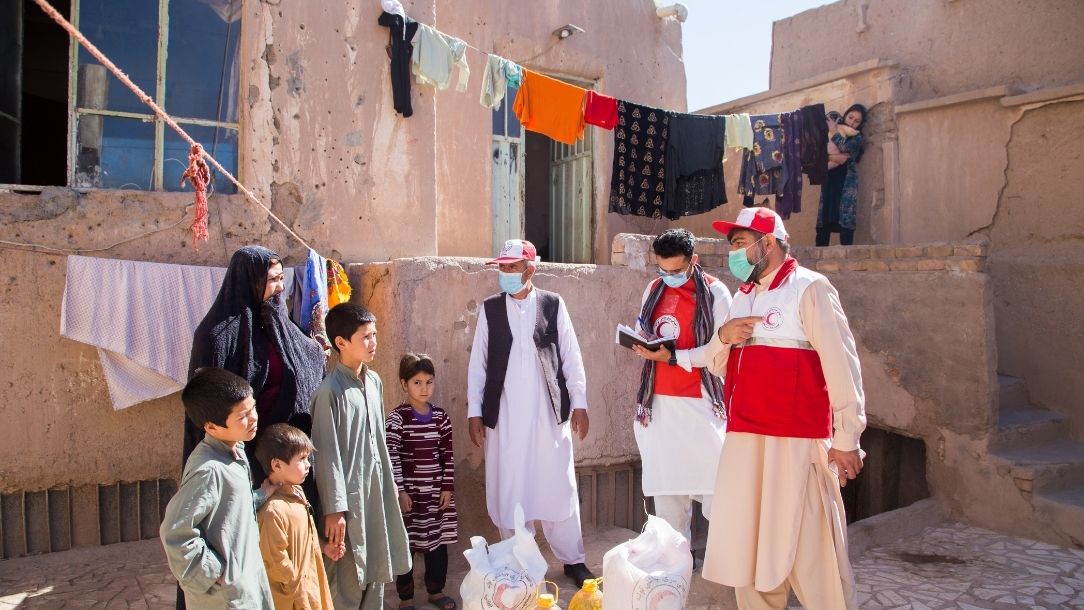 Keeping medical care going
Through 150 health teams around the country, the Red Crescent has been teaching people about Covid-19, screening patients, giving vaccines and referring people for treatment. In the country's capital, Kabul, they also run a 50-bed Covid hospital.
This is backed up by awareness raising about the coronavirus, and giving vaccines in some of the isolated rural areas.