Humanitarian support in Somalia
Years of drought and conflict in Somalia mean that 3.7 million Somalian people are struggling to find enough food. The Red Cross is supporting with vital supplies.
Last updated 1 December 2023
Somalia facing food crisis
Time is running out for Somalia. Drought, combined with conflict, is pushing Somalian communities to the brink. The IPC has predicted that around 4.3 million people are likely to be affected.
Last year, around 43,000 people lost their lives to the food crisis in Somalia. Devastatingly, half of them were children under five.
Crops can't grow. The worst drought in 40 years has left the land bone dry. Livestock is dying and 3 million people are struggling to access the food they need.
The people of Somalia are some of the world's most resilient people. But right now, they cannot get the basic things they need to survive.
Flooding in Somalia
In East Africa there have been five poor rainy seasons in a row, causing a 3-year drought.
And now, due to the Indian Ocean Dipole and El Nino phenomena, heavy rains have hit the region hard since the end of October. They have triggered terrible floods with devastating consequences for both lives, livelihoods and food security, the short-term displacement of hundreds of thousands of people, and the heightened risk of water-borne disease and desert locusts.
At least 706,100 people in Somalia have been affected.
As of 6 November 2023, more than 113,690 people had been temporarily displaced from their homes. Some families have been cut off from market towns and are unable to buy what they need. Roads, bridges and airstrips have been damaged in several areas, affecting the movement of both people and supplies.
How is the Red Cross supporting people in Somalia?
The Somali Red Crescent (SRCS) has supported 500,000 people so far, including over 100,000 through clinics and mobile health clinics in the most affected areas.
A total of 36,949 children have been reached through nutrition screening services and 78,245 individuals with medical treatment services.
The SRCS are also supporting with financial assistance to buy food and essential items, providing clean water and immunisations to prevent the spread of disease amongst the worst affected areas.
And together with the ICRC, they are helping those displaced by conflict or drought to find out the fate or whereabouts of their loved ones. Almost 4,000 free phone calls have been facilitated to restore and help maintain family contact.
Prioritising sanitation
The SRCS are prioritising Water, Sanitation and Hygiene (WASH) services to communities affected by the ongoing drought. The WASH initiatives have reached 469,338 people, primarily through promotion campaigns.
They have been drilling for water to help find a reliable water supply, mitigating the impact of the drought on both people and livestock.
Supporting livelihoods
In Somalia, the ICRC, in collaboration with the Ministry of Agriculture and private agri-businesses, supported cooperatives who are producing certified seeds for the first time in the over three decades.
The ICRC is also providing emergency financial assistance to families. So far, they have registered more than 900,000 people to receive this emergency assistance.
Supporting malnourished children
A stabilisation centre run by the ICRC in Baidoa has seen a five-fold increase in malnourished children needing care. Children admitted here die without this specialised nutritional care.
Flash floods in Somalia
The climate crisis is triggering severe drought and flash floods in central Somalia. A quarter of a million people have had to flee their homes after the Shabelle River burst its banks and submerged the town of Beledweyne.
The flash floods in Somalia are happening while the country is going through the worst drought in 40 years. Rains have landed on parched soil and provoked the floods.
These twin emergencies are devastating affected communities. The water has washed away homes, crops and livestock and has disrupted local schooling and healthcare services.
The Somali Disaster Management Agency said the floods in Beledweyne alone have caused the displacement of more than 200,000 people and have affected 460,470 in total.
Communities in Somalia are exhausted
Richard Blewitt, executive director of International, British Red Cross visited some of the worst affected regions.
"Communities are really struggling. They struggle with access to water, they struggle with access to sufficient food and they struggle with isolation. Many of their children are now unfortunately not going to school. "There is a mixture of internally displaced people as well as local people who are giving solidarity and support, but even those local people are exhausted.
"Clearly, we have to find durable long-term solutions, but equally, we have to respond quickly and effectively in a crisis situation."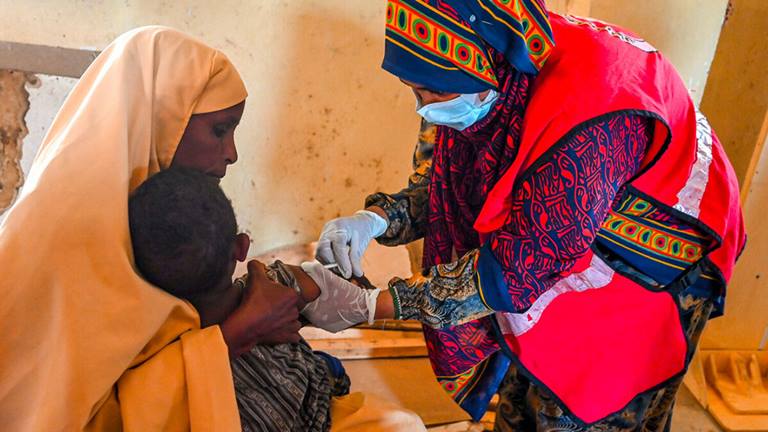 Africa food crisis: Red Cross support
Across East Africa and the Sahel, more than 160 million people are facing extreme hunger. Red Cross teams are working on the ground, supporting communities to:
Survive today: by supporting with water, food, immediate financial help, nutrition services and healthcare
Be prepared for the coming months: with cash support so that people can buy and save what they need with dignity.
Face the future: by supporting people stuck in a cycle of extreme weather.