The Red Cross Red Crescent Movement is supporting people affected by military clashes, and women and children affected by gender-based violence.
Sudan clashes: an escalating humanitarian crisis
On 15 April, the Sudanese Armed Forces (led by Abdel Fattah al-Burhan) and the Rapid Support Forces (led by his deputy Mohamed Hamdan Dagalo) started fighting. Since then, things have escalated rapidly.
The conflict has spread from Khartoum into other states, including North and South Darfur, Northern State, North Kordofan, Khartoum State, Kassala and Gedaref.
The UN has reported that at least 427 people have been killed and more than 3,700 have been injured so far.
Hospitals are running out of supplies in the affected areas. There is desperate need for first aid and medical kits, diesel for power generators, stretchers and beds.
The Red Cross and Red Crescent Movement is calling for vital humanitarian space so that the Sudanese Red Crescent Society volunteers can reach medical facilities and treat the wounded. Without this, the death toll will grow by the hour.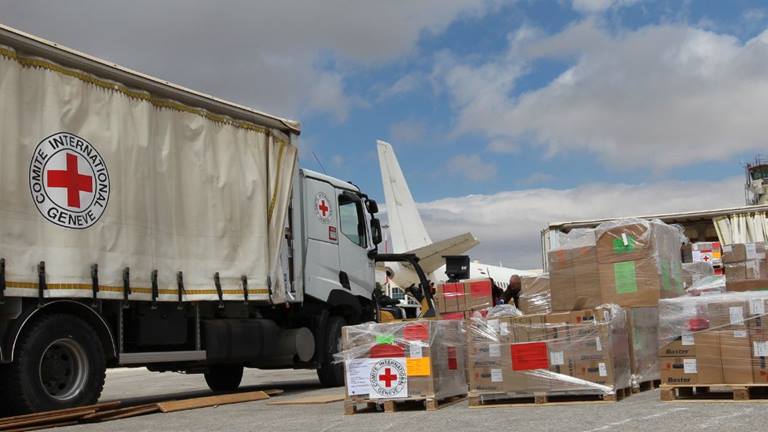 How is the Red Cross Red Crescent Movement helping people in Sudan?
The Sudanese Red Crescent is leading the humanitarian and relief response in Khartoum.
14 staff and 254 trained volunteers are currently deployed to support search and rescue operations, evacuations, and first aid across seven high risk areas. They also have seven vehicles and four ambulances in use.
The Sudanese Red Crescent have 18 branches across the country and are preparing to mobilise 900 volunteers when needed.
The Red Cross Red Crescent Movement - the ICRC, the IFRC and National Societies - will remain in Sudan to support the Sudanese Red Crescent Society.
Together, we are working hard to ensure humanitarian relief effort is brought to those in desperate needs currently.
What are conditions like for people on the ground in Sudan?
The humanitarian situation is worsening by the day.
The fighting in Khartoum and other parts of the country is taking place in densely populated urban areas. Violent street battles and the use of heavy explosive weapons in Khartoum have had a devastating impact on civilians and critical infrastructure.
People have been going for days without electricity and water as electrical water pumps are not working.
Throughout Khartoum, people are struggling to access essential supplies they need, including food, water and medicine.
The IFRC estimates that around nine million people could be at risk from the crisis.
People have been ordered to stay in their homes, so making sure they have the food and medicine they need is a priority.
Around 20,000 people have already fled their homes and gone to Chad.
We are deeply concerned that this may be the start of a volatile, long-lasting situation that's going to harm a lot of people.
Is there a refugee crisis in Sudan?
Refugees from West and East Africa pass through Sudan towards North Africa, Europe and the Gulf states. Some also stay in Sudan, and the country hosts more than a million refugees, mainly from neighbouring countries.
Due to climate change and conflict, many people are forced to leave Sudan too. More than 20,000 people have crossed the border to Chad during the recent clashes.
Extreme flash floods are common between August and September, affecting about 87,000 people each year. North and West Darfur suffer the most from the devastating effects of flooding.
In these states, damaged infrastructure such as houses, roads and public facilities, and the loss of crops and livelihoods, have resulted in massive population displacements.
How is the Red Crescent supporting women in Sudan?
The British Red Cross has had an ongoing programme partnership with the Sudanese Red Crescent and the Danish Red Cross in Sudan since 2018.
The Kassala safe houses programme was set up on the borders of Eritrea and Sudan to protect vulnerable women and children along the migration route.
Led by female Sudanese Red Crescent Society volunteers, the safe house is helping victims of gender-based violence process their trauma and move forward with their lives.
We are working closely with colleagues at the Sudanese Red Crescent and the Danish Red Cross, to monitor the safety of those involved during the current clashes.
Is there a hunger crisis in Sudan?
Even before the current conflict, Sudan was in urgent need of humanitarian support.
Between June and September 2022, food insecurity reached crisis point and an estimated 11.6 million people were going without nutritious food.
Find out how the Red Cross is supporting people affected by hunger in parts of Africa