Humanitarian work in East Africa
Humanitarian work in East Africa
The British Red Cross is providing emergency supplies and support to people affected by drought and hunger in East Africa and armed clashes in Tigray, Ethiopia.
(Last updated 6 December 2021)
Fighting in Tigray
East Africa has been going through extreme drought, weather conditions and a locust invasion which is likely to continue throughout 2021. Now, people across the region are reeling from ongoing violence in Northern Ethiopia.
In November 2020, fighting broke out between Ethiopian Defence Forces and security forces in Ethiopia's Tigray region in the north of the country.
Around 23 million people in Ethiopia now need humanitarian aid

As fighting continues,

around 2 million people are thought to have fled their homes

Around

58,000 people have now sought safety

in neighbouring Sudan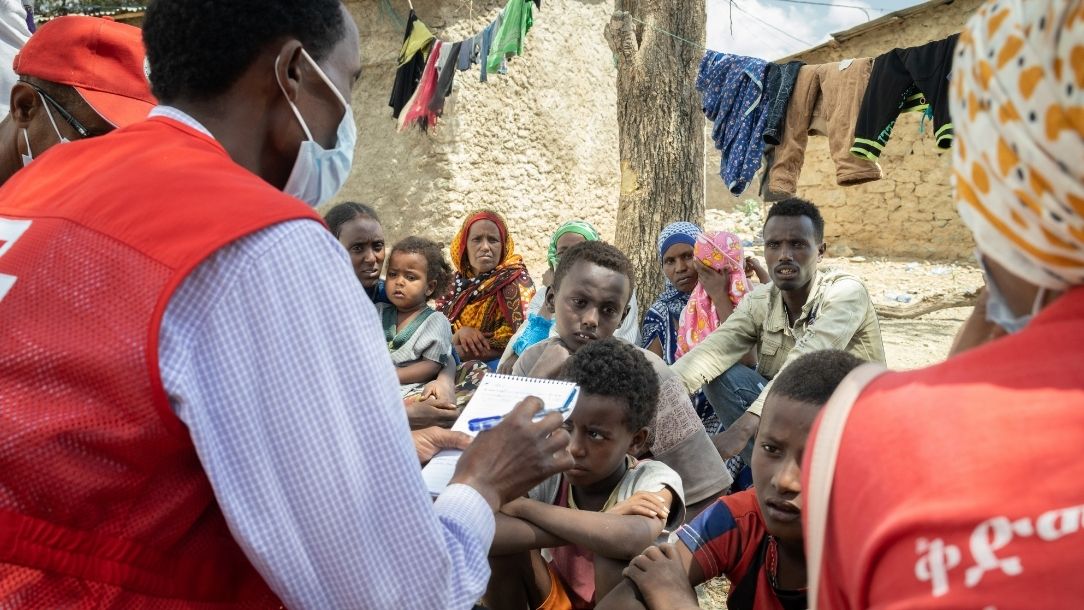 The British Red Cross and our partners in the Red Cross Movement are providing food, healthcare and clean water to hundreds of thousands of people in need.
Ethiopia's most vulnerable at risk
The combination of drought and conflict has caused widespread hunger. Women, children and other at-risk groups are suffering the most.
5.5million people are facing extreme hunger in Tigray and the neighbouring regions and need urgent humanitarian support.
400,000 are in desperate need of food in Northern Ethiopia. This is likely to worsen if the fighting continues or humanitarian assistance is hampered.
The British Red Cross and our partners in the Red Cross Movement are providing food, healthcare and clean water to hundreds of thousands of people in need.
How is the British Red Cross helping people in East Africa?
Drought, conflict, being forced from your home and hunger: the situation in East Africa is desperate. Over the next 12 months, the Red Cross will be helping people across the region in six important areas:
Practical support
In Ethiopia and Sudan, people's livelihoods have been severely affected by months of armed violence, floods, drought and locust infestations. Many are no longer able to earn money and extreme hunger is now widespread.
Over the next 12 months, the Red Cross will support people by providing:
food parcels

seeds, fertilisers, tools and training for farmers
cash grants so people can get back on their feet, cover essentials and food, or start up their businesses again.
Volunteers will also give vital food supplements to vulnerable groups such as children, pregnant women, sick, disabled people and older people.
Protection for women, children and vulnerable people
People with disabilities, older people, small children, women and girls are at particular risk from armed groups. They face sexual and gender-based violence, exploitation and trafficking. People who fled their homes are at most risk.
Local communities often just don't have the resources to protect their most vulnerable people in emergencies, especially since medical facilities have been damaged in the conflict.
The Red Cross Red Crescent Movement will work with local volunteers to ensure these groups are protected:
women, young children and girls will be given a safe space in settlements

dignity kits will be provided, with essentials such as sanitary towels
vulnerable groups will receive priority access to vital healthcare
support to services for survivors of sexual violence. This includes medical and psychological help and financial help so people can start to recover their lives
helping families reconnect after being separated by conflict.
Shelter
People caught up in conflict have had to leave their homes and move to camps or live within communities in different regions.
Conditions in the camps are poor: people are living out in the open, without tents or shelter.
Cramped conditions create poor health. Often people don't have enough clean water or toilets and this increases the chances of disease. This is especially true now in the time of Covid-19, when hygiene and social distancing are crucial.
The Red Cross will make sure that people in camps can live in safety and dignity. We will:
provide emergency shelter kits and essential household items

support communities to build emergency shelters using local, salvaged materials and provide technical support

plant trees to replace those cut for construction
Health
People have little access to basic health services. Hospitals have either been closed, damaged or looted, while healthcare workers have had to leave hospitals for their own safety.
With little water supply and poor sanitation in the camps, diseases such as cholera are likely to take hold and spread.
Many people are also deeply traumatised. Separation, as well as loss of loved ones, homes, livelihoods and identities, have caused widespread mental health problems.
Covid-19 is also a huge threat. Crowding within camps and poor sanitation means that social distancing and handwashing is nearly impossible. Without these basic prevention measures, cases could surge.
The Red Cross will provide vital healthcare to displaced communities, including:
primary healthcare services
psychosocial and mental health support
nutritious food for vulnerable groups
raising awareness and knowledge of disease prevention
Access to clean water
For people who had to flee their homes and those in refugee settlements, access to clean and safe water is limited.
Within settlements, a lack of water also means poor sanitation. As more refugees from Ethiopia arrive every day in settlements in Eastern Sudan, the situation is getting worse.
The Red Cross and Red Crescent Movement will work with communities on ways to prevent Covid-19 and will:
provide people with safe access to drinking water
provide water treatment and storage kits to improve hygiene facilities
construct accessible
build washing stations and providing hand sanitiser and soap.
Being prepared
The conflict in Northern Ethiopia is making people even more vulnerable to events such as climate change. and they've already had to deal with so much. As more people flee their homes, resources in the region will soon disappear.
The Red Cross is finding ways to strengthen resilience in communities across East Africa by:
preparing people against the effects of armed conflict
working with local communities to advocate for peace and reconciliation.
Last updated 6 December 2021