Humanitarian aid in Pakistan 
The Red Cross is helping people in Pakistan going through a devastating second wave of the coronavirus. We are also providing cash grants to help people before, during and after disasters.
Pakistan: an overwhelmed healthcare system
Pakistan has been badly affected by a deadly second wave of the coronavirus, along with India, Bangladesh and Nepal.
At the end of May, Pakistan recorded more than 900,000 Covid-19 cases and 20,000 deaths.

The healthcare system is overwhelmed and is unable to cope with critical Covid cases, despite a drop in admissions.
The pandemic has had an enormous impact on livelihoods and communities are struggling.
My experience, both as an organisation head and a medical doctor, is that it's been tough to treat our Covid patients. Oxygen has not been available in the country. The pandemic has made us realise that no country, no matter how developed it is, can deal with this phenomenon alone. Everybody needs to come together to deal with this.
Dr Adeel Nawaz, secretary general Pakistan Red Crescent Society
How is the Red Crescent helping people in Pakistan?
Taking pressure off the healthcare system
The Pakistan Red Crescent has been taking the pressure off an overburdened healthcare system, supporting crucial testing, pre-hospital care and GP services alongside public authorities. They have also delivered 300,000 masks and full PPE to healthcare workers.
The Pakistan Red Crescent is also supporting the national vaccine rollout, reaching people who are most at risk. So far, they have helped give 20,311 vaccines at six mass vaccination centres across the country.
Caring for local communities
To keep local communities safe, 700 Pakistan Red Crescent volunteers have been trained in virus prevention. They have been out on the frontline, making sure people live by Covid-safe rules and addressing vaccine hesitancy within communities.
They have also taken measures to help prevent the virus, building public washrooms and latrines where these facilities were not available. As part of a nationwide hygiene awareness campaign, they are also building public hand washing stations and distributing hand sanitisers too.
Support for households

The pandemic has severely impacted people's livelihoods. The Pakistan Red Crescent is working closely with the government and other agencies to support households with cash and food parcels, and further help planned for 10,000 families.
How will donations be used in Pakistan?
We are continuing to work with the International Federation of the Red Cross and the Pakistan Red Crescent to support the coronavirus response in Pakistan.
Your donation will help us support the people most in need, including the sick, elderly and disabled people in Pakistan as well as sanitation programmes in Nepal and the current second wave in India.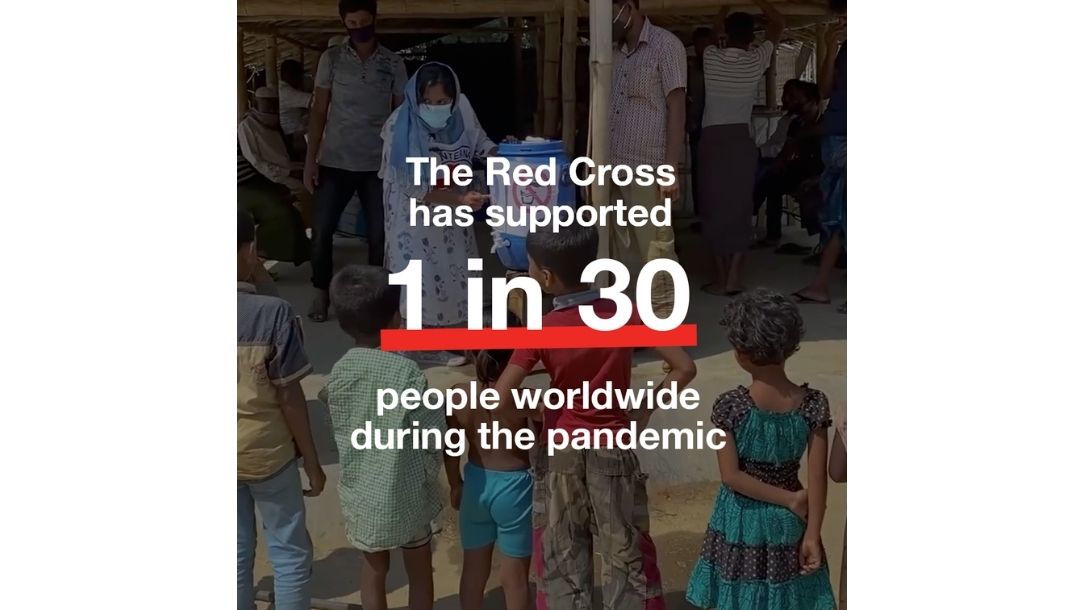 Cash grants in Pakistan
In Pakistan, the Red Cross and Red Crescent use cash grants to help people before, during and after disasters .
Pakistan: cash grants after floods
The Balochistan region of Pakistan is prone to flooding, earthquakes and other natural disasters. Since 2003, the Red Cross has worked with our partners the Pakistan Red Crescent to help prepare for and help after these crises.

After disasters, if local shops and markets are still open, the Red Crescent provides emergency cash grants to affected families. People can then buy essentials such as food and medicines and don't have to wait for emergency aid to reach them. The money they spend also helps to keep the economy going after an emergency, speeding up recovery.
Homes and livelihoods destroyed by floods
In 2016, the Lehir district of Balochistan experienced unusually long and heavy rains, leading to severe flash floods. Over 8,500 people needed urgent assistance.

After providing immediate emergency aid, the Red Cross and Red Crescent gave cash grants of £114 to 1,060 of the worst affected families. This covered the cost of a family of seven's food for one month, plus some extra money for other essentials such as medical care.

The Red Crescent worked with a leading mobile phone company to text people who were due to get grants. Families could then pick up their cash at any of the company's shops across the district. Red Crescent volunteers and staff gave advice and support at the shops and via a special phone line if needed.

People got this help immediately so they did not have to sell their belongings, take children out of school or ask for financial help from neighbours. This also helps with long-term recovery.
Cash grants improved families' health and wellbeing
After the floods:
Nearly 80 per cent said that their families' health and nutrition got better thanks to the grants.
Over half said that the cash helped them restart their farms or businesses.
More than a third reported that the grants helped them access medical care.
Over half of people said that without the grants they would have had to borrow money and a quarter would have had to sell their belongings to cope.
In the future, the Red Crescent plans to use cash grants to help more people keep going during emergencies and recover as quickly as possible.