Humanitarian aid in Pakistan 
As sea-strength flood waters devastate Pakistan, the Red Cross and Red Crescent Movement is supporting the millions of people who have lost their homes, livelihoods and loved ones. 
Last updated 26 September 2022
Pakistan floods: waterborne diseases a growing threat
More than 1,190 people have died, including children, after sea-strength flood water ravaged Pakistan. 33 million people have had to leave their homes with little or no belongings, and are now in severe danger. That's around half of the UK.
As the flooding begins to subside, the scale of the humanitarian crisis is becoming clearer. People are in dire need of health services, shelter, food, clean water, toilet facilities, livelihood support and medical support. It could take three to six months for the water to completely recede.
And now, a country ravaged by floods, is facing a growing health crisis. Waterborne diseases like acute watery diarrhoea, dengue fever, malaria and chikungunya are taking significant hold as people are forced to drink contaminated water. Babies and children are particularly affected.
The Pakistan Red Crescent and IFRC are on the ground, providing people with essential support, including shelter, food, clean water and medical aid. But we urgently need funds to help them to reach more people.
Please donate to the Pakistan Floods Appeal if you can.
How your donation will help
Help us meet people's most urgent needs: clean water, food, emergency shelter, healthcare, sanitation and hygiene, child protection, and items such as life jackets.
£10 could provide essential hygiene supplies for two people
£50 could provide emergency shelter for two families
£100 could provide emergency food for two families for a month
Are you looking for missing family in Pakistan?
If you know someone who may have been affected by the floods, please try to contact them first by normal communications methods such as telephone or mobile.
If you're concerned about a British national, you should contact the Foreign, Commonwealth & Development Office on 0207 008 1500.
For other nationalities, please contact your own embassy for more information.
You can also contact the British Red Cross tracing service.
Please email: findyour_family@redcross.org.uk and provide us with your full name and telephone number. A team member from the International Family Tracing service will contact you as soon as possible.
If you have lost contact and are not in the UK, please contact your local Red Cross or Red Crescent.
How are people affected by floods in Pakistan?
The most affected provinces are Sindh, Punjab and Khyber Pakhtunkhwa, with the highest loss of life in Sindh - a low lying area. It will take months before the water subsides and we know the true humanitarian toll on the people of Pakistan.
Relentless, torrential rain, floods and landslides are very difficult to handle, even for the most prepared and resilient communities. More than a million homes have been destroyed or badly damaged, leaving many homeless and exposed to the elements.
Around 33 million have been affected overall - one in seven Pakistanis. Whole villages have been cut off, with rescuers struggling to reach them.

People are in dire need of shelter, cooked food, dry food, clean water, toilet facilities, livelihood support and medical support.
The local markets are affected, and people can't get hold of essential everyday items. Toilets and tube wells are submerged in large numbers, while sewers are overflowing with rubbish, leading to an acute crisis of clean water and sanitation.
Long-term effects of the floods in Pakistan
More than 4m acres of crops and agricultural land has now been destroyed, and 800,000 livestock killed. This means that many people will go hungry and will have lost their livelihoods.
How is the Red Cross supporting people affected by flooding in Pakistan?
The Red Cross and Red Crescent Movement are supporting affected people on the ground. The primary focus of the relief effort is to save lives and provide temporary shelter and blankets to people who lost their homes, along with clean water, food, medical support and sanitation to prevent the spread of water-borne diseases.
Humanitarian agencies are mainly working in 23 districts across Balochistan, Sindh, Kyber Pakhtunkhwa and Punjab, coordinating with the local authorities and UN agencies to deliver humanitarian support where it's needed the most and to the most vulnerable.
These communities include women, girls and children, older people, people with disabilities and the critically ill, as well as disadvantaged communities in rural areas and people who have had to leave their homes.
However, with more rainfall and flooding forecast, it's likely that the humanitarian will worsen.
Reports of waterborne disease in the wake of the Pakistan floods
After flooding, waterborne diseases pose a risk to communities.
Waterborne disease breaks out when sewage contaminates drinking water or gets onto food. Many affected communities are currently unable to access clean water, toilet and handwashing facilities as water systems have been destroyed. They are also exhausted and hungry, and more susceptible to infection.
These diseases are treatable, but can rapidly escalate into a major health emergency in overcrowded conditions where sanitation is poor.
That's why humanitarian agencies are providing clean water and sanitation as a priority.
Pakistan and the impact of climate change
There is mounting evidence that climate change has prompted these unprecedented floods in Pakistan. This year, rainfall in Pakistan has been ten times higher than normal.
The UN Secretary General Antonio Guterres has called the situation a 'climate catastrophe'. He's called upon the world to send humanitarian assistance.
Pakistan is among the ten countries most affected by extreme weather events, despite having having a very low carbon footprint itself.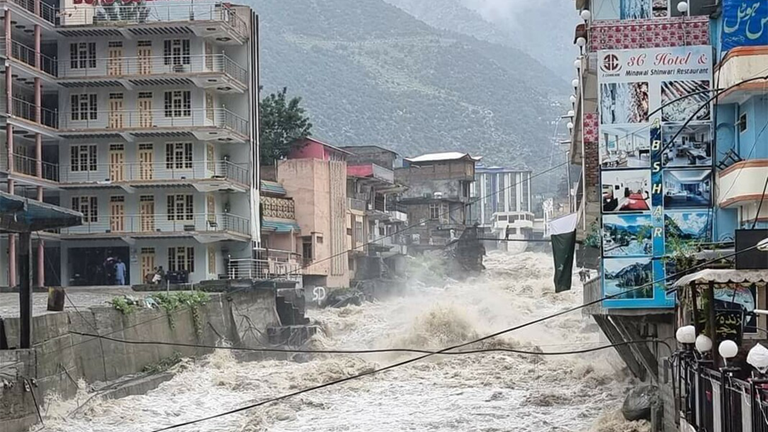 Ongoing work in Pakistan
Taking pressure off the healthcare system
The Pakistan Red Crescent has been taking the pressure off an overburdened healthcare system, supporting crucial testing, pre-hospital care and GP services alongside public authorities. They have also delivered 300,000 masks and full PPE to healthcare workers.
The Pakistan Red Crescent is also supporting the national vaccine rollout, reaching people who are most at risk. So far, they have helped give 20,311 vaccines at six mass vaccination centres across the country.
Caring for local communities
To keep local communities safe, 700 Pakistan Red Crescent volunteers have been trained in virus prevention. They have been out on the frontline, making sure people live by Covid-safe rules and addressing vaccine hesitancy within communities.
They have also taken measures to help prevent the virus, building public washrooms and latrines where these facilities were not available. As part of a nationwide hygiene awareness campaign, they are also building public hand washing stations and distributing hand sanitisers too.
Support for households

The pandemic has severely impacted people's livelihoods. The Pakistan Red Crescent is working closely with the government and other agencies to support households with cash and food parcels, and further help planned for 10,000 families.
Cash grants in Pakistan
In Pakistan, the Red Cross and Red Crescent use cash grants to help people before, during and after disasters .
Pakistan: cash grants after floods
The Balochistan region of Pakistan is prone to flooding, earthquakes and other natural disasters. Since 2003, the Red Cross has worked with our partners the Pakistan Red Crescent to help prepare for and help after these crises.

After disasters, if local shops and markets are still open, the Red Crescent provides emergency cash grants to affected families. People can then buy essentials such as food and medicines and don't have to wait for emergency aid to reach them. The money they spend also helps to keep the economy going after an emergency, speeding up recovery.
Homes and livelihoods destroyed by floods
In 2016, the Lehir district of Balochistan experienced unusually long and heavy rains, leading to severe flash floods. Over 8,500 people needed urgent assistance.

After providing immediate emergency aid, the Red Cross and Red Crescent gave cash grants of £114 to 1,060 of the worst affected families. This covered the cost of a family of seven's food for one month, plus some extra money for other essentials such as medical care.

The Red Crescent worked with a leading mobile phone company to text people who were due to get grants. Families could then pick up their cash at any of the company's shops across the district. Red Crescent volunteers and staff gave advice and support at the shops and via a special phone line if needed.

People got this help immediately so they did not have to sell their belongings, take children out of school or ask for financial help from neighbours. This also helps with long-term recovery.
Cash grants improved families' health and wellbeing
After the floods:
Nearly 80 per cent said that their families' health and nutrition got better thanks to the grants.
Over half said that the cash helped them restart their farms or businesses.
More than a third reported that the grants helped them access medical care.
Over half of people said that without the grants they would have had to borrow money and a quarter would have had to sell their belongings to cope.
In the future, the Red Crescent plans to use cash grants to help more people keep going during emergencies and recover as quickly as possible.