Humanitarian work in Syria and vital help for Syrian refugees
The Red Cross and Red Crescent Movement is supporting people affected by two devastating earthquakes which have hit Syria and Türkiye (Turkey).
Last updated 23 February 2023
Powerful earthquakes strike Syrian border
A 6.4-magnitude earthquake, which hit Türkiye's (Turkey) southern province of Hatay on Monday, 20 February, has caused further damage across northern Syria, reportedly injuring 500 people.
This was followed by a 5.8 aftershock three minutes later and dozens of subsequent aftershocks that were not as severe.
These latest events follows two powerful earthquakes hit northern Syria and southern Türkiye two weeks ago. More than 40,000 people have reportedly died in total.
In Syria, 5,800 people have reportedly lost their lives, with more than 5 million more affected. The search and rescue operation continues, but as time passes, the hope of finding survivors fades.
There is now a growing need to support the people who have been injured, bereaved or left homeless by the earthquakes.
The Syrian Arab Red Crescent (SARC) has been working round the clock in Hama, Aleppo, Tartous and Lattakia, supporting thousands of survivors with temporary shelters, food, water and blankets. They are also providing psychosocial support to traumatised people.
How has the earthquake affected communities in Syria?
The full extent of the damage is not yet clear. Hundreds of buildings have collapsed, and homes have been destroyed.
Bridges, roads and hospitals have been damaged and power is down, making it more difficult to reach and help those in need. In Syria particularly, years of conflict have already devastated local infrastructure, making it harder to access the machinery and tools needed for rescue efforts.
Many thousands of Syrian refugees already living in highly challenging conditions will have been affected by the earthquakes.
The response faces many challenges, including damaged roads and airports, winter weather and the sheer size and scale of the disaster.
In addition, infrastructure in Syria was already affected by 12 years of crisis and hostilities, and buildings had already been weakened in the affected areas.
Is aid getting through to people in Syria?
The Syrian Arab Red Crescent is currently working around the clock in Hama, Aleppo, Tartous, and Lattakia. Access in the Idlib area is still challenging and there are hundreds of villages in between.
Volunteers with limited resources were the first responders and continue to be. The Syrian Red Crescent has a convoy of humanitarian aid waiting for the confirmation of a safe passage to the region.
On Sunday 19 February and Monday 20 February, three SARC convoys of humanitarian assistance crossed to Sheikh Maqsoud, a non-government-controlled area in north of Aleppo.
The SARC has been ready to deliver aid there since day one of the earthquake. As soon as the safe passage by the concerned parties was granted, the convoy moved to the area and distributed the aid. This is a separate area from Idlib but it gives us an indication that access to hard-to-reach areas can change.
The Idlib branch of the SARC is presently operating from Hama city and has been able to support people in areas where volunteers and staff have been granted safe access.
The SARC has now deployed over 4,000 staff and volunteers to pull people from the rubble across Aleppo, Hama and Lattakia districts.
So far, teams have:
distributed more than 84,619 packages of food, water, mattresses and blankets
supplied more than 30 ambulances to affected areas
supported 28,578 people

in 135 shelters

responded to

29,000 cases with emergency first aid
installed water tanks and circuit protectors on water infrastructure in Aleppo
helping families look for missing relatives
legal consultation for 13,326 families for displaced families
provided 20,000 hygiene kits
In the short term
Our teams will continue to provide as many survivors as possible with the lifesaving care that they need.
SARC stands ready with prepositioned aid in Aleppo to support people in need of assistance in Idlib, if all parties are able to agree safe access for its volunteers and staff.
In the long term
We will aim to restore livelihoods and strengthen resilience in Syria through the provision of cash assistance.
Is the Red Cross helping people who haven't been affected by the earthquake?
This is a crisis on top of a crisis. On the earthquake affected areas, it is extremely difficult to differentiate who has been affected by the earthquake or by the other crises. For example, in Aleppo, there are houses damaged by the earthquake and the conflict next to each other.
Humanitarian assistance will be available for everyone in need in the earthquake affected areas. Currently, SARC with the support from the IFRC, is providing people in the affected areas with shelter, health services, water and sanitation as well as distributing other aid items, such as winter clothes, blankets and kitchen sets.
British Red Cross work in Aleppo
British Red Cross has existing programmes in Aleppo and other areas of Syria where we provide cash support to highly vulnerable and disaster-affected communities as our humanitarian work is not subjected to financial sanctions.
Our work is targeted to save lives and promote human dignity in the recovery, specifically funds raised will support people in Aleppo in multiple ways:
Direct cash payments through our pre-existing financial service providers includes:
Providing ready-to-eat meals, blankets, mattresses, jerry cans and other relief items to displaced people

Supporting medium term accommodation for displaced people through as they go rebuild.
Bringing in search and rescue experts from Lebanese Red Cross to Aleppo to help and relieve Syrian Red Crescent volunteers who have been working non-stop since the earthquake hit.
What is happening in Syria in 2023?
The conflict in Syria began in 2011, and 12 years later in 2023, it's still ongoing. Although fighting has diminished in the last couple of years, there are still large parts of the country that are not under government control.
These numbers are hard to imagine, but if Syria was 100 people:
83 people now live in poverty
77 need access to healthcare
54 don't have access to enough food
70 have no regular access to clean water
12 children are out of school
But Syria is not 100 people. It's 17 million.
The British Red Cross has been there for people in Syria since the start of the crisis 11 years ago. We are still supporting Syrians today, and we will continue to be there for as long as we're needed.
With the additional impact of the Covid-19 pandemic, the situation in Syria remains a desperate crisis. Refugees from Syria in nearby countries and Syrian people still need emergency relief and our support.
How is the conflict in Syria affecting its people?
The ongoing Syria conflict has caused the collapse of economic and social activities and services. This means that access to livelihoods or employment opportunities, education, water, shelter and healthcare has massively deteriorated, causing a poverty crisis within the country.
More than 11 years of fighting has also caused mass displacement and created a refugee crisis in Syria and nearby countries. Over 12 million Syrian refugees have fled their homes, and over five million are living as refugees in nearby countries.
Syria needs our help now as much as ever. The Red Cross continues to provide vital aid and support to Syrian people and Syrian refugees in nearby countries. Read more about how the Red Cross has already helped six million people living through the Syrian Crisis.
How is the Red Cross helping families and Syrian refugees in Lebanon?
Of the five million people who live in Lebanon, more than one million are refugees from Syria.
Together with the Lebanese Red Cross and the International Committee of the Red Cross (ICRC), we have supported over 1,800 Syrian refugees in Lebanon to start their own businesses.
The money they earn will enable Syrian refugees and host communities to buy what they need most. It also puts more money into the local economy.
How to help Syrian people and Syrian refugees
Your support of the Syria Crisis Appeal will help the Red Cross and our partner, the Syrian Arab Red Crescent, provide food, mattresses, blankets and vital services. We will also work with our partners to reach Syrian refugees living in nearby countries.

Together with the Syrian Arab Red Crescent, we can deliver emergency aid across front lines to reach people most in need.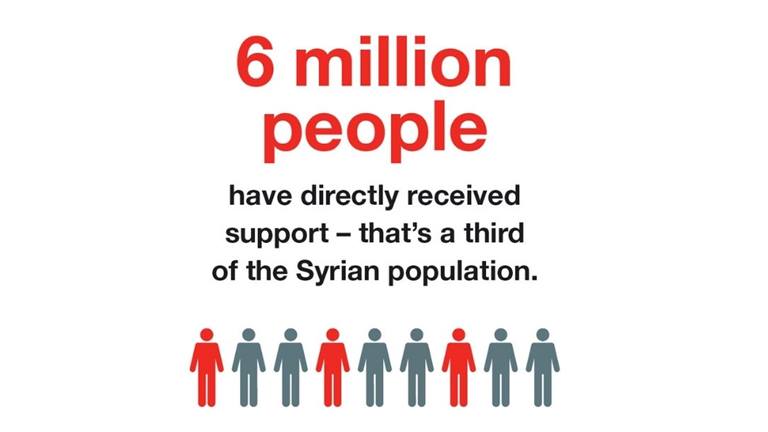 Syria: ongoing aid in numbers
With the Syrian Arab Red Crescent, we have helped over 5 million people since the conflict began.
This includes providing over 580,000 food items.
People have received over 1.5 million other items such as blankets and mattresses.
We're also helping thousands of people to learn new skills and earn a living by growing vegetables and farming sheep.