Responding to humanitarian crises across the Red Cross and Red Crescent Movement.
The British Red Cross' Global Surge Team is a group of experienced, skilled, and highly-trained professionals. They are ready to be deployed to a humanitarian crisis anywhere in the world at short notice.
Supporting the Red Cross and Red Crescent Movement
Our Global Surge team responds where there is urgent need of their expertise, supporting any one of the 192 national Red Cross or Red Crescent societies when needed.
This might be in response to a rapid onset disaster such as an earthquake or hurricane, but could also be in support of longer term programmes and operations.
The team provides support throughout the whole 'disaster management cycle', from mitigation and preparedness to response and recovery.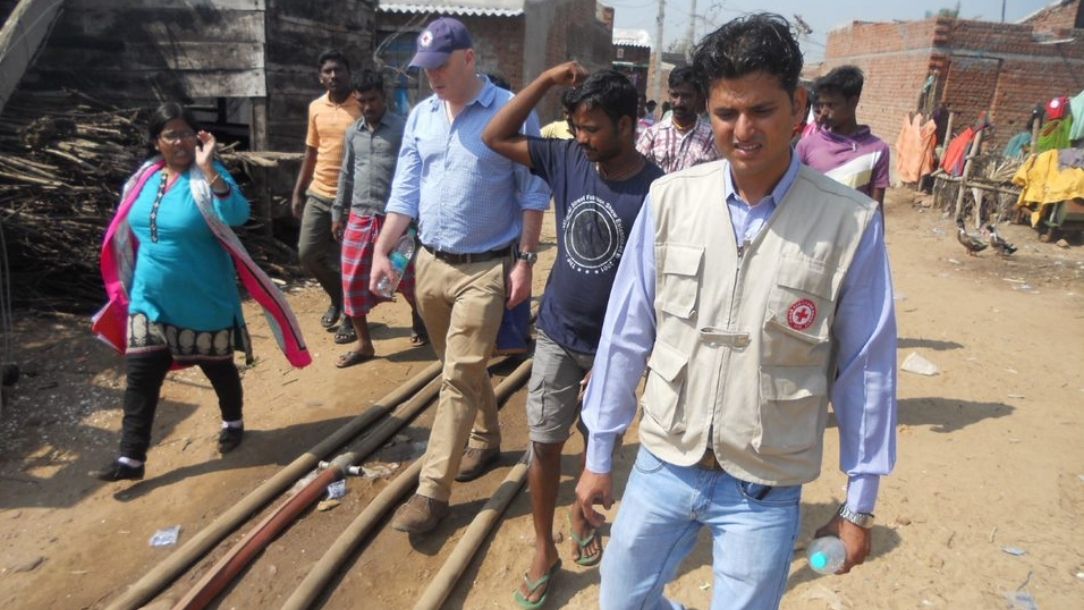 Who works in the Global Surge Team?
The team has grown from a small team of three people in 2012 to a team of 14 people, mostly deployable experts in highly specialist roles.
Between them, the team has responded to some of the world's most devastating humanitarian crises.
What does the Global Surge Team do?
The team supports our Movement in the following areas: project management, food security and livelihoods, logistics, cash assistance and information management.
Each member of the team can be deployed for up to three months at a time, depending on the need. In the last twelve months, members of the Global Surge Team deployed on twenty one occasion
The Global Surge Team is always supportive, finding solutions when we really need them.
British Red Cross South and East Africa regional team.
Where is the team deployed?
Anywhere they are needed across the Red Cross and Red Crescent network. As the pandemic hit in 2020, the team were deployed on site and remotely across numerous countries in support of British Red Cross and International Federation of the Red Cross operations.
These assignments included:
information management support in Lebanon
operations management in Croatia
cash assistance support in Nigeria
food security and livelihoods work in Sierra Leone
logistics deployment to Kenya
operations and Information management support in Haiti
Case study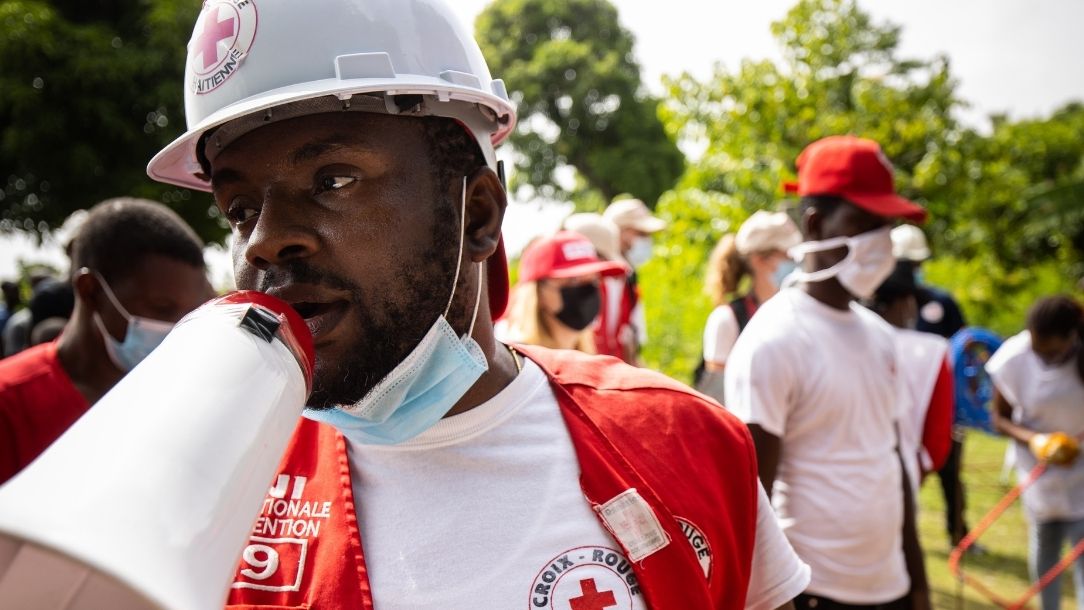 Haiti earthquake 2021
Three Global Surge Team members deployed.
On 14 August, a 7.2 magnitude earthquake devastated Haiti about seven miles from the town of Saint-Louis du Sud, causing significant damage and affecting 2 million people.
Reports came through that more than 12,000 people had been injured in the earthquake, and hundreds more were missing.
Along the southern part of the island, more than 53,000 houses had been destroyed and 73,000 more had been damaged. 129 schools were also destroyed along with hospitals and health centres in Grand'Anse, Nippes and Sud
It was an enormous blow to Haiti, which was still recovering from the deadly earthquake in 2010. The Haiti Red Cross team sent out an urgent call for support to the Movement, and the British Red Cross' Global Surge Team responded.
Rodrigo, a disaster management specialist, was the second rotation programme manager to reach the island from the British Red Cross. His role was to work with Haiti Red Cross teams, local authorities and other aid organisations to mobilise resources, arrange programme funding and organise personnel. He said:
"I arrived two months after the earthquake hit. I was struck by how much damage there was in the south. Roads had been completely destroyed in places and many buildings reduced to rubble.
"The country was still in the acute emergency phase and there was a lot to be done. Many families in the south had lost their homes in the earthquake and needed shelter. Entire villages needed infrastructure such as basic healthcare and access to water."
And many people were still injured. A key part of Rodrigo's role was to work with agencies such as the UN and Medecin San Frontiers to refer patients for emergency healthcare.
"There are many, many organisations involved in a disaster such as this. It just couldn't be done without collaboration. Everyone wants to support the people affected and leave the country in a better place. Though of course, it will take Haiti years to recover."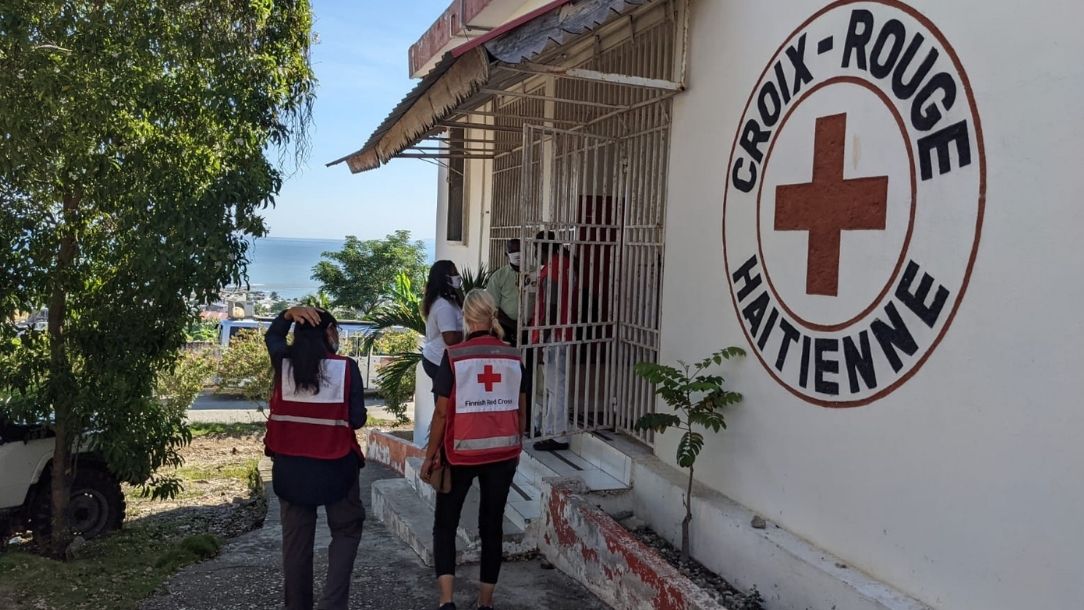 Using the strength of the network
Throughout his two month placement, Rodrigo worked very closely with fellow Global Surge Team member, Thuong, an Information Management Co-ordinator. Thuong arrived in Port au Prince just three weeks after the earthquake hit, and had to make sense of chaos. She says:
"When you arrive on the ground, information flies at you from all angles. Maps appear, documents appear, lists appear. After a short while, I'm able to build a coherent picture. I then create dashboards, infographics and maps, to help people programme co-ordinators like Rodrigo, who need information urgently."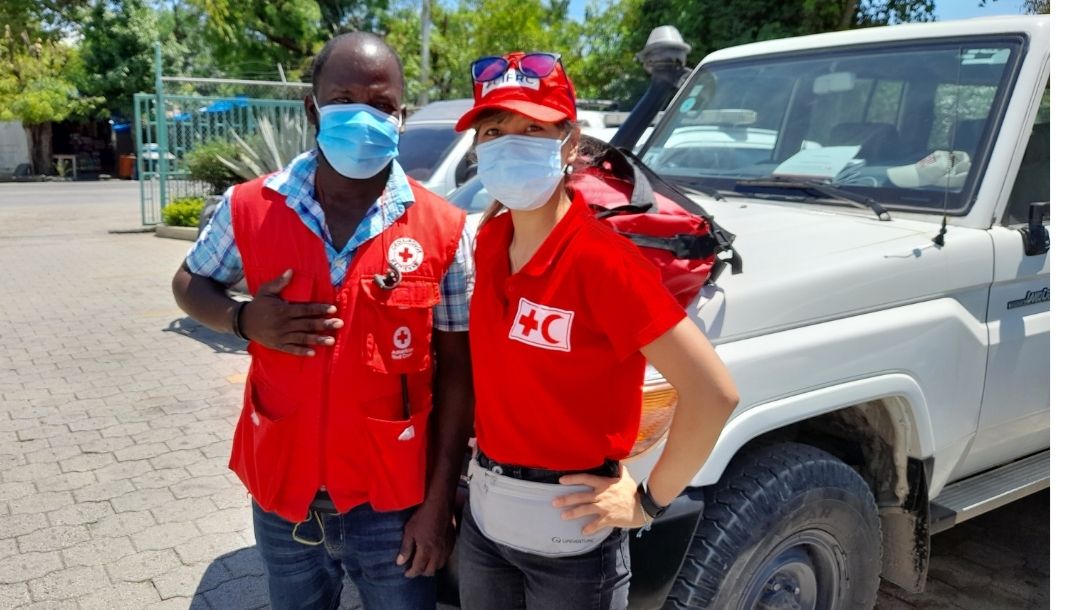 As with Rodrigo, collaboration is key to Thuong's work. She was in regular contact with several Red Cross societies across the movement, who have teams of volunteers working round the clock to help build a true picture of the disaster.
"I can put out a call across the Red Cross network at any time of the day or night and someone, in some timezone, will reply with the information I need. It's amazing really. Our volunteers work with satellite images to identify damaged roads and villages, so I can direct Rodrigo to the places where people are in the most need.
"I remember that volunteers in Ecuador were particularly strong on this one. And I was also supported by our team member, Nathalie, in London."
Thuong also works very closely with communities on the ground to gather vital information, which required tact and sensitivity.
"The Haiti Red Cross supported me, telling me who best to approach in a household, translating and helping me understand what they mean.
"As you can imagine, emotions run very high in these situations, and we all rely on each other."