Humanitarian aid in Bangladesh
The Red Cross and Red Crescent is helping people in Bangladesh through a devastating second wave of the coronavirus, as well as preparing people against Cyclone Yaas.
Bangladesh: second Covid surge and major cyclone
Bangladesh is experiencing a huge surge in coronavirus cases, along with Nepal, India and Pakistan.
At the end of May, there were 800,000 registered cases and around 12,200 people had died.
After recent Eid-ul-fitr celebrations saw thousands of people move across the country, there are fears that these numbers could skyrocket over the coming weeks.
I w

ould like to urge the world to come forwards and support the people of Bangladesh. We are scared about what is to come. If things get as bad as they have in India, we will need the support of the Red Cross, Red Crescent and people at large.
Rafiqul Islam, Bangladesh Red Crescent deputy secretary general
How are we supporting people in Bangladesh?
Urgent medical support
The Bangladesh Red Crescent has now reached more than 3.9 million people, from Dhaka to people within the Cox's Bazar refugee camps.
As well as providing ambulances, the Red Crescent has set up a dedicated Covid hospital with over 400 beds.
In Cox's Bazar, the Red Crescent has also opened the SARI Isolation and Treatment Centre, to stop the virus spreading through the camps, as well as mobile vaccination and treatment centres.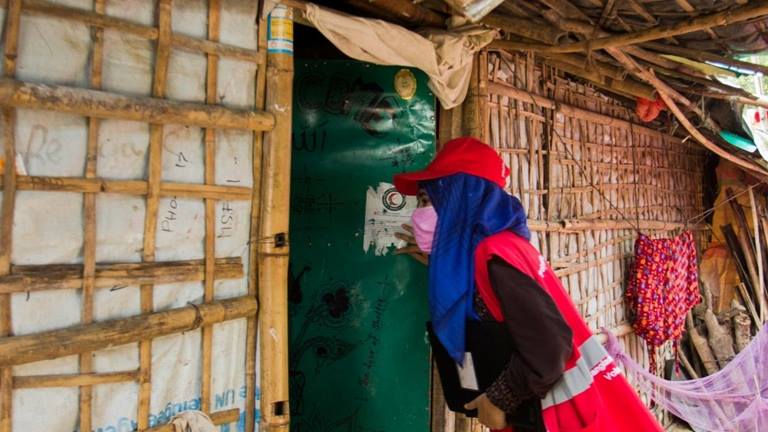 Food parcels and cash grants
Since the start of the April lockdown, the Red Crescent has distributed 15,600 Ramadan food parcels to households, and 32,082 one-week food parcels.
They have also been looking after society's most vulnerable: providing food parcels and small cash grants to the elderly, sick and self-isolating.
Working with the government on vaccines
At the government's request, the Bangladesh Red Crescent Society has trained more than 700 youth volunteers to support the vaccination drive.
These volunteers have been instrumental in the progress so far, putting themselves at risk to help others.
How will donations be used in Bangladesh?
We are continuing to work with the International Federation of the Red Cross and the Bangladesh Red Crescent to support the coronavirus response in Bangladesh.
Your donation will help us support the people most in need, including the sick, elderly and disabled people in Bangladesh as well as sanitation programmes in Nepal and the current second wave in India.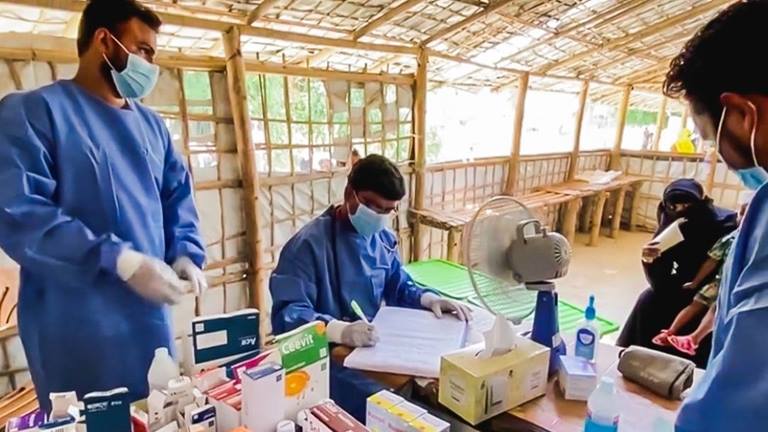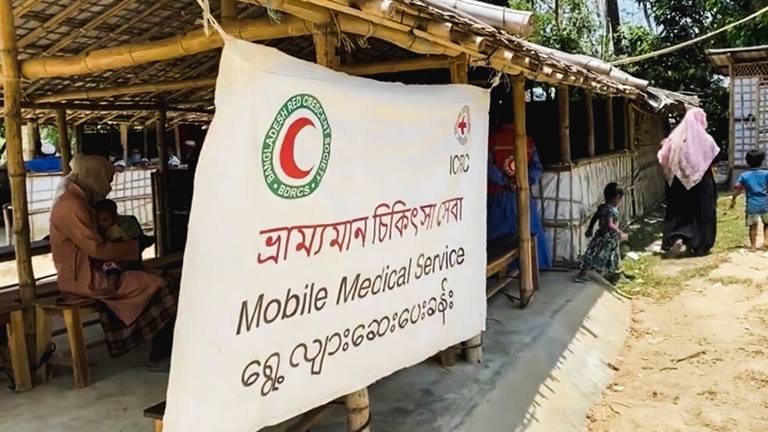 Preparing communities against Cyclone Yaas
The Bangladesh Red Crescent and Cyclone Preparedness Programme volunteers are urgently helping to protect people from the cyclone.
The IFRC has allocated more than 254,000 US dollars from its Disaster Relief Emergency Funds to help Bangladesh Red Crescent take early lifesaving action and provide immediate support to the most affected people following the storm.
More than 75,000 trained volunteers are now helping to prepare communities in coastal areas before, during and after the cyclone hits.
They are putting up large cyclone shelters inland so that people can evacuate from the coast and stay safe.
The Red Cross and Red Crescent are also stocking up on emergency food and medical supplies in preparation.
In the coastal areas of Bangladesh, thousands of people are still recovering after last year's Cyclone Amphan, with over 100,000 still living in temporary shelters.
At risk from disasters
Bangladesh is one of the world's countries most at risk from disasters, particularly cyclones and floods, and their impact can be devastating.
It is now also coping with more than 740,000 people who fled their homes in Myanmar and are living in makeshift camps in the Cox's Bazar area.
This monsoon season, hundreds of thousands of people are living in very cramped and damp conditions in the world's largest refugee camp. Now they also face the threat of Covid-19.
Thousands of volunteers from our partners the Bangladesh Red Crescent are providing people with food, water and mobile health services, including two isolation field hospitals.
Building people's ability to cope in Bangladesh
The British Red Cross has worked in partnership with the Bangladesh Red Crescent for over a decade. Our projects reach around 250,000 people living across the country in urban and rural areas.
prepare for disasters, know what to when they happen and recover afterwards

get access to clean water and hygienic sanitation, and understand how this helps stop disease
gain the skills and support they need to earn a living.
These linked programmes help people deal with important everyday issues. Starting from this improved base, they can cope better during emergencies.

Communities are at the core of our projects. Most are run through community committees using their local knowledge to organise what needs to be done in their areas. The Red Cross and the government provide technical support as needed.

This approach creates long-term solutions so people can help themselves, their families and their communities during crises and every day.

Support for people fleeing their homes
On top of our long-term programmes, the Red Cross and Red Crescent helping to support over 671,000 people who fled violence in Myanmar since August 2017. They joined tens of thousands of others who had already fled to Bangladesh. Most are now living in makeshift camps in the Cox's Bazar area of Bangladesh, where conditions are tough.

With support from our Myanmar Appeal, the Red Cross and Red Crescent Movement is providing food, clean water and medical care to thousands of people.

Visit our Myanmar page to find out more.
Support for people living in cities
Barisal city's geography gives it unique challenges. A major port, it is prone to cyclones, is crossed by canals and lies in the flood plains of several major rivers.
Many people from rural areas move there every year and thousands of families live in areas at risk of flooding.
We work with the Bangladesh Red Crescent Society to help 25,000 people in ten slum areas cope when floods strike. Next year, we will expand the programme to work in another eight communities.

The project supports our partner to:
prepare for emergencies so it can provide humanitarian aid quickly and effectively during disasters

work with at least ten schools to help teachers and students learn the importance of clean water and hygiene as well as how to stay safe when disasters hit

promote disaster management and planning with local and national institutions
The Red Cross also supports people to gain new skills to earn a living. Helping people in slum areas to find work can increase their ability to cope during crises and at other times.

We focus on building employment skills that also help with health challenges. For example, people learn how to build and sell environmentally friendly stoves. Traditional birth attendants also have the opportunity to train and work with existing health services.
Rural areas: Preparing for disasters
Kurigram district in the north of Bangladesh is one of the country's poorest regions. Its people are mostly farmers but climate change makes the rainfall they depend on unpredictable. Flooding can also be a problem.

Women and children may be particularly vulnerable in disasters because their access to services is not as good as men's. If they don't work outside the home it is also harder for them to recover afterwards.

The Red Cross helps 100,000 of the most vulnerable people in 30 communities to:
gain knowledge and skills to manage risks from natural disasters
promote disaster management and planning in local and national institutions
work with at least 40 schools to help teachers and students learn the importance of clean water and hygiene as well as how to stay safe when disasters hit.
Through a Red Cross water and sanitation project in the same communities, people will get better access to clean water and hygienic latrines. They will also learn about the connection between hygiene and good health.