Humanitarian aid in Sierra Leone
The Red Cross is supporting vulnerable women and girls throughout the Covid-19 pandemic.
Protecting women and girls during Covid-19
In Sierra Leone, the Covid-19 pandemic has pushed people into extreme poverty.
Women and girls have been the most affected, and are vulnerable to sexual and gender based violence. Poverty, a lack of food, less opportunity for work, and crises such as Covid-19, can make a woman very vulnerable in Sierra Leone.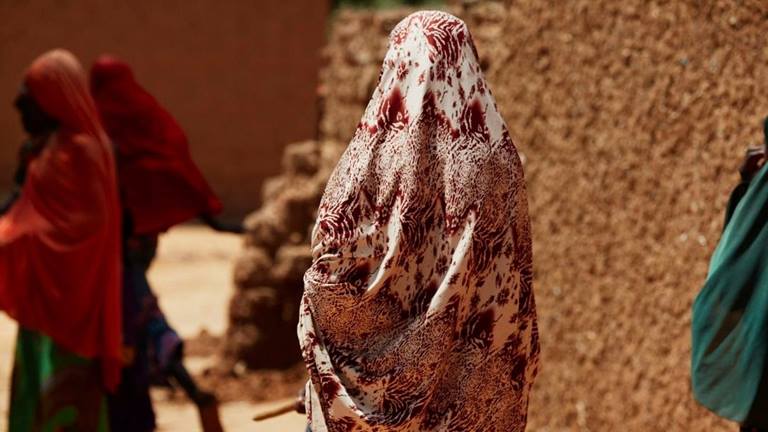 How has coronavirus affected women in Sierra Leone?
People are also struggling to eat, with more than 63 per cent of people experiencing extreme hunger. Local coronavirus lockdowns in Freetown, Western Rural and Urban Areas have meant that people have lost their jobs in these areas.
Many women are the primary earners in their households. But due to the pandemic, they are now caring for others more, with less time to earn money. To cope, many have resorted to survival sex and child-marriage.
Can you help protect vulnerable women?
Supported by the International Relief Fund, the Red Cross will give unconditional cash grants to women affected by sexual and gender-based violence.
The grants will help the women buy food and other essentials for their families so they're at less risk of violence, and will help them get back on their feet after the pandemic. But there's so much more to do.
£10 could provide training for 1 woman or girl in Female Genital Mutilation and Sexual and Gender Based Violence awareness and prevention

£12 could provide financial training to a vulnerable woman and give them the knowledge on how to access financial services and products

£20 could provide conditional cash support to a vulnerable woman in need.

£35 could provide vocational training to a vulnerable women so that they can earn an income
Your donation could change a life.
DONATE TO THE INTERNATIONAL RELIEF FUND
Helping people fight disease

With support from the British Red Cross, the Sierra Leone Red Cross has also run a community-based health programme for more than two decades. Education about how to stay healthy is at its heart.
We now work across the country to:
reduce the risk of disease outbreaks
prepare communities to respond to health emergencies
raise awareness about health care before and after women give birth
improve access to clean water and toilets
strengthen the Sierra Leone Red Cross.
Toilets can save lives
A lack of toilets is a big problem in Sierra Leone. Many people also didn't know about the need to wash their hands after using a toilet. The Red Cross is helping with both of these issues.
Our project is building pit latrines (toilets) for families in 50 villages. People who live there will provide local materials, dig the pits and help build the latrines.
After studying which kind of latrine would work best, the Red Cross decided on a design that would cover a family of seven's needs. Using materials that are easily available locally, the latrine is cheap and easy to build.
Sierra Leone Red Cross staff and volunteers around the country gave their feedback to make sure the design would work in their areas.
We will now build one model latrine in each district to get direct feedback from the people who will use them. This will allow us to change the design slightly as needed before all the others are built.
Supporting local people to manage their health
We work alongside local people so they have the skills and knowledge to manage their own health care.
Trained volunteers teach their neighbours how to prevent and treat diseases. Simple but crucial information, such as washing hands, can be vital in preventing the spread of disease.
Red Cross volunteers carry out home visits on a monthly basis to share information on good health practice and to make people aware of local health care facilities.
Community meetings help to raise awareness of health issues and treatments. Health campaigns ensure children are immunised against diseases such as polio and measles.
Different ways to learn about health
Less than half of Sierra Leone's people – just 48 per cent – can read and write. So the health programme uses different styles of learning, such as pictures, drama and quiz competitions.
Women are usually responsible for their families' wellbeing, so it is important they know how to prevent, recognise and treat diseases.
Mothers' clubs offer support on issues such as how women can stay health during pregnancy and birth. This is particularly important as Sierra Leone has one of the world's highest maternal and infant mortality rates.
Fathers' clubs encourage men to take part in community health care. They might prepare land for gardening, for example, or keep roads clear from hazards such as stagnant water where mosquitoes breed.
Keeping infectious diseases in check
We also focus on making sure that the Ebola outbreak – or any other disease outbreak – will not be repeated.
Efforts to stop Ebola showed how vital it is for communities to work together to overcome health emergencies. Trained Red Cross volunteers now monitor community gatherings to spot any signs of disease among the people there.
They act as an early warning system and can point people towards further medical treatment if needed. The volunteers also trace people who may have come into contact with an infected person to prevent further cases.
Getting back to normal after Ebola
People in Sierra Leone are starting to rebuild their lives following the deadly Ebola outbreak. The disease claimed nearly 4,000 lives and has had a huge impact on communities.
Sierra Leone was declared free of Ebola in November 2015, but its impact will be felt for many years to come.
Some people are still wary of Ebola survivors, who may then not be accepted by their neighbours. We are educating communities to ensure that survivors and their families can resume their lives without facing stigma.
Safe burials saved lives
New research suggests that courageous Red Cross volunteers who carried out safe burials for people who died of Ebola could have prevented thousands of new cases.