Humanitarian aid in Nepal
The Red Cross is providing critical support following a devastating earthquake in Nepal. Teams are distributing relief, helping families evacuate, and are mobilised for search and rescue support. 
Last updated: 14 November 2023
Nepal earthquake
A magnitude of 6.4 earthquake hit western part of Nepal on 3 November 2023 at 11:47 pm in the Karnali province of Nepal.

The epicentre of the earthquake was at Lamidanda, Jajarkot, with aftershocks.

According to the Nepal Government, 133 people have died and 140 people have been injured in Jajarkot and Rukum West districts.

Nepal Red Cross Society volunteers and staff are mobilised for search and rescue support. So far, they've distributed:
3,400 tarpaulins for shelter
3,400 blankets
2,600 mattresses
300 dignity kits
132 hygiene kits
Covid in Nepal: cases are skyrocketing
Nepal is one of the southeast Asian countries severely affected by a savage second wave of the coronavirus. At the end of May, 324,000 deaths were reported in South Asia.
In Nepal alone, there are now more than 100,000 registered cases
A new, more transmissible variant is causing a sharp spike in cases
Intensive care beds are completely full and people are being treated outside hospitals or at home
Oxygen supplies have run out and people are dying
The situation is becoming increasingly desperate in Nepal, and there are fears it could just get worse.
Red Cross volunteers are risking their lives to help society's most vulnerable people.
Every day we hear news that our volunteers have lost their fight against Covid. Doctors are dying too. Nepal is a resource poor country. If hospitals had resources, lives could be saved. We ask the international community to support us to save lives from this deadly virus.
Pitamber Aryal, Society General of the Nepal Red Cross Society
How is the Red Cross helping people in Nepal?
Reaching remote communities
Red Cross teams in Nepal have been providing essential services to the most vulnerable since the pandemic first started. Increasingly, they are risking their lives to do so.
Many people are struggling to access medical care, food, and water, as well as masks and hand sanitiser, to protect themselves. The Red Cross is running 241 ambulances across the country, which have been upgraded to reduce transmission from Covid positive patients.
The Red Cross has also provided PPE, sanitisers, ventilators as well as providing support to various isolation and quarantine centres. Psychosocial support and counselling has also been provided to people who have been affected by the virus.
Working with the ICRC, Red Cross volunteers in Nepal have also been trained to give Covid vaccinations and are one of the main partners to the government in the vaccination campaign.
Working with the government in Nepal
The Nepal Red Cross is currently working with local authorities at border points, particularly in the southern districts bordering India.
Volunteers are setting up health desks, promoting safety messages, supporting hygiene facilities, including toilets and hand washing stations and managing quarantine centres.
The Red Cross is also supporting Restoring Family Links (RFL) services as well as ambulance services to quarantine and health centres.
Nepal Livelihoods programme
Our Nepal livelihoods programme, supported by the International Relief Fund, will help families get back on their feet. They will receive small cash grants, business training and financial help from local co-operatives.
The programme will also help vulnerable people learn alternative ways to earn an income. By building their own nest egg, they will be better equipped to deal with future crises.
How will donations be used in Nepal?
The impact of Covid-19 has destroyed lives and livelihoods around the world.
As a result, global levels of extreme poverty increased last year. That's over 20 years of progress severely damaged.
We are taking action to support those already facing the harshest effects of poverty, climate change and ongoing conflict.
In 192 countries around the world, experienced teams of Red Cross staff and volunteers work alongside communities, listen to what they need, and give them the tools to be able to rebuild their future.
When we all work together, our teams and our supporters can achieve incredible things. Together, our Emergencies Fund could make a real impact and reach people whose lives depend on it.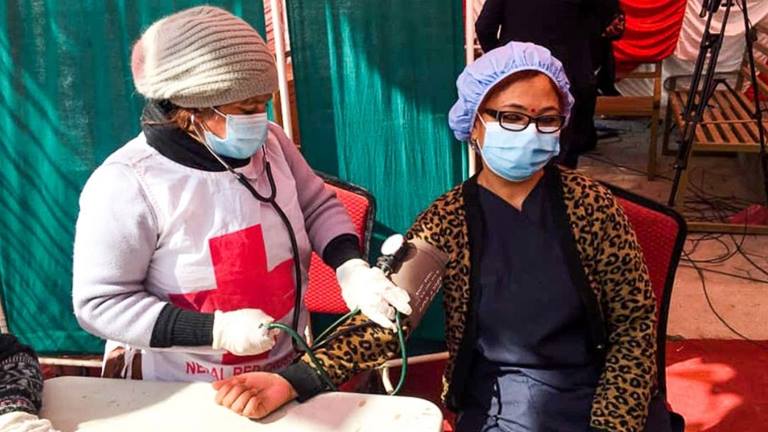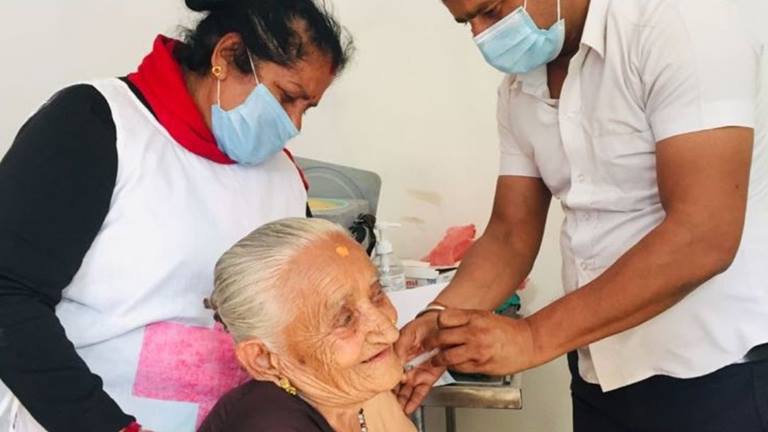 Preparing for earthquakes in Nepal
Nepal is one of the world's countries most prone to natural disasters.
Two major earthquakes shook Nepal's Kathmandu Valley in 2015, killing nearly 9,000 people and injuring almost 18,000.
Overall, the quakes affected 5.6 million people – 20 per cent of the population. Close to a million houses were damaged or destroyed.
While Nepal is known for its mountains, the country's flat southern region is prone to floods, particularly during monsoon season.
In 2017, Nepal was hit by the worst floods in decades. Around 1.7 million people were affected, over 150 people died and 460,000 had to leave their homes.
Why we help people deal with earthquakes before they happen
For over 20 years, the British Red Cross has worked with our partners the Nepal Red Cross to help people prepare for emergencies. We also help people recover after a disaster strikes.
Since 2012, the Red Cross had worked with people in the Kathmandu Valley to help people get ready for earthquakes. This included training in how to minimise risks in advance and take action once the earthquake hit.
The training paid off when the 2015 earthquakes struck. Over 8,000 Nepal Red Cross staff and volunteers carried out search and rescue operations, evacuations and first aid.
They also distributed the 10,000 emergency kits that were stored across the area in advance, as well as blankets, tarpaulins and other essentials.
After the earthquake, the Red Cross gave cash grants to over 50,000 families who had lost their homes or businesses.
This was supported by generous donations from the UK public to the Disasters Emergency Committee (DEC). The grants helped people buy whatever they needed most, from warm blankets to seeds to replant destroyed crops.
We have also trained 670 people as masons so they can 'build back safer'. The new homes they build will be less likely to be damaged or destroyed in future earthquakes. Many of the trainee masons are women, unusual in Nepal, and both the male and female masons earn a decent living from the work.
Helping those who are already struggling
People who may already have difficulties are likely to be hit worst by emergencies.
This includes older people, people with disabilities, families headed by women and homeless people.
Since 2016 we have worked with local governments in seven cities and towns across the Kathmandu Valley to reach those most in need.
By supporting local governments to communicate with these communities, we help make sure they will get help before and after future crises. We also work with each of these groups to learn their priorities and find the best ways to reach them.
Floods and poverty: a potent mix
Seven rivers flow through the Jhapa region of the Terai, making it particularly prone to flooding.
Poverty is also a serious problem and many men work abroad to support their families. The women left behind must look after their children, older relatives, farms, livestock and communities.
This left families with little time or money to prepare for flooding. They also had few resources to deal with it when it happened.
The British Red Cross has worked with the Nepal Red Cross across the Jhapa region. Together we supported 54,000 people in 54 communities to reduce their risk from floods and other disasters.
This included teaching volunteers how to dam and redirect rivers, first aid, and search and rescue, and helping families to earn a living.
Training paid off during the 2017 floods. Trained volunteers in the worst hit areas used rafts made from local materials to rescue people cut off by flood waters.
They also provided food and other essentials such as tarpaulins, soap and toothbrushes to people at temporary shelters.