Helping people before, during and after emergencies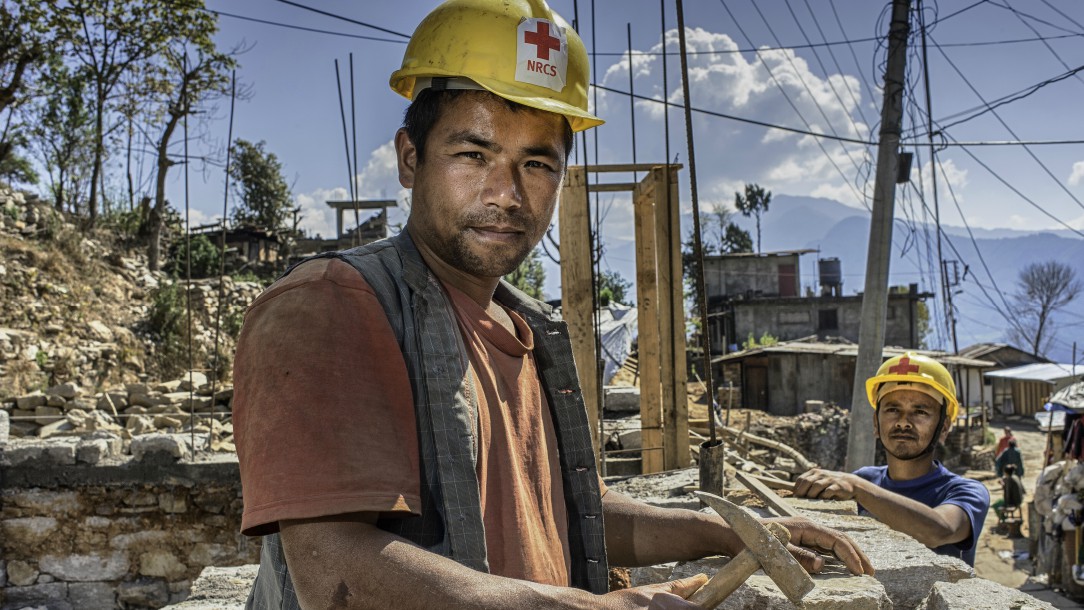 Nepal is one of the world's countries most prone to natural disasters.
Two major earthquakes shook Nepal's Kathmandu Valley in 2015, killing nearly 9,000 people and injuring almost 18,000.
Overall, the quakes affected 5.6 million people – 20 per cent of the population. Close to a million houses were damaged or destroyed.
While Nepal is known for its mountains, the country's flat southern region is prone to floods, particularly during monsoon season.
In 2017, Nepal was hit by the worst floods in decades. Around 1.7 million people were affected, over 150 people died and 460,000 had to leave their homes.
Why we help people deal with earthquakes before they happen
For over 20 years, the British Red Cross has worked with our partners the Nepal Red Cross to help people prepare for emergencies. We also help people recover after a disaster strikes.
Since 2012, the Red Cross had worked with people in the Kathmandu Valley to help people get ready for earthquakes. This included training in how to minimise risks in advance and take action once the earthquake hit.
The training paid off when the 2015 earthquakes struck. Over 8,000 Nepal Red Cross staff and volunteers carried out search and rescue operations, evacuations and first aid.
They also distributed the 10,000 emergency kits that were stored across the area in advance, as well as blankets, tarpaulins and other essentials.
After the earthquake, the Red Cross gave cash grants to over 50,000 families who had lost their homes or businesses.
This was supported by generous donations from the UK public to the Disasters Emergency Committee (DEC). The grants helped people buy whatever they needed most, from warm blankets to seeds to replant destroyed crops.
We have also trained 670 people as masons so they can 'build back safer'. The new homes they build will be less likely to be damaged or destroyed in future earthquakes. Many of the trainee masons are women, unusual in Nepal, and both the male and female masons earn a decent living from the work.
Helping those who are already struggling
People who may already have difficulties are likely to be hit worst by emergencies.
This includes older people, people with disabilities, families headed by women and homeless people.
Since 2016 we have worked with local governments in seven cities and towns across the Kathmandu Valley to reach those most in need.
By supporting local governments to communicate with these communities, we help make sure they will get help before and after future crises. We also work with each of these groups to learn their priorities and find the best ways to reach them.
Floods and poverty: a potent mix
Seven rivers flow through the Jhapa region of the Terai, making it particularly prone to flooding.
Poverty is also a serious problem and many men work abroad to support their families. The women left behind must look after their children, older relatives, farms, livestock and communities.
This left families with little time or money to prepare for flooding. They also had few resources to deal with it when it happened.
The British Red Cross has worked with the Nepal Red Cross across the Jhapa region. Together we supported 54,000 people in 54 communities to reduce their risk from floods and other disasters.
This included teaching volunteers how to dam and redirect rivers, first aid, and search and rescue, and helping families to earn a living.
Training paid off during the 2017 floods. Trained volunteers in the worst hit areas used rafts made from local materials to rescue people cut off by flood waters.
They also provided food and other essentials such as tarpaulins, soap and toothbrushes to people at temporary shelters.