fREE apps to prepare for emergencies
Be ready for anything with our free apps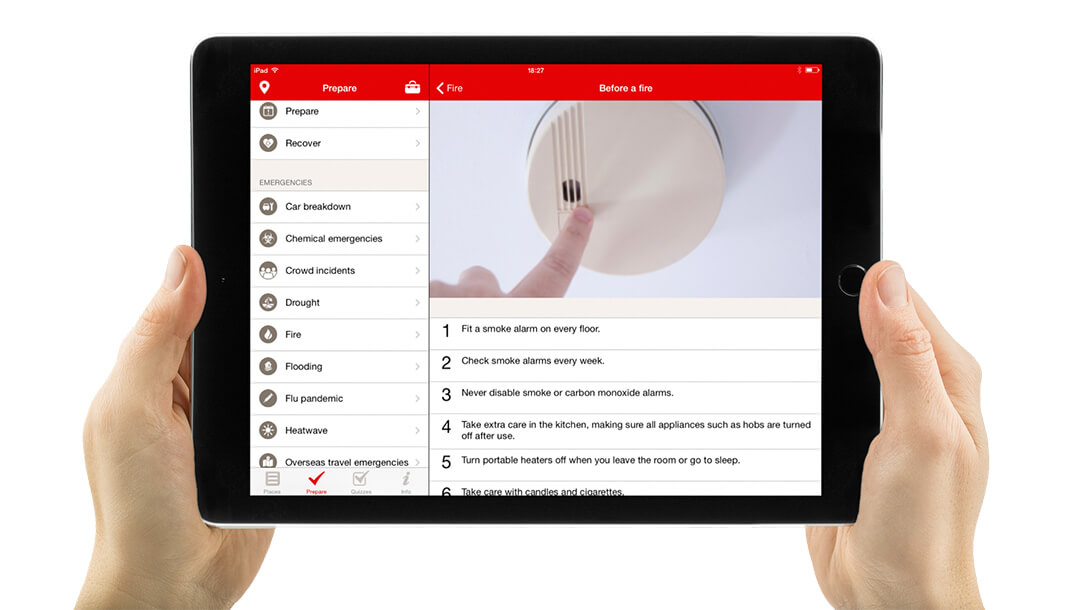 Emergency situations can be stressful, dangerous and upsetting.
But if you're prepared, anyone can deal with the unexpected.
The free British Red Cross Emergency app can help you deal with emergencies. You'll know exactly what to do if disaster strikes.
The app is available in the Apple App Store and Google Play. It allows you to:
set up emergency alerts for your area. This includes severe weather warnings
add the location of family and friends. You'll be able to let them know if a warning is issued for their area or when an emergency strikes, and check they're safe
check the current UK terrorism threat level.
In addition to alerts, the app also features:
a personal alarm and strobe light to attract attention in emergencies
a location finder, so you'll always know exactly where you are
an 'I'm safe' notification that can be sent to your friends and family
clear and practical advice on what to do in a variety of emergency situations.
Our First Aid app is another free download that can help in emergencies.
The app is available in the Microsoft Store, Apple App Store and Google Play.
It gives information on how to prepare for and help with first aid emergencies such as:
heavy bleeding
burns
broken bones
strains and sprains
not breathing.
Our Baby and Child First Aid app is also available for download.
This free app is designed to keep children and babies safe.
Download it from the Apple App Store and Google Play.
The app provides simple and easy first aid advice, and also allows you to record a child's medication needs and any allergies.