Coronavirus information and support
Get help and information about the Coronavirus
Coronavirus is still impacting lives across the UK. Here you can find help and advice on coping with Covid-19.
This page was last updated: 6th October 2022
The coronavirus pandemic affected millions of people in the UK. As we head into the winter months with the double threat of seasonal flu and an increase in coronavirus cases, it can be a confusing and worrying time, but we are here to support you.
On this page you can find advice about coping with the changes coronavirus has caused, help to understand the vaccine programme and understand the support we've been offering people across the UK. You can also find guidance on maintaining mental health and wellbeing.
Contact the National Support Line
The British Red Cross is here to help during times of crisis. Call the support line if you're looking for support after an emergency, or if you need advice. We'll connect you to our local services and help you find the support you need.
Call free and confidentially,
10am to 5pm Monday to Friday,
10am to 8pm Wednesday
0808 196 3651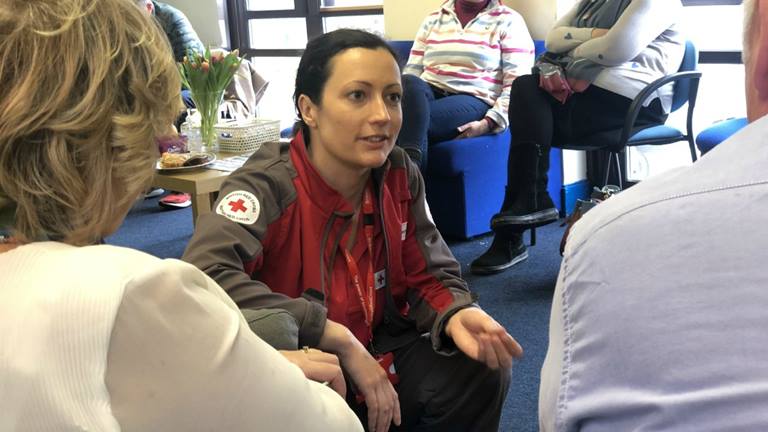 On this page you'll find advice on:
Looking after yourself
The Coronavirus pandemic changed the way we lived, worked, and interacted with others. It also created challenges most of us had never faced before.
With the double threat of seasonal flu and a new wave of coronavirus cases this winter, it's more important than ever to look after ourselves and help others, especially the most vulnerable, to do the same.
Use these tips and advice to stay healthy this winter:
Mental health and emotional support
It has been difficult for everyone. While our experiences during the pandemic were different, we've all been through tough times and had to deal with challenges. Many of us will have felt more stressed or anxious, and overwhelmed during this period.
It's important to remember to take care of your wellbeing and make time to manage your own mental health.
Coping with loneliness
The Coronavirus pandemic increased feelings of loneliness have only got worse, and people who were already living in isolation became more vulnerable than ever.
At the Red Cross, we're committed to ensuring that everyone in need has somewhere to turn to. Learn more about how we're tackling loneliness.
You can also call our support line on 0808 196 3651 to speak with us about connecting with support services in your area.
You can use these tools to help support your own wellbeing and that of others:
For mental health and wellbeing tips and advice in 27 languages see six ways to improve your wellbeing.
Red Cross Covid-19 support services
Support services
Call our free confidential support line on 0808 196 3651 to help to find the support you need.
Lines are open: 10am to 5pm Monday to Friday, 10am to 8pm Wednesday
If you can't find what you're looking for they will do everything to help you find the people who can. Other organisations that may be able to help include:
Emergency help