Watch a video or download written instructions to find out how to use, clean and transport your wheelchair.
Our wheelchair video guides and written instructions will teach you how to use standard self-propelled wheelchairs, transit wheelchairs and bariatric wheelchairs.
On this page you'll also learn:
The Red Cross can also provide specialist equipment in some locations (subject to availability), that you can use with your wheelchair.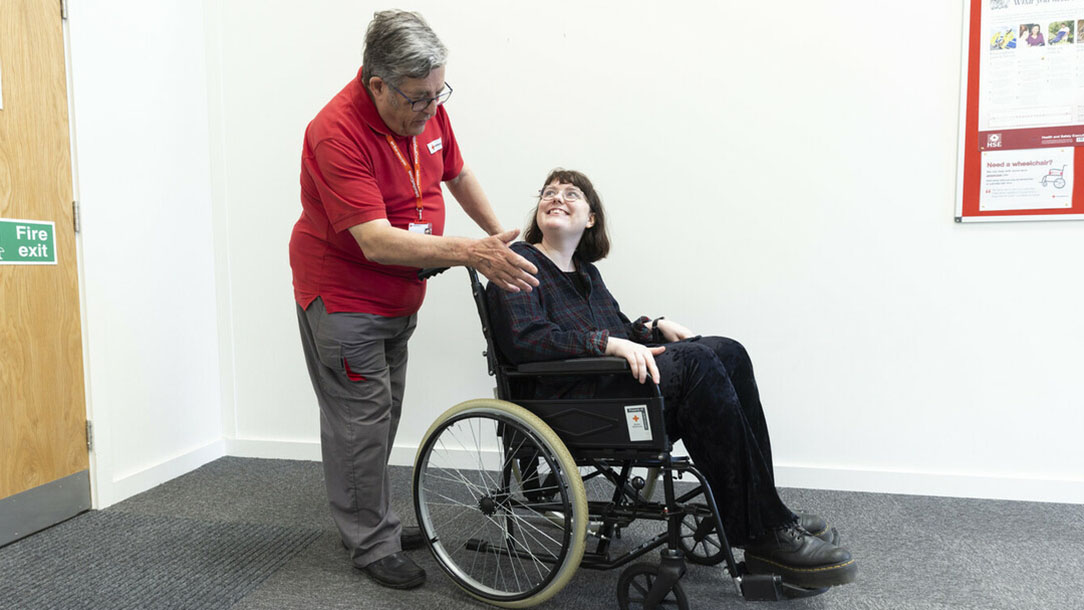 Red Cross wheelchair video guides
Watch our quick video guides to learn how to set up, adjust, clean, transport and use a wheelchair safely.
About wheelchair accessories
Red Cross wheelchair accessories are free of charge and can be added to your order on request.
Leg elevators (if your leg is in a cast or needs to be raised) (PDF)
Specialist wheelchair equipment (SE)
We also provide specialist wheelchair equipment in some areas (subject to availability).
How to use a wheelchair instructions
Here you'll find a quick guide on how to use a Red Cross wheelchair. These instructions apply to how to use standard self-propelled wheelchairs, transit wheelchairs and bariatric wheelchairs.
1. How to set up a wheelchair
Stand next to the wheelchair and place your hands on either side of the seat.
Push down on the seat canvas until the chair is fully open.
Be careful not to put your fingers between the frame and the seat.
If applicable, swing the safety bar and attach it to the second handle bar.
Fix the velcro strap to the handlebar.
Adjust the height of your footplates.
Ensure that the lapbelt is adjusted to suit the user.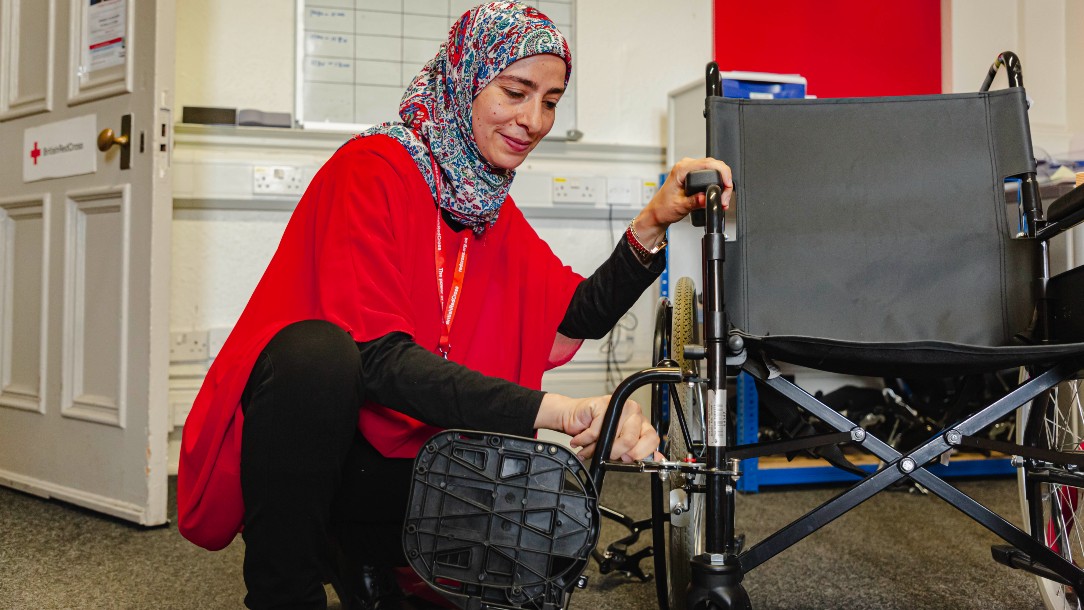 2. How to use a wheelchair safely
It's important to know how to get into a wheelchair:
Push the brake levers forward on both sides of the chair.
Once sat comfortably in the chair, move the footplates into position.
Release the footrest catch and swing the footrests round to the front of the chair.
Drop both footplates down, one at a time.
Place your feet on the footplates.
If applicable, make sure your foot straps are at the back of your chair.
3. How to adjust a wheelchair
Adjust the height of your footplate to ensure that your legs are properly supported.
There is an adjusting nut on the footplates that you can loosen (you'll need a number 10 or 11 spanner).
Some of our wheelchairs have R-clips to keep the footplates in place during transit.
If applicable, remove the R-clips before adjusting the length of the footplates.
The R-clips do not need to be reattached to the wheelchair when using it.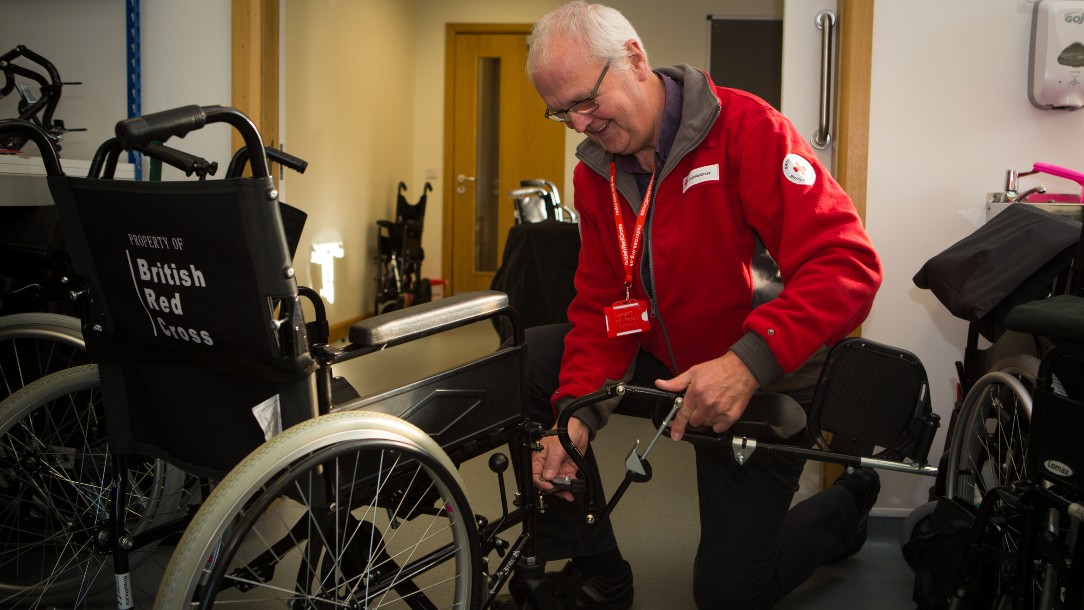 4. How to transport a wheelchair
Here are some tips on how to load a wheelchair into your car:
Your wheelchair is a heavy piece of equipment, take care when lifting it.
Remove the footplate and place them into your car directly.
Make the wheelchair smaller, lower the handles by pressing on the latches at the base of the handles.
Lift the wheelchair into either the boot or the back seat of the car.
If the wheelchair is on the back seat, hold it in place with a seat belt.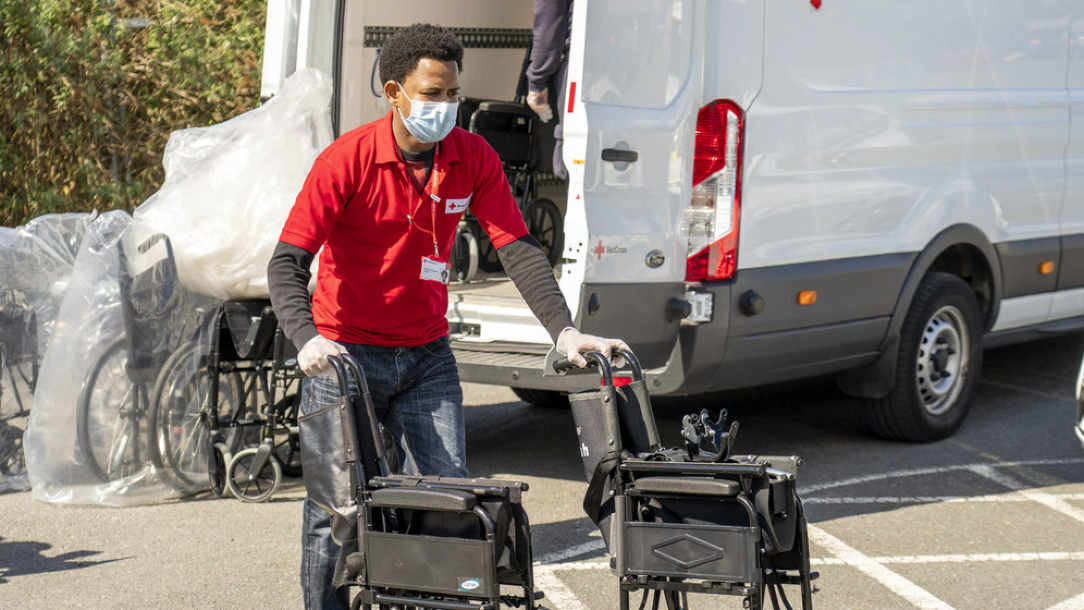 5. How to take care of your wheelchair
All Red Cross wheelchairs are cleaned and safety checked before each loan, but it's still important to regularly check your equipment for any signs of damage. Here are a few tips on how to clean and take care of your wheelchair:
Clean the wheelchair seat and back with a cloth or sponge using warm soapy water.
Wheelchair wheels and rims can be cleaned with a soft brush and warm soap water.
If your equipment is damaged, it's no longer safe to use.
To report wheelchair damage, get a replacement wheelchair or if you have any queries, contact our team on 0300 456 1914.