Kindness will keep us together
The power of kindness is needed more than ever as the UK faces a global coronavirus pandemic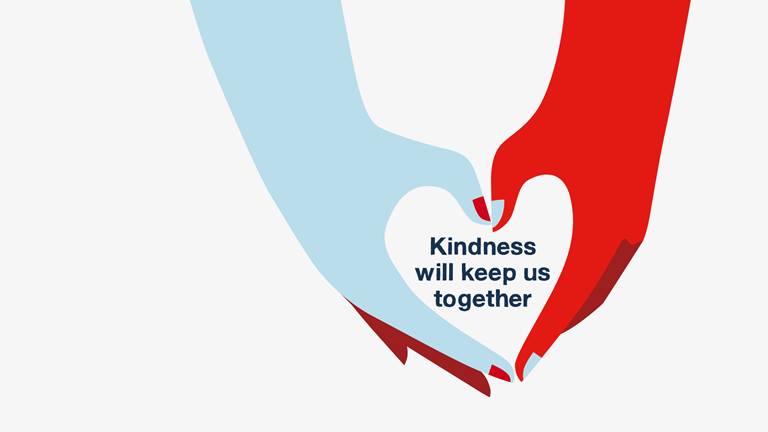 Join us in helping others during the coronavirus outbreak
In these uncertain times, we know one thing for sure: kindness is powerful.
We also know that connections, relationships and networks are more important than ever right now. Connected communities are stronger communities, where people rally round each other in an emergency.
The coronavirus outbreak is an unfolding global health emergency that is affecting the way we all go about our daily lives. Those self-isolating could become very lonely. Simple acts of kindness, like making a phone call to a neighbour who is vulnerable or donating to your local food bank, could make a huge difference to someone.
For over 150 years, the British Red Cross has supported people in the UK through the most difficult times – including two World Wars. The coronavirus pandemic is no exception, and we have already seen thousands of people sign up to become Red Cross community reserve volunteers.
Together we are stronger
People all over the country are stepping forward to help others in their hour of need. Our volunteers are on standby to assist wherever they are needed, from helping in hospitals to delivering food to people in self-isolation - and sometimes delivering to NHS staff, too. In Newport, Wales, one of our teams surprised the hard-working staff of the emergency department at the Royal Gwent Hospital with a big delivery of meals kindly donated by Nando's.
If you would like to share your kindness, and are healthy, safe and well, we would love to have you on our team of community reserve volunteers. Otherwise, you can also support our work by making a donation.
Keep scrolling to find out how to sign up as a volunteer, or how you can donate. Like everyone else, we don't know how long the current situation will continue, but we can promise that the Red Cross will be here to help, every step of the way.