First aid learning for young people
Help students develop the skills and confidence to help in a first aid situation.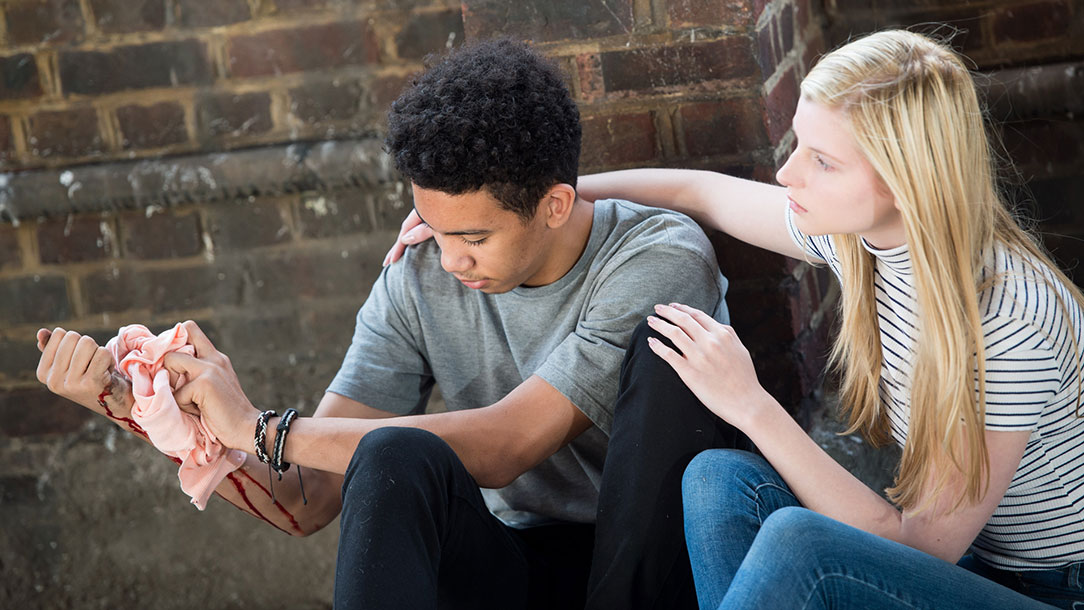 Age:

11-19

Type:

Lesson plan, teaching package, videos

Subjects:

Citizenship, PSHE, Science

Topics:

First aid and the bystander effect
First aid learning website
Help young people learn first aid through engaging videos and case studies, using realistic scenarios to explore the feelings of people in need of assistance, helpers, bystanders, or friends and family in different first aid situations.
This powerful resource prompts thought-provoking discussion and active learning, with 16 first aid skills to choose from.
Online quizzes, skill guides and role-play activities support young people's learning around this essential life skill.
Our resource has been accredited a Quality Mark from the Personal, Social, Health and Economic (PSHE) Association for best practice in PSHE education. The resource has been assessed against the ten principles of effective PSHE education and gives you confidence when using our resource.
This toolkit resource, which includes differentiated activities, will give teachers the flexibility to deliver first aid sessions tailored to the needs of their students, within the context of their PSHE education programme. First aid knowledge and skills are taught through engaging films and scenarios, whilst opportunities are provided for young people to reflect on their feelings and attitudes to providing emergency help. Assessment is featured throughout, allowing students to monitor their progress. Relevant to their everyday lives this programme makes a vital contribution in supporting young people to respond positively, develop strategies to minimise harm and gain confidence to provide first aid in an emergency situation.
Claire Keech
Subject Specialist at the PSHE Association
Learning objectives
Learners will:
learn and practise first aid skills using simple steps and key actions

have the confidence and willingness to act in a first aid situation

understand why people sometimes feel unable to help, explore why this might be and how to overcome this.
Resource overview
designed for 11–19-year-olds, using online learning options and contexts relevant to them

covers 16 first aid skills, brought to life by realistic scenarios, videos, case studies, images, online quizzes and optional role-plays

lesson plan templates and a flexible toolkit of activities, with curriculum links which can be tailored to the needs of your group

activities for different age groups, ability levels and settings

step-by-step first aid skill guides, frequently asked questions and educator information to help young people learn first aid

an educator dashboard allows you to track and review learners' progress.
Credits
The photo of a boy applying pressure to a heavy bleed © British Red Cross.