Follow the story of a refugee, told through a comic book.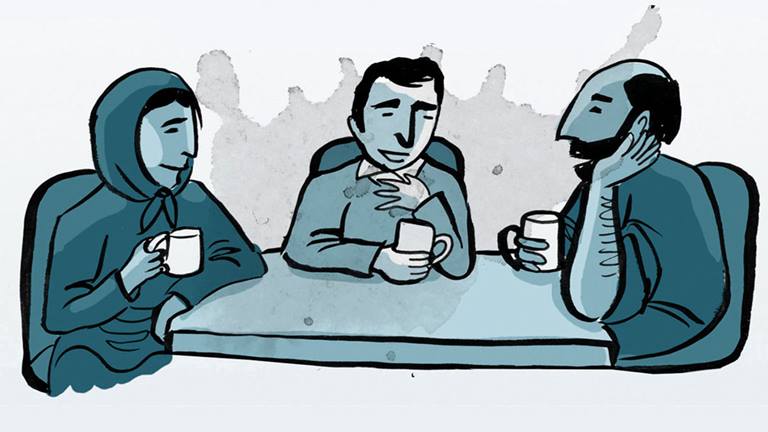 Age:

11-19

Type:

Lesson plan, images

Subjects:

PSHE, Citizenship, Geography

Topics:

Refugees and migration
Help learners to explore identity, alienation and the value of friendship by following the real-life story of Ebrahim, told through a comic.
Ebrahim came to the UK as a teenager seeking refuge. He had to cope with the loss of identity papers, being held in custody, dealing with bureaucracy he didn't understand and the threat of deportation.
The group discussion activities are used alongside cartoon panels from the comic book Over Under Sideways Down, with project ideas for young people to develop their work, in or outside of the classroom.
Learning objectives
Learners will:
consider some of the challenges facing refugees as they rebuild their lives

learn how best to respond to someone who is showing signs of emotional distress

understand that we are interconnected and all have a part in shaping the future

explore feelings of fear, confusion and vulnerability

think about the realities of everyday life from a refugee's point of view.
Resource overview
Each section of the resource uses a different image from the comic as a prompt, encouraging learners to explore different aspects of Ebrahim's story.
1. Lost identity
Explore what lack of identity means in the UK and consider the different forms of ID needed.
2. Arrival in the UK
Reflect on what the UK might seem like to someone from north-west Iran.
3. Scared and confused
Explore feelings of fear, confusion and vulnerability.
4. Everyday life
Consider everyday life from a refugee's point of view.
5. Emotional support
Think about ways of coping with stress and anxiety.
6. Friendship
Explore the value of friendship and of volunteering.

Credits
The photo shows a cartoon taken from the graphic novel Over Under Sideways Down (© British Red Cross).