Australian bush fires: how the Red Cross helped to reunite and rebuild
The British Red Cross' Sophie Mackenzie writes on volunteering through the Australian bush fires and how the Red Cross made a difference.

Last updated 8 March 2023
Growing up in Australia, the bush was my back garden. The sweet smells of lemon myrtle and eucalyptus scent my childhood memories, and I can still feel the crunch of sun-ripened bark under my bare toes. I can identify birds by their song, and I can tell whether it's raining or whether it's just cicada season.
But when I returned to Australia for Christmas in 2019, I wasn't free to enjoy these childhood memories. Access points to the bush were blocked with 'Keep out – danger' banners and a blanket of smoke covered the summer sky. Heavier than the ashy air was a fear of the unknown. Though there was no bushfire here now, there could be tomorrow.
The fires took the land with frightening speed
Australia experienced it hottest year on record in 2019 and its worst bushfire season between September 2019 and March 2020. Starting in early November, extreme temperatures, dry conditions and high winds combined to cause hundreds of bush fires across five Australian states.
Fire took the land with frightening speed. Over 16.9 million hectares were burned – that's more than the size of Scotland and Wales combined. Over thirty people died in the fire, while hundreds more were hurt by the smoke. Hundreds of properties were destroyed and over 3 billion animals were killed or harmed.
HOW DO YOU CHOOSE WHAT TO TAKE, AND WHAT TO LEAVE?
Everywhere, there was video evidence of the widespread devastation. I was lucky that during the three weeks I was visiting, in an area north of Sydney, the fire didn't reach us, though we received advice at the time on packing our cars with important belongings.
My friends had to make heart-wrenching decisions
This alone was disturbing enough. How do you choose what to take, and what to leave? Where are our birth certificates? Do we pack Christmas presents? And as the last generation with baby photos printed, not digitally stored, how many photos were too many when you also had to pack water, oil and food?
My family didn't have to flee the flames but many of my friends were not so fortunate. They made heart-wrenching decisions. The more common stories were about the surreal moments people decided to leave their homes, not knowing when or if they would return.
One friend shared a story of seeing a mob of kangaroos emerge from the flaming bush. They were on fire and, with each hop, slowed to a stop.
This is no lie: in each instance, my friends had some form of contact or help from the Australian Red Cross. They are but a few of the 49,000 people supported by more than 2,500 Red Cross staff and volunteers.
The Red Cross is there when the unimaginable happens
That's the thing about the Red Cross. We are there when humans reach their lowest points. We are there when the unimaginable happens. Knowing this and knowing that I may one day need the Red Cross to help me, I knew I needed to volunteer.
ONCE THE FIRE STARTED, WE FIRST HELPED WITH PEOPLE'S IMMEDIATE NEED - TO FIND FAMILY MEMBERS SEPARATED BY THE FIRE.
Working in digital fundraising at the British Red Cross, I could give my time and skills to generate funds. It didn't matter that I was supposed to be on holiday. The smell of smoke in the air and a relentless stream of distressing stories meant I couldn't ignore what felt like a calling.
Round-the-clock dedication
I reached out to the Australian Red Cross and began almost immediately. It was an honour to work with the dedicated (and very tired) people there. The team reinforced what it means to have a natural disaster hit your country and to respond with the incredible strength of humanity.
I felt sadness at being Australian and seeing the land burn. But more importantly, I felt proud as a Red Cross volunteer, knowing the difference the organisation has made, and is making, in my homeland.
From first aid to cash grants, the Red Cross helped in many ways
Even before the emergency, 313,477 people had created personalised emergency plans with Australian Red Cross support. Once the fires started, we first helped with people's immediate need – to find family members separated by the fire.
More than 56,000 people registered on the Red Cross's Find. Register. Reunite programme, which helps to reunite survivors with loved ones. (I couldn't imagine being unable to get in touch with my mother or brother, knowing a bushfire had hit.)
The Red Cross also gave crucial support to evacuation centres and distributed food hampers and water pallets to isolated communities. We helped to safely evacuate communities and provide psychological first aid (and follow-up telephone welfare checks) to those struggling to cope. Overall, this reached more than 50,000 people.
The long task of rebuilding
With generous funding from the community, we also offered long-term and immediate financial support to those who lost their homes. These emergency grants offered a way for people to buy the things they needed the most.
The town of Mymboida – a community of 298 people in New South Wales – saw 80 homes destroyed in the fires. Norelle and Tom's half-finished sustainably built dream house was among them. They lost everything: every pot, pan and cup, their fruit trees, and the beauty of their patch.
The Red Cross gave the family $20,000 in emergency relief and a $20,000 rebuild grant. They first restarted their veggie patch two weeks after the fire to bring green and mental wellbeing back into their lives, then started rebuilding their simple home.

"I'm not going to say we haven't been shell-shocked and really sad," Norelle said, "but we have such amazing support. The community, the charitable organisations, and Red Cross has been truly amazing."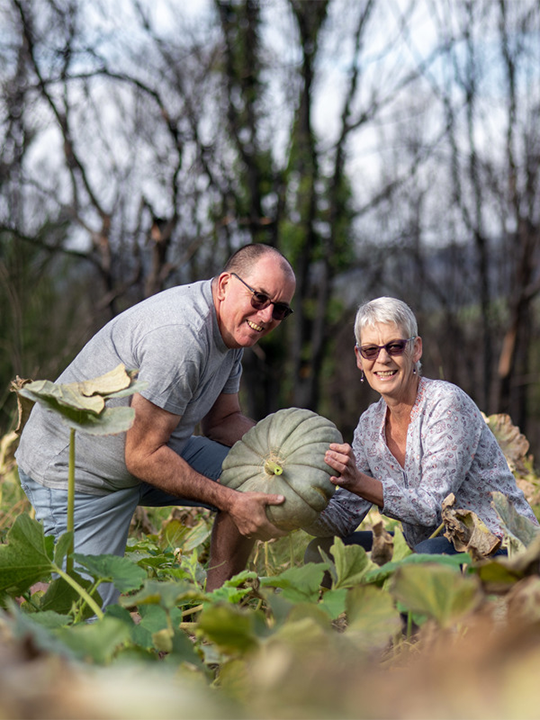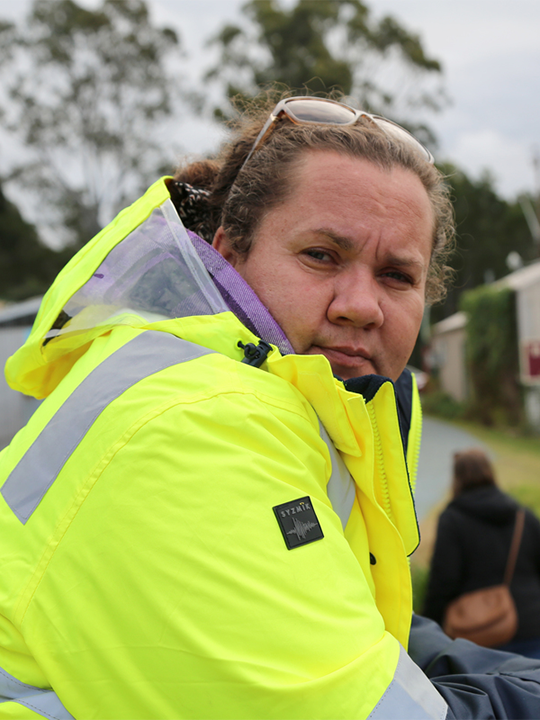 Small things – like new bedding – can make a big difference
Mother-of-five Sherrie is a proud Walbunja Yuin woman (Aboriginal Australian people of New South Wales), who works as an environmental ranger and artist. The flames burned through her garden, caravan and chicken coop but somehow skipped her wooden house.

Sherrie shared that, "two of my kids suffer from anxiety and the smell of the smoke in her bedding and in her bedroom and that was really mucking with her where she wasn't sleeping at night. She'd only sleep during the day when she could open up the window and somebody was awake to tell her that the house isn't on fire."

A Red Cross grant gave Sherrie the money to replace smoke-damaged mattresses, bedding and clothing. "We sorted her out with new bedding and a new mattress," Sherrie said. "I'd had to do that for them just so they could get some peace of mind and have a sleep without worrying about the house burning down."

The power of kindness
Thinking back to that Christmas, I couldn't feel that familiar crunch underfoot, smell those scents or listen to animals sing in the ways they usually do. But now I have a new memory that will stay with me forever.
It is one that fills me with hope. We are resilient.
After the fires, beautiful red flowers sprouted through the ash. The Red Cross continues to help the Australian community in more ways than I can count. So, to me, the Red Cross is like the red flower. During and after devastation, the power of kindness will always shine through.
Our Emergencies Fund
When disaster strikes, the first few hours are critical. Our Emergencies Fund helps us to respond quickly and give people urgent help in the UK and overseas.
DONATE