Covid-19: How the Red Cross is helping around the world
A global health emergency requires a global response. From working with front-line healthcare services to delivering food to people and families who need it most, here's how Red Cross Societies around the world are uniting
Last updated 4 August 2023
This pandemic has no borders. That's why, in 158 countries, our Red Cross and Red Crescent Societies are working tirelessly to fight the global Covid-19 pandemic.

Across the world, the Red Cross is helping communities get through the crisis. Efforts stretch from Italy, where Red Cross workers have been driving people to hospital in ambulances, to New Zealand, where a Red Cross Virtual Tour is inspiring the country to keep moving in lockdown, while raising funds for the emergency response.

The power of our global movement has never been more important. With hundreds of thousands of people already helped by our global response, here's a snapshot of the work our staff and volunteers have been doing.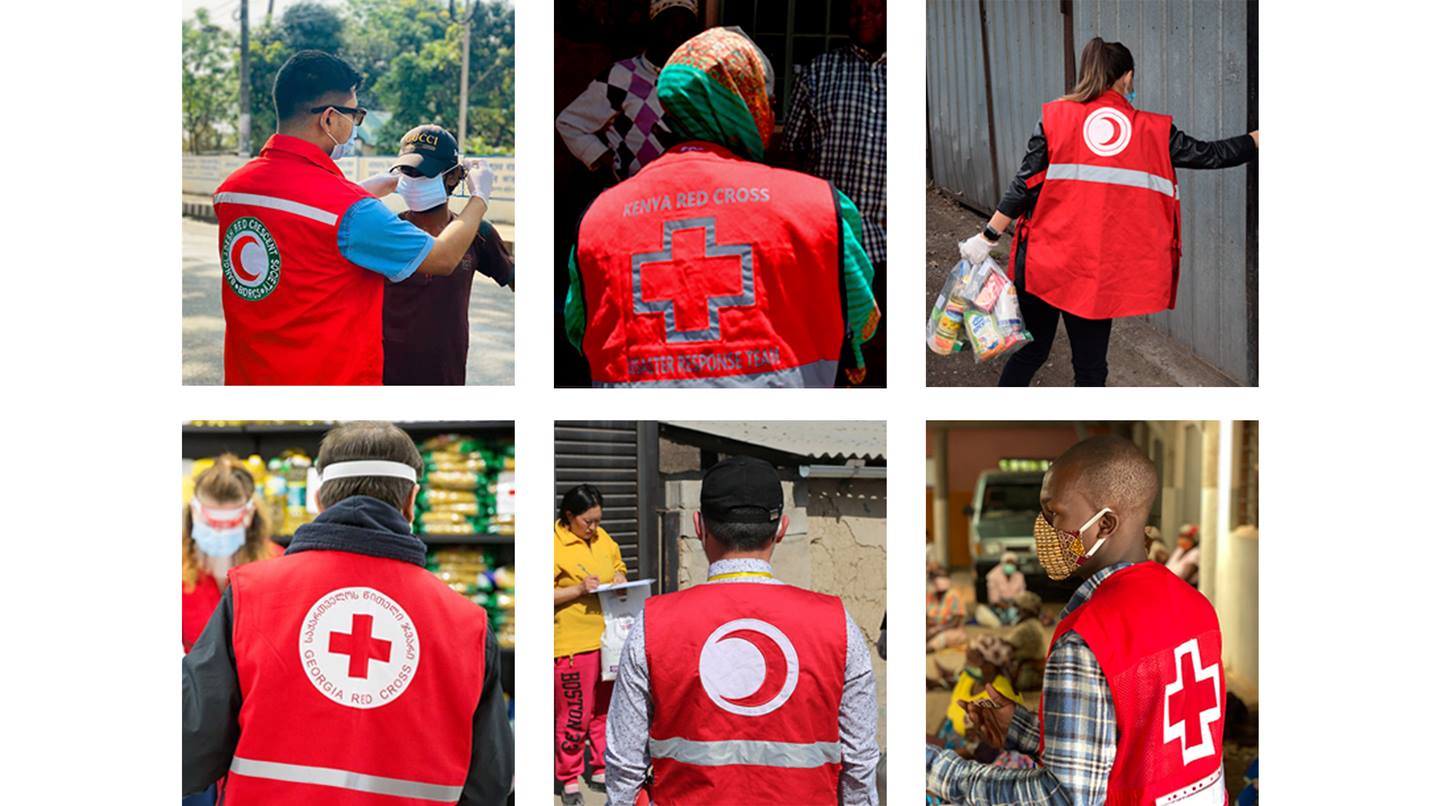 Italian Red Cross
Our colleagues in Italy have been on the frontline since the beginning of the pandemic. They are involved in easing the pressure on the Italian national health system, giving support with medical equipment to doctors and nurses, and have also sent medical staff to the most affected areas in the country, particularly Bergamo, at the epicentre of Italy's outbreak.
The country's National Response Centre has been receiving an average of 9,000 requests per day, including around 1,500 requests for the home delivery of food and medicine to people in self-isolation or economic difficulties.
Fifteen medical staff and more than 200 volunteers have been present in airports across the country and in total, almost 50,000 volunteers have been mobilised nationwide
Spanish Red Cross
As one of the countries hardest-hit by the pandemic, the Spanish Red Cross has seen one of the biggest mobilisations in its history, with more than 5,000 staff and more than 30,000 volunteers deployed. And people are eager to help - since the outbreak began, more than 10,000 additional volunteers have signed up.
As well as making almost 600 ambulances available to support the public health system, the Spanish Red Cross has delivered around 130,000 food and essential non-food items to vulnerable and at-risk people. The outbreak has had a huge impact on homeless people worldwide – in response, the Spanish Red Cross is supporting in shelters for vulnerable groups, including the homeless.
Myanmar Red Cross
The Myanmar Red Cross has been using social media to educate followers about the virus, in a way that is both creative and catchy. Their 'Corona Go Away' song and dance has been performed by volunteers in locations all over the country. They are also providing psychosocial support to the community, as well as temperature screening at border checkpoints.
New Zealand Red Cross
A Meals on Wheels initiative continues in earnest in New Zealand, with over 600 volunteers helping to deliver around 11,000 meals across the country.
With Kiwis stuck at home during the nationwide lockdown, the New Zealand Red Cross also launched a Red Cross Virtual Tour. This virtual run covers a distance of 71 kilometres, and treats runners to views of the Lake Taupo area as they make progress on their run.
People are encouraged to share their pictures on social media under the hashtag #RedCrossVirtualTour in order to win prizes. All funds raised will support the New Zealand Red Cross's essential services, including their Covid-19 emergency response.
Mexican Red Cross
The Mexican Red Cross has fitted out 98 ambulances with bio-contingency capsules to enable teams to safely attend suspected or severe cases of Covid-19. They have also set up 20 areas where commuters' temperatures can be measured in the capital's metro stops and main squares.
Netherlands Red Cross
In April, the Netherlands Red Cross transferred 4.4 million products, including 3.8 million gloves, 400,000 masks, 82,500 pairs of goggles, and 3,696 litres of disinfectant, to the government. They are also running a helpline for the public, while delivering food and medicines to those in isolation.
The Red Cross also started a 'Serious Request: Never Walk Alone' campaign in association with a national radio station, where listeners could make a donation while making a song request. The funds raised will go towards supplying of food boxes filled with fresh produce from farmers who are currently unable to export their goods.
German Red Cross
The German Red Cross's response has included special counselling and support for refugees and migrants facing additional troubles in the pandemic due to their living conditions. They are also operating triage and testing stations as well as support services for the homeless and for stranded travellers, and are producing non-medical cloth face masks (to save existing resources for medical staff).
Saint Lucia Red Cross
Our colleagues in Saint Lucia have delivered 300 parcels of bread to homes for the elderly, people living in homeless shelters, and children's orphanages. Additional food parcels have been delivered to families including people in quarantine, while the Red Cross also distributed blankets to a shelter that accommodates homeless people, and prepared and served meals for 40 people.
French Red Cross
In France, the "Croix-Rouge chez vous" ('Red Cross at home') service provides food, medicines and psychological assistance for those in isolation. The French Red Cross has around 20 shelters for homeless people, with around 200 volunteers and staff working in them.
Iran Red Crescent
In Iran, more than 70,000 volunteers are involved in the country's Covid-19 response operations. The Red Crescent's volunteers have distributed around 100,000 food parcels and around 170,000 hygiene kits to the most vulnerable. The organisation is also involved in distributing personal protective equipment, including masks, gloves, hospital gowns and antiseptic gel.
Finnish Red Cross
In Finland, the Red Cross has provided hospitals with triage units to enhance their capacity to assess potential patients, as well as tents and other non-medical equipment for a temporary annex at a hospital in Helsinki.
Over 3,000 volunteers have been part of the Finnish response since it began, and the Finnish Red Cross is funding and supporting coronavirus health projects in Africa and Asia.
Donate to our Global Coronavirus Appeal
Coronavirus is spreading in the world's most vulnerable communities, with the safety of millions at stake. Please help the Red Cross continue our vital work and help the most vulnerable people in society.
DONATE