She grew up in in a poor family. Now she's lifting other women out of poverty
Life's a struggle for Josna's neighbours — but it doesn't need to be. She's helping women start businesses, all the while strengthening the bones of her city to prepare for cyclones and floods
Last updated 4 August 2023
Growing up with nine siblings means crowded rooms, hectic mealtimes – and a lot of appreciation for personal space.
It also means money can be very tight. So when Josna's father died, she had little choice but to quit school and start work to support her family. She made no more than the equivalent of 30p a day.
Although Josna is now 38, this is a common story for today's young girls and boys in the city of Barishal, Bangladesh.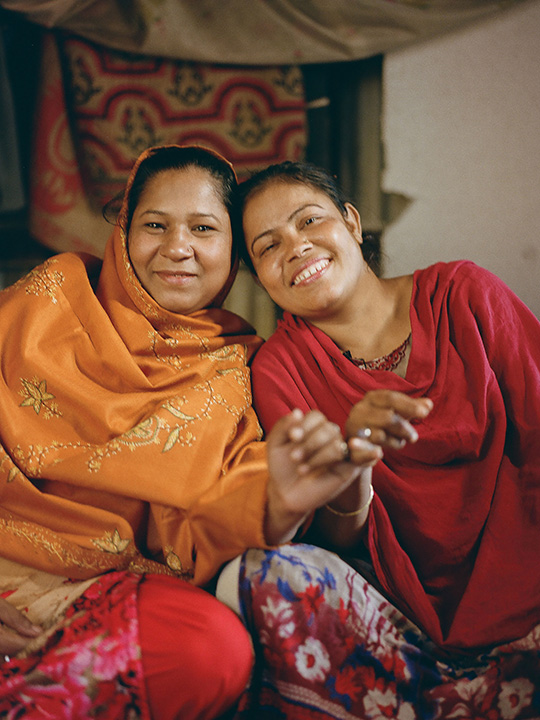 Josna hates seeing her impoverished neighbours struggle like she once did.
"That's why I understand people's pain and the dire situation of the area," she said. "I was burning inside with anger – what can be done to solve this? Something needed to be done."
Something is being done, thanks to Josna and other women like her. Josna is solving all kinds of problems in her community – everything from tackling roads, drains and toilets to helping women who have missed out on education to set up small businesses.
A trailblazing woman
For the past three years, the mother of three has been volunteering with British Red Cross partners the Bangladesh Red Crescent Society, and is now president of the Hatkhula Shishu Park Community Disaster Management Committee (CDMC).
Supported by the Red Cross, the organisation's work includes disaster-preparation training, addressing hygiene concerns, ending child marriage, and boosting economic development.
Josna's efforts are all the more impressive because she is a trailblazing woman in a male-dominated society. She grew up in poverty in an area where women are not likely to receive the education many take for granted elsewhere.
And female activism is more likely to be seen on television, or in far-flung places across the globe. But Josna knew she wouldn't simply fulfil the role that society expected her to.
BEFORE, I USED TO SIT AT THE BACK, BEHIND THE LEADER. GRADUALLY, I THOUGHT NO, I'M GOING TO SIT AT THE FRONT.
JOSNA
On TV, I used to see the government encouraging women to step forward," said Josna. "I mustered some courage and thought: 'Why should I stand on the sidelines?' Before, I used to sit at the back, behind the leader. Gradually, I thought no, I'm going to sit at the front."
Josna now manages dozens of volunteers in community disaster response teams in her role at the Hatkhula Shishu Park CDMC, and works to address issues affecting the community. Her team is focused on improving the roads, drains, washrooms and toilet systems.
My area is very impoverished; it is densely populated so we have problems with the roads," she said. "It is my responsibility to oversee how they work and also to encourage them to do their work properly. The drainage system is not good.
She adds that the cramped conditions experienced by many families mean that there are often insufficient facilities. "There are no washrooms or bathrooms for adolescent girls," she said. "When girls have their periods, they don't have space to change."
A leader in the making
As if tackling the infrastructure of an entire community wasn't enough, Josna is also a leader of a Women's Squad, a new Red Cross initiative which forms part of our It starts with her campaign and aims to help strong women create even stronger communities.
"I always wanted to be an influential leader, where I would help impoverished women and stand beside them to show the world that neglected women need support," said Josna.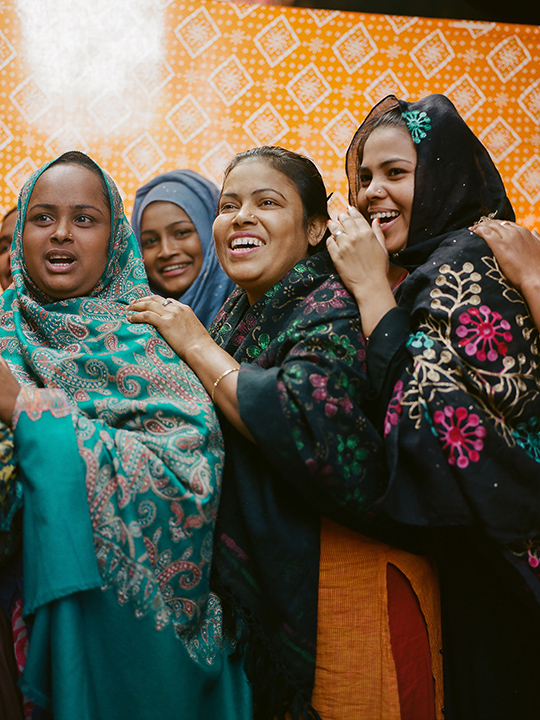 Cash grants support women's businesses
Josna was an ideal candidate for the Women's Squad role. "I know everyone, and everyone knows me," she said.
"I want to find the most vulnerable members of my community and help them. Lots of women can't read or write but have the skills to run small businesses. I want to help make that happen."
With the support of the Red Cross and Red Crescent, women in Barishal will be able to train in their trade and receive cash grants to set up small businesses. With the stable income they earn, they will have a financial safety net if a crisis – like a monsoon or cyclone – hits.
One woman, many plans
Josna has big plans for herself, too: one day she wants to run her own clothing and cosmetics shop. "If I can change my life through business, I could be a role model for so many people," she said.
If we are to thrive, we need to empower ourselves to achieve more. I think the Women's Squad is already making us realise we can do that."
Get involved
Donate to our It starts with her appeal to help make strong women stronger. Every pound you give, up to the value of £2m, will be doubled by the UK government.
Donate