The mothers of Kenya thriving in the face of Covid-19 and climate change
Covid-19 cost people their livelihoods. Our new appeal will help people like Agnes and Jemimah on their path to recovery
The impact of Covid-19 has been felt by everyone. From exhausted frontline workers to people left isolated by lockdowns, everyone has felt the knock-on effects of the pandemic over the past 18 months.
But for some people, the effects have been life changing.
The pandemic has caused a catastrophic global economic fallout. The World Bank estimates that 97 million people fell into extreme poverty last year, with levels increasing for the first time since 1999.
In places like Kenya, people live with the double impact of Covid-19 and climate change. For those people, the road to recovery from the worst of the pandemic will be a long one.
That's why our new appeal, Kindness has no borders, will reach people in crisis around the world – as well as those who live closer to home.
People facing extreme poverty and climate-related disasters
Donations to the appeal will be divided between our Covid-19 work in the UK and our International Relief Fund, meaning your gift can reach someone around the corner and someone around the world.
Started last year, the International Relief Fund supports our most vital international work, from disease prevention and food security programmes, to providing psychosocial support to survivors of trafficking. The British Red Cross partners with other Red Cross and Red Crescent societies all over the world, in areas that face issues like extreme poverty and climate related disasters on top of Covid-19.
Agnes is a mother of one from Kenya who became the main breadwinner in her family after her husband Jeremiah was injured in a work accident and couldn't find a new job due to Covid-19.
"My husband used to provide for us with his job on security patrol on a ranch," said Agnes. "He was coming home from work one morning when a buffalo chased him. We had to resort to asking for help because his arm had been incapacitated and he couldn't work. That is when God brought us the Red Cross programme."
Agnes was supported through the Kenyan Red Cross's cash for health emergency project, which is sponsored by the British Red Cross, and supports new and expectant mothers. She received 2,034 shillings a month (about £13.46) over a 10-month period, choosing to save up and put the money towards her own business.
"I kept saving and I was able to buy three goats," she said. "It even helped me with my child when he got sick – I was able to go to the clinic, buy him fruit and nourishing meals."
Empowering new mothers
Agnes, who now runs the business with Jeremiah, is just one of the 915 expectant and new mothers that this financial support from the Kenyan Red Cross has reached.
"I am a farmer, a livestock keeper and a businesswoman," said Agnes. "My business entails selling fruits and vegetables and I also farm maize and beans. As for livestock, I keep cows, goats and chickens."
Being able to start her own business has changed Agnes's life.
"I used to sleep hungry," she said. "After giving birth I came back and had to eat raw beans, becoming weaker and weaker. But then the Red Cross came and empowered me. I was taught that a woman should be self-reliant. So that's what I'm doing."
Coping with climate related disasters
As well as the health and economic impacts of Covid-19, some areas of Kenya are seriously affected by climate change.
"The kind of rains that we get are not like they were previously," explained Evelyn, a project officer for the Kenyan Red Cross. "Farmers are not able to do the farming, or to get enough produce. When it does rain it gets really flooded in this area, and people can't access important amenities like hospitals because the infrastructure gets destroyed."
This makes initiatives like the cash assistance programmes even more vital.
"This kind of initiative has actually been able to transform the lives of not only the 915 women that we are supporting, but actually a bigger number, because we are supporting households that could have five or seven members of the family being supported through the money they are getting," said Evelyn.
Jemimah, a mother of two, started her farming business with help from a Red Cross cash grant. When she and her husband lost their jobs due to Covid-19, the family lost all their means of income.
After being selected to be supported for cash assistance by the Red Cross, Jemimah started saving.
"I decided to build my chicken coop, and started by buying five chickens," said Jemimah. "They laid eggs that gave me 65 chicks."
Jemimah now raises ducks and rabbits as well as chickens, and has bought seeds to plant crops like spinach, kale and okra. She has also been able to take her children for check-ups at a health clinic, and to introduce them to a more balanced diet than she was able to afford before.
"My life is different from how it used to be – now, when I want to take my child to the clinic, I can get transport money by selling vegetables or chicken," said Jemimah.
Jemimah has big plans for her business, and hopes to be able to diversify in the future.

"My desire is to have a water pump so that I can grow high value crops – like watermelons and peppers – that I can transport and sell," she said. "I'd also like to buy an incubator so that I'm able to sell the chicks."
Evelyn says that the women she works with through the Red Cross inspire her to keep going.
"Seeing women like Agnes and Jemimah actually come up with their own income-generating activities so that they can sustain themselves gives me a lot of motivation to continue working and supporting the community," said Evelyn.
"It gives you fulfilment and satisfaction that what you are doing is not in vain and the changes that we've been able to support makes me feel immensely proud."
There is still a lot of work to be done as people in similar situations to Agnes and Jemimah try to bounce back from the devastating impact of Covid-19 and climate change. But that's why we want to help.
As well as continuing to be a lifeline for people in the UK, we can be there for people overseas who have been affected by the impact of Covid-19 and other disasters.
If you believe that kindness has no borders, please join us today.
Read more
How your donation will reach people in the UK and around the world
Donations to our new appeal 'Kindness has no borders' will help people like Natalie from the British Red Cross and Mohammed from the Bangladesh Red Crescent reach those who need them most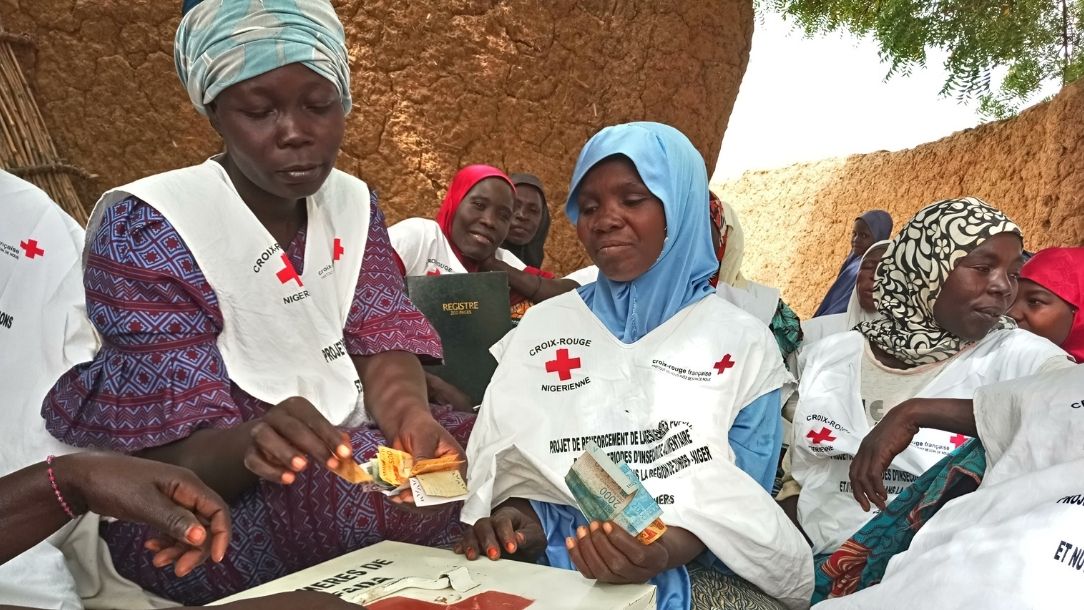 Mothers Clubs' are creating financial security across the troubled Sahel region, raising a woman's profile and creating solidarity within communities.