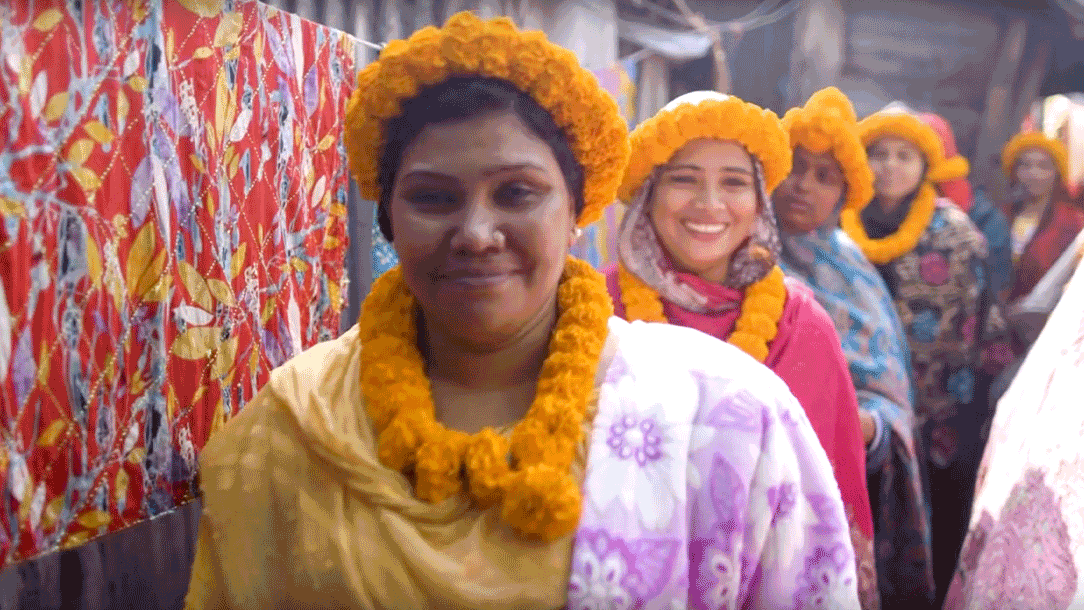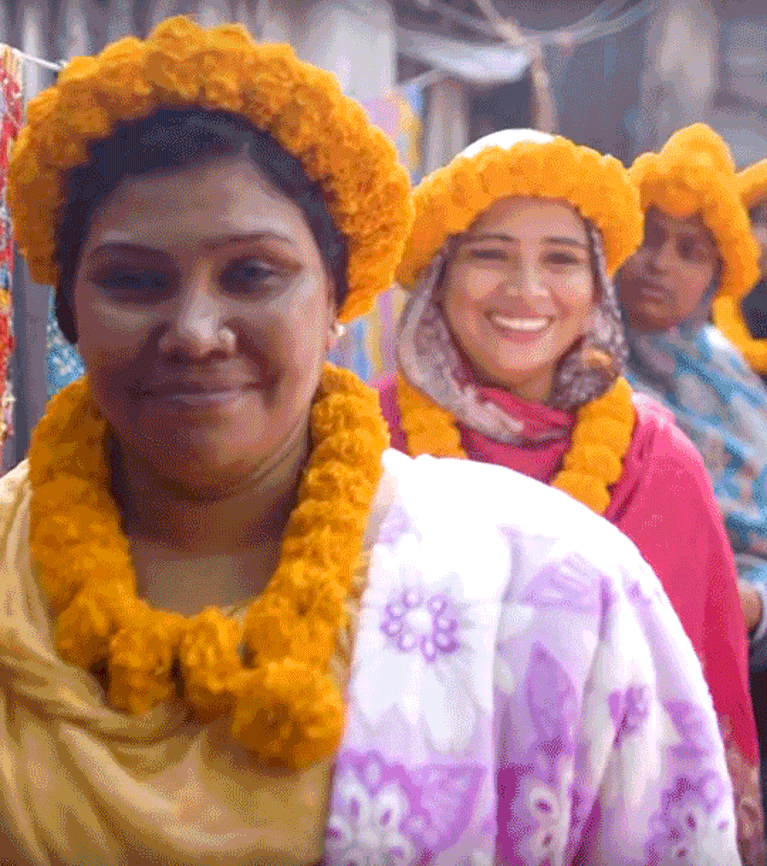 We
empower

women

Sisterhood is everything in Barishal, Bangladesh. As well as being mothers, women here step up when cyclones ravage their community, when someone needs blood, or when a child marriage is arranged. This is why we're mobilising women for change
Last updated 4 August 2023
The women in the slum city of Barishal, Bangladesh, are made of stern stuff. They have to be. Here, a cyclone could strike at any time, floods could surge into their homes, or typhoid could suddenly spread. And most of the time, there are few men around to help them deal with disaster, let alone raise their families. If you were to step inside their homes, you would have passed by the murky canals and tributaries that wind their way through the city.
Barishal, on the Kirtonkhola River, is known as the 'Venice of the East' – but the river causes problems. The weather here can be severe to say the least: cyclones and monsoons flood the riverbanks, overwhelming the city's infrastructure, and clogging it with waste. This means the spread of disease is always a threat. More alarmingly, the weather can kill.
In 2007, more than 10,000 people died when Cyclone Sidr smashed its way through the city. Climate change means that the situation here will only get worse. It is the women who are left to pick up the pieces. Many are raising families alone – the men of the city migrate away for work. Women do not have the same opportunities for education and work as men. "[Women's] days are filled with hardship," said Rashmi, a 31-year-old Barishal native. "They have no opportunities to earn an income – there is no work for women."
The backbone of the community
So, it's little wonder that the women stick together. Often, it is their friendships that form the backbone of the community. Josna, 38, and her friend Mahmuda know better than anyone the importance of female friendship.
They are mothers and members of a Women's Squad, set up by the Bangladesh Red Crescent Society, who are partners of the British Red Cross. "Whenever I need a sister, Josna is always by my side," said Mahmuda.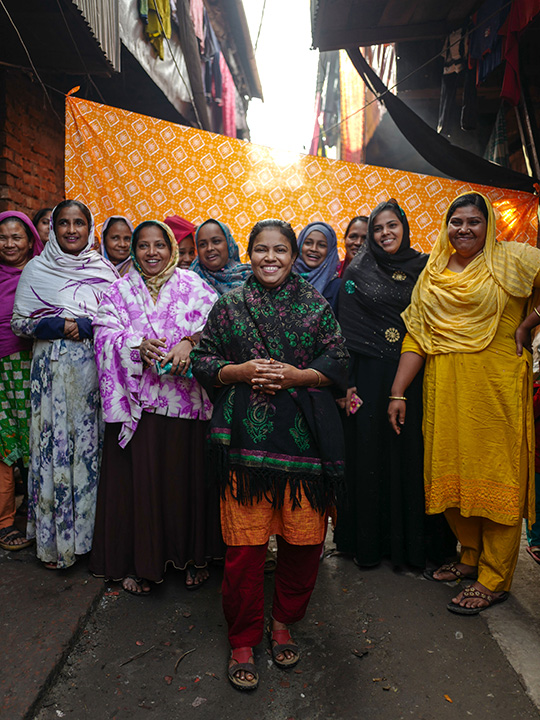 Women squads
Women's Squads form part of our It starts with her appeal, launched this year to expand upon the women-empowering programmes we run in the area. They were created to give women a platform to speak about the issues that matter to them the most. "Women will be able to change society if they stay united," said Josna. "When that happens, women will definitely move forward."
It starts with her appeal
The strength of the squads has already been tested. In November 2019, Josna and Mahmuda's squad responded to an emergency when Cyclone Bulbul hit. The squad made sure that pregnant women and disabled people were taken to an evacuation centre. Once the worst of the cyclone was over, the squad made sure the shelters were safe, clearing up debris and arranging for food donations to be delivered to families in need.
WOMEN WILL BE ABLE TO CHANGE SOCIETY IF THEY STAY UNITED
JOSNA, WOMEN'S SQUAD LEADER
Helping the community's most vulnerable
Josna is the leader of the squad. As well as having expert knowledge of her community, she has years of experience in disaster management, having volunteered with the Bangladesh Red Crescent Society. She was thrilled with the way her squad responded to the cyclone. "I want to find the most vulnerable members of my community and help them," she said.
"Many things have changed in our community already – I'm proud of myself for that." Rashmi, who is also a squad member, volunteered in the aftermath of the cyclone too: "We cared for [people] throughout the night, until we received the all-clear about the disaster," she said.
Of course, living in a disaster-prone area means you have to be proactive as well as reactive: a big weather event could happen at any moment. That's why our livelihoods programme forms the other half of our It starts with her campaign.
Through job training and small cash grants, we are helping women in Barishal to set up their own businesses. We want them to become self-sufficient, to help them to build their way out of poverty, and to have a safety net should disaster strike again. The cash grants have already proven themselves to be a vitally important investment.
Misti, 37, runs a boat taxi – she's one of the only female boat drivers in the area. The river has given her a livelihood – but it came close to destroying it in 2007. "We all lived on the boat but when cyclone Sidr hit, the boat was lost," said Misti. She and her children had to swim for their lives.
Having lost everything, she stayed with family while she got back on her feet. But Bangladesh's unpredictable weather struck again and Misti was once again made homeless after a series of destructive cyclones. "When the natural disasters hit and there is flooding, we have to go to a very high place," said Misti. "I just try to run as quick as I can, my heart is bursting with fear."
Misti was able to start her boat taxi business thanks in part to a grant from the Bangladesh Red Crescent Society. The grant meant that Misti was able to buy the materials to build her own boat. She now ferries hundreds of people across the river every day and is able to put aside a small amount of money into a savings account every week, and is saving to buy a house. "If I didn't get the money, I would have suffered a lot," said Misti. "I don't have to rent a boat or worry about the rent for it – I decide when I work."
A brighter future for Barishal
Women like Misti are at the heart of our It starts with her appeal. In Barishal, female solidarity is not an issue – it's a given. Given the right tools, they will harness this sisterhood to create a brighter future for their community.
"I feel very proud to be a member of a Women's Squad," said Rashmi. "If something happens in the area, people immediately say, 'Let's call the female leaders'. Everyone comes together, whether it's child marriage, a pregnant woman having been taken ill, or someone needing blood. It feels good – I know I'm capable and everyone respects me."
Get involved
Donate to our It starts with her appeal to help make strong women stronger. Every pound you give, up to the value of £2m, will be doubled by the UK government.
Donate