Why sign up for a charity walk? Five benefits you can enjoy
Last updated 23 October 2023
Looking for a new challenge while raising money for a good cause? Try a sponsored charity walk. Walking is great for your mental and physical health and is a great way to support something you care about. All while making friends along the way.
If you're not convinced, here are five reasons you should be signing up for a charity walk near you.
1. It's great for physical and mental health
Walking is an exercise that's often overlooked. But it has lots of health benefits, including helping build stamina, burning excess calories, and making your heart healthier. It's also great for your mental health. When you go for a walk, mood-boosting endorphins are released that can help reduce stress levels and anxiety. Spending time outside and in nature can also quieten your mind and help you relax.
2. It feels good to complete a challenge
It can be hard to fit exercising into a busy schedule. Even though it's important to take care of your physical health, working out can often sink to the bottom of the priority list.
Signing up for a challenge like a charity walk or run is great motivation to make time for yourself and do something positive. It can also be the goal you need to kickstart a new exercise regime that you carry on even after the challenge is complete.
3. You'll be making a meaningful difference
Sometimes problems we face can feel overwhelming. Raising funds for a charity event gives you a chance to do something meaningful and help support a worthwhile cause.
Your time and effort mean we can use the funds you raise to carry out our vital work. Whether you have a personal connection or want to do something meaningful, it's a great way to make your own contribution and be part of something bigger.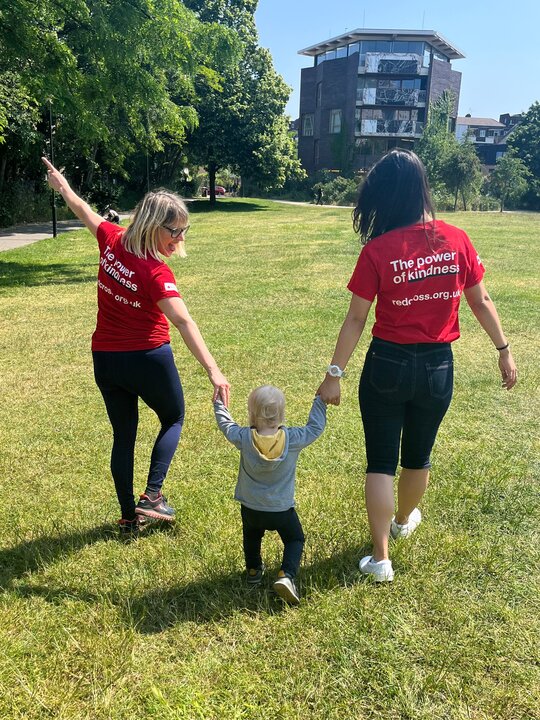 4. It helps you find a community
There are many problems in the world, but when we get together, we can make a difference. A charity walk brings together people who care about the same cause. It gives you a chance to share your thoughts and discuss ideas with like-minded people in a positive and relaxed setting. You may even go away feeling even more informed and inspired by the people you've met.
5. It's a great way to meet new, like-minded people
It can be difficult to meet new people, and loneliness is a growing problem in the UK for people of all ages. Everyone is welcome at a charity walk, and you can sign up whether you're in a group or by yourself. Unlike more intense activities like cycling or running, a charity walk is more relaxed with time to meet and chat with other people taking part. The emphasis isn't on hitting a time; it's about enjoying yourself, and there's great camaraderie among those taking part, so even if you do join alone, you'll end the day with new friends.
Find a charity walk near you
If you want to sign up for a charity walk then find one with the British Red Cross that's taking place near you. Set yourself a challenge, meet new people and help make a difference to the lives of others.