Sending postcards and building resilience: helping students embrace kindness while in lockdown
The British Red Cross's kindness resources have been used by primary and secondary schools alike, helping students practice kindness towards others and themselves
Last updated 25 July 2023
As the first nationwide lockdown came into effect at the end of March, schools up and down the country closed abruptly, with teachers and students unsure as to when they would return.

Shortly after the closures were announced, the British Red Cross launched a range of resources to help teachers keep students engaged while apart from the familiarity of everyday school learning.
Plotting kind acts on our kindness calendar
Emma, a core studies teacher at Sawtry Village Academy in Cambridgeshire, made use of our kindness calendar, which was designed to help children and young people learn about and engage in kind acts.
"I care about the mental health and wellbeing of students, so they have the skills to go out in the big, wide world and survive, cope and be a nice person," said Emma.
After hearing about the British Red Cross's resources through a colleague, Emma knew her students would be eager to get involved – but she was surprised by how thoroughly they embraced the activities.
Drawing rainbows and writing letters
Students drew rainbows on windows, left out snack boxes for delivery drivers and postmen, wrote letters to family members, and delivered groceries in their community – all in the name of kindness.

"Our head teacher was so impressed that he wrote to students and parents to thank them and encourage them to continue their great work, and to forward any more photos [of these kind acts] on to him personally," said Emma. "I also received a personalised thank-you message as part of a 'Thank a teacher' day, from a Year 8 student, saying how much she had enjoyed planning and delivering her acts of kindness, and seeing how happy it made people feel."
Bringing people together while we are apart
Core studies incorporates PSHE, citizenship, careers and religious studies, and Emma believes that it should be at the heart of student learning once children are back in school. "We have been through trauma, anxiety, bereavement," said Emma. "Kindness and mental wellbeing have now got to be at the heart of everything we do going forward. It really brought a strong sense of community and was a way to bring us together when we felt so far apart."
In Norfolk, teachers at the Nicholas Hamond Academy used the resources to help students look after their own wellbeing, as well as that of vulnerable people.

"We want our young people to be active citizens and seek out opportunities to make a difference," said teacher Martha. "It is not an over statement I don't think to say that [the Red Cross's] years of experience with crisis and trauma really do come through, even in these teaching resources for young people."

Meanwhile, in Wales, maths teacher Lianne has also made the most of the Red Cross's kindness resources while in lockdown. Lianne is also the PSHE coordinator at Pen y Dre High School and has adapted her lessons to involve the resources while apart from her students. As well as promoting the value of kindness, the resources also teach about first aid, empathy, resilience and wellbeing.
"IT BROUGHT A STRONG SENSE OF COMMUNITY AND WAS A WAY TO BRING US TOGETHER WHILE WE FELT SO FAR APART.


Emma, teacher
"The British Red Cross resources have been invaluable for the mental health and wellbeing of our children, because they've [included] things that everyone can do," said Lianne.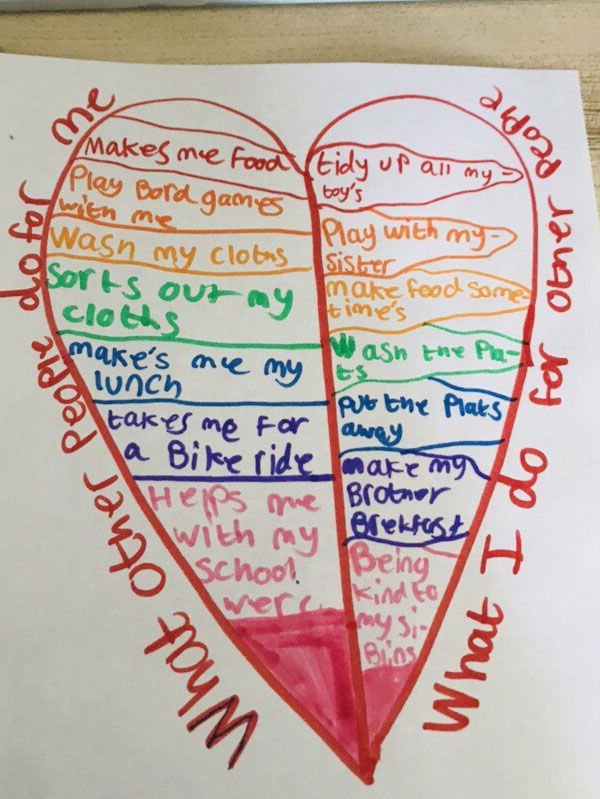 Learning lessons that go beyond the classroom
One activity has been particularly helpful. 'Coronavirus: how to build resilience and ease tensions' teaches young people about active listening skills and body language. Lianne hopes her students will carry the lessons they've learned with them beyond the virtual classroom.

"These skills are skills that are going to be used when this is over and in their future life," she said. "I am hoping the resilience that they are building through the crisis and through these resources are skills that they will take forward into their GCSE studies and into their lives in general when this is over."
And don't just take the teachers' words for it: 12-year-old Whitley Academy students Hannah and Olivia from Coventry have spent lessons in lockdown making postcards for vulnerable people in their community. They also wrote to the elderly in care homes and drew rainbows to be displayed on the front of their school.
"It is a really good feeling to know you have done something good and to know the community appreciated it," said Olivia.
A wave of kindness and community spirit
Hannah and Olivia's teacher Rebecca said that the school has had an overwhelming response from the local community. "We've received phone calls from recipients saying how happy it has made them," said Rebecca. "One person said she was going to spend VE Day on her own and then got our postcard and it made her day."
The the first lockdown eased and some students returned to schools, they embraced a new normal both inside and outside of the classroom. But Rebecca was positive that the wave of kindness and community spirit boosted by her students will continue long after that. "Hopefully the students will continue to show their kindness after the crisis," said Rebecca. "It has made them realise that we are all going through this together."
UK Coronavirus Response Appeal
The coronavirus pandemic is the biggest health emergency of our time. With your help, we'll continue to provide vital support to those worst affected by the outbreak, wherever the need is greatest.
DONATE