From Aberdeen to Westminster: how the British Red Cross has supported memorial activities for Her Majesty the Queen 
British Red Cross volunteers and staff from across the UK have been supporting as the Royal cortège has made its way from Scotland to London. British Red Cross emergency response volunteer Andy and crisis response officer Becky explain how we have been involved
Last updated 15th September 2022
Since the death of Her Majesty The Queen on 8th September 2022, thousands of people have been involved in the official memorial activities leading up to Her Majesty's funeral on 19th September.
Queen Elizabeth II was our patron for more than 70 years, and in this significant week for the country, the British Red Cross has been proud to play a part in proceedings.
"Throughout the years, Her Majesty The Queen has shown her enduring support for the work of the Red Cross here in the UK and around the world," says Chris Davies, UK head of crisis and emergency response. "Her leadership and courage has been a guiding light for our teams during the highs and lows when facing an increasingly complex and difficult future. Be it storms, floods, Afghan relocation or the conflict in Ukraine, our humanitarian values underpin all that we do and Queen Elizabeth II's own humanity and compassion has set an example for all of us to live up to."

One final salute in Scotland
Our involvement began in Scotland, in the immediate days after the announcement of her death. Volunteers supported along the cortège route from Aberdeen to Edinburgh, where large crowds had gathered.
Phil, an emergency response volunteer from Aberdeen, helped marshal crowds along the route taken by the motorcade carrying Her Majesty's coffin.
"We were lining the route doing crowd control and crowd safety work from Aberdeen down to Dundee and onto Edinburgh," says Phil. "There were some critical points such as road junctions, flyovers and bridges along the route which we needed to make sure were safe for everyone who had come to see this historic event."
Phil, a former Royal Air Force officer and Territorial Army serviceman, met Her Majesty on a number of occasions during his time in the military, so being involved held a special significance for him.
"From a personal standpoint I really wanted to be there to be part of the day," says Phil. "I saluted her many times during her reign and I wanted to give her one final salute. It was a privilege to do it in Scotland and in my Red Cross uniform."
What is Operation Feather?
On Tuesday 13th September, the royal cortège arrived in London, where Her Majesty will lie in state in the Palace of Westminster for five days.
A British Red Cross team will be supporting the Greater London Authority and the Department of Culture, Media and Sport, as the public queue to pay their respects to Her Majesty.
This event is known as Operation Feather.
.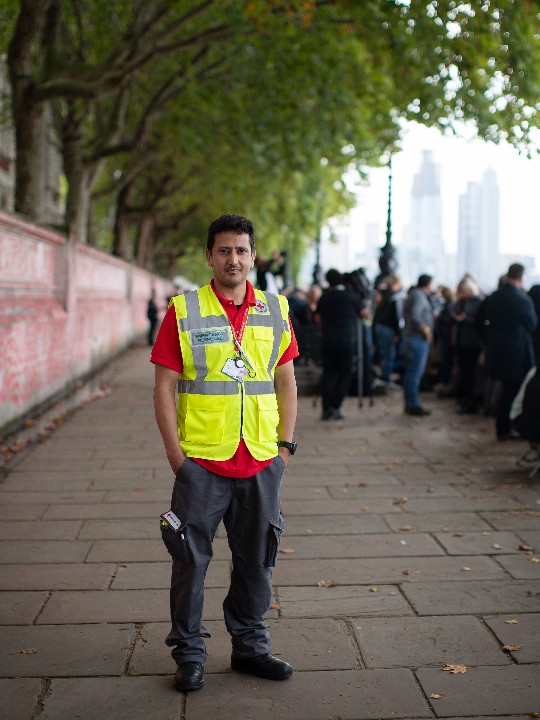 The British Red Cross's role in Operation Feather
Tens of thousands of people have travelled to the capital and will wait in a queue that begins at Southwark Park and stretches along the River Thames before finally crossing Lambeth Bridge and finishing at the Palace of Westminster.
"We are one of several organisations in the charity sector who have been planning for a long time to provide support that will enable people to pay their respects safely and in a supported way," says Becky, a British Red Cross crisis response officer.
Our teams are stationed around Westminster from 6am until midnight every day, including two operational leaders and eight volunteers. They are identifiable by their British Red Cross high-vis jackets and red polo shirts (like the one worn by volunteer Mubashir, left) or white shirts with the Red Cross emblem.
"Our role is an ideal middle spot between being able to offer practical support, telling people where things are and where to go, and just helping people emotionally with psychosocial support where needed," says Becky.
Support available in the queue for the Palace of Westminster
The British Red Cross has also secured an area near Westminster Bridge, where two welfare support officers will be stationed until Monday.
"Other organisations that are involved include the Scouts, the Samaritans, the Salvation Army, stewards and marshals from the civil service and private security," explains Becky. "All intend to support people, to keep them safe, to answer questions and to direct them to welfare points where they can get a cup of tea and coffee, or where they can sit down and charge their phone."
Volunteers can also offer emotional support if it is needed.
"Our volunteers have been finding that for a lot of people, for whom this event has been very triggering in terms of grief they have held for a long time, or re-traumatising of grief that has been significant in their lives," says Becky. "A lot of people have been remembering the death of their own parent or grandparent and in some cases the death of a friend or child."
Volunteers stepping up from all over the UK
In the week leading up to the funeral, up to 200 volunteers representing every country in the United Kingdom will be taking part in the activities. This includes the events in Scotland and London, along with regional events like deployments to books of condolence and support moving things like flowers.
"Our volunteers in Scotland had their own support to offer in Aberdeen and Edinburgh, but otherwise our volunteers are coming from all over – we are flying over six people from Northern Ireland," says Becky. "Every area has stepped up amazingly."
The last of our involvement will take place on the day of the funeral, when four British Red Cross representatives will join the 3,000-person procession of Her Majesty's coffin as it travels from Westminster Abbey to Wellington Arch following the state funeral.
Donate in memory of Queen Elizabeth II
The British Red Cross will use your donation wherever the need is greatest, both internationally and in the UK.
DONATE NOW