"That was me once, I know what it's like"
Mohammed came to the UK as a refugee and now helps people in crisis as an Emergency Response volunteer. He draws on his lived experience to empathise with those he helps.
Last updated 30 August 2023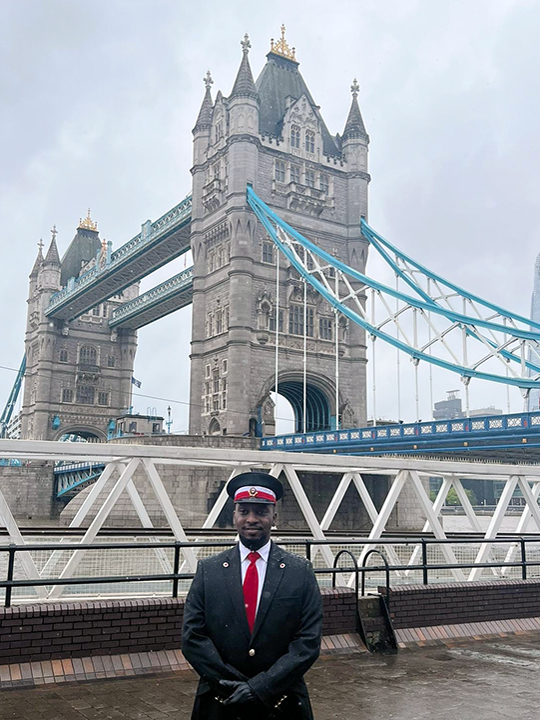 As an Emergency Response volunteer, Mohammed is there on the ground supporting those who've escaped house fires. Recently he's helped families affected by a major fire in Bradford where 21 people were evacuated from their homes.
"Once we arrive on the scene, I can offer practical support. Our vehicle is stocked with hygiene packs, clothes, baby supplies – essential things that people need straight away.
"I've been trained to offer emotional support. Sometimes in a crisis people just need someone to talk to.
"When people are in shock, they can forget the basic things that they should be doing, especially if it has been a stressful event. My role is to be empathetic and offer practical, clear advice to take away as much stress as possible."
"They remind me of me when I first came to the country"
Mohammed was deployed multiple times to Manchester and Liverpool airports to be a welcoming and knowledgeable presence for arriving Ukrainian refugees.
"We were there to offer information and make sure new arrivals knew what they needed to do. This is so important for someone who is vulnerable and perhaps has no belongings. They need to start over and we can help point them in the right direction.
"I have been through the same experience. It wasn't an easy experience to me moving to a different country, leaving everything behind and starting all over. I can be compassionate but also knowledgeable, which hopefully makes that first few hours a bit less scary for new arrivals."
I was shown a lot of compassion when I first arrived in this country, so being a volunteer is my way of giving some of that back.
"I found it hard at first being on my own"
Mohammed arrived in the UK as a refugee in 2016 from Sudan. It wasn't easy to find his feet at the start. He didn't know anyone and lived in shared accommodation for nine months.
"There were five other people from Tibet, Kurdistan, Palestine and Afghanistan, which was hard and challenging as every person came from different backgrounds.
"I was facing challenges every day, trying to sort out accommodation and access to education. But it taught me to be resilient and to face challenges head on. Nothing comes easy in life; you have to work for it."
"My dream of becoming a paramedic would never come true if I stayed in Sudan"
One of seven children in his family, Mohammed wasn't sure what he wanted to do when he finished school. But after taking part in first aid training courses, he realised his ambition was to become a paramedic.
"I started to develop an interest in first aid, which I had initially been taught as a scout. When I became a scout leader, I was lucky enough to go on a five-day intensive first aid course and I really enjoyed it. I started imagining this was something I could do for a job."
But knowing that opportunities were limited in Sudan, Mohammed was determined to make the most of any doors that opened here in the UK. He moved to Manchester and enrolled in an employability, English, maths and ITC course. His employability tutor nudged him in the right direction towards realising his dream.
"I told the tutor that it was my aim to become a paramedic so she helped me research volunteering opportunities in the local area.
"As I was interested in first aid and could speak good English, she pointed me to the British Red Cross which was recruiting for Event First Aiders at the time. She helped me every step of the way and gave me a reference."
After he qualified as a First Aid volunteer with the British Red Cross, the events service was unfortunately shut down. But luckily it wasn't long until he was able to join the Emergency Response team, where he has been volunteering for almost five years.
Rock and royal
In addition to his Emergency Response work, Mohammed has been involved in some unique volunteer opportunities at the British Red Cross.
He took part in the 'Safe Mates' project which sets up safe spaces for young people during live events, like music festivals.
"I got to go to Leeds Festival. I was camping for three nights and we set up hubs inside the camps. We provided practical support, emotional support and signposting for people that needed it."
He also had a once-in-a-lifetime chance to get up close to royalty. During the Coronation of King Charles III, Mohammed played a key role in the royal procession.
"We had the best view of the parade as we were lining the road, so the carriage went right past me. You could practically feel the horse's breath as they went past."
I was so proud. Having grown up with the Red Cross it was a real honour to represent the charity at such an important event.
So, what's next for Mohammed?
While continuing his various roles within the British Red Cross, Mohammed is taking the next steps to train as a paramedic – he has applied for a course that starts in the autumn. He believes his volunteer work has paved the way for his career and given him insight into living in the UK.
"My Emergency Response work has been so valuable in teaching me about British culture and the difference between where I came from and the culture here, as well as gaining the right skills. I've seen how people react in accidents and emergencies, something that I may one day be dealing with as a paramedic.
"In the meantime, I plan to continue volunteering for the British Red Cross. I have grown with the Red Cross. It's in my blood now!"
Been inspired by Mohammed's story?
See where a volunteer role can take you.